DMW Games: NY Games Conference 2015

Thursday, October 8, 2015 from 9:00 AM to 6:00 PM (EDT)
Event Details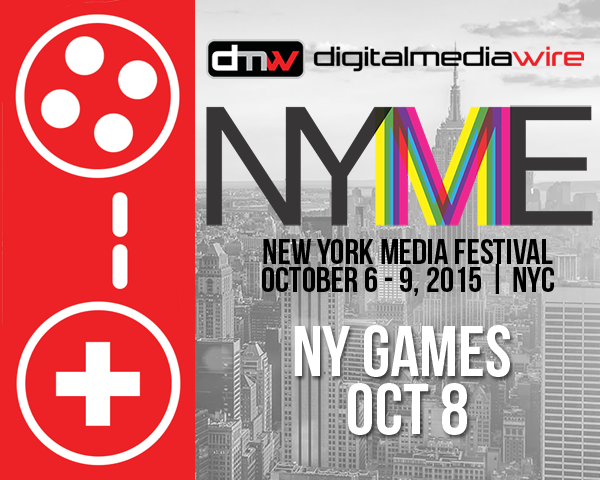 NY Games Conference, now in its 8th year, is set for Oct. 8 as part of the 3-day NY Media Festival (NYME) with over 1,000 attendees, which includes Future of Television Forum (Oct. 9) and Digital Music Forum (Oct. 7). The 1-day NY Games Conference on Oct. 8 brings together senior game, media and investment leaders focused on networking, meetings and deal-making. The conference features two tracks with fireside chats, panels, demos and presentations on digital game investment, creation, distribution, marketing and monetization, meeting areas for power networking and reception/after-party on the evening of Oct. 8
FEATURED SPEAKERS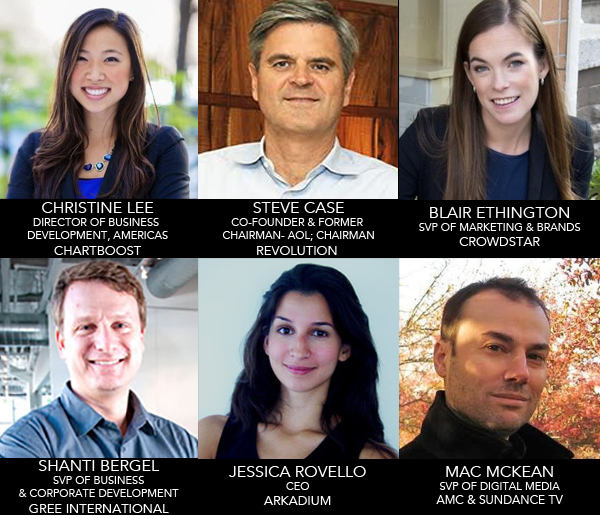 CONFIRMED SPEAKERS
Michael Abbattista, Global Head of Telecom/ISP Partnerships & Business Development, Spotify 
Brett Adamczyk, VP Business Development and Strategy, Videa
Cyna Alderman, Managing Director, Daily News Innovation Lab; SVP and General Counsel, New York Daily News
Mark Allenbach, Vice President, Frank N. Magid Associates 
Jonathan Azu, Executive VP and General Manager, Redlight Management 
Kathy Baker, SVP, Digital Marketing, Columbia Records, Sony Music Entertainment
Dhan Balachand, CEO, Sulon 
Manik Bambha, CTO, ViewLift 
Rob Barnett, Founder & CEO, Omnivision Entertainment 
Chad Beasley, VP, Advanced TV Sales, Delivery Agent
Thanda Belker, Executive Vice President, Pay Television, US Television, Sony Pictures Television
Eric Berger, EVP, GM of Crackle, GM of Digital, Sony Pictures Television 
Fabian Birgfeld, Founder & Partner, W12 Studios
Jeff Birnbaum, Head of Gaming Partnerships, Google
Peter Bittenbender, CEO, Mass Appeal / Co-Founder, Decon 
RIchard Bloom, Vice President, VOD & Partnerships,Vimeo
T. Hale Boggs, Chairman of Manatt Digital Media, Manatt, Phelps & Phillips LLP 
Bjorn Book-Larsson, CEO, Reloaded Games
Susan Borst, Director, Industry Initiatives IAB (Interactive Advertising Bureau) 
Dan Bruinsma, SVP, Activation Director, Starcom MediaVest Group 
Christian Calderon, Head of Marketing, Dots
JC Cangilla, SVP Business Development, New Form Digital Studios
Bill Carter, Contributer, CNN, former media journalist at The New York Times
David Caruso, COO, United Entertainment Group
Scott Chambers, Senior Vice President/General Manager, North America,Sesame Workshop
Kevin Chernett, EVP, Growth Development & Strategic Partnerships, Live Nation
Sairam Chilappagari, CEO & Founder, Jukebox.io
Tony Christopher, President & CEO, Landmark Entertainment Group
Chris Clark, Director of Music, Leo Burnett
John Collins, Managing Director, MediaStorm
Richard Conlon, Principal, Rights Management Holdings LLC 
Shawn Conly, VP Marketing, GREE International, Inc
Tim Connolly, SVP, Head of Distribution and Partnerships, Hulu
Peter Csathy, CEO, Manatt Digital Media
Chris Cunningham, Head of Mobile and Global Brand Partnerships, ironSource
Chris Dabbs, CEO & President, Streaming Tank
Jeff Daniel, CEO & Co-Founder, StarMaker
Leigh Davenport, VP of Programming, Women & Lifestyle, HB Studios/Interactive One 
Michael Davies, CEO & President, Embassy Row, Sony Pictures Television
Domenico DiMeglio, VP, Distribution & Operations, CBS Interactive 
Matthew DiPietro, SVP of Marketing, Twitch TV 
Rush Doshi, GM, Firetalk 
Joost van Dreunen, CEO & Co-Founder, SuperData Research
Brian Dugan, VP of Communications, Major League Gaming
Chris Early, VP, Digital Publishing Ubisoft
Steve Ellis, CEO and Founder, WhoSay 
Blair Ethington, SVP of Marketing and Brands, Crowdstar
Lori Feldman, EVP Brand Partnerships and Creative Synch Licensing, Warner Bros.
Brian Harris Frank, President, Interlude Music 
Reid Genauer, CMO, Magisto 
Michael Gold, CEO, Empiricly 
Danny Goldberg, Legendary Rock 'n' Roll Manager, (Nirvana, Led Zeppelin) 
Tyler Goldman, CEO, Deezer
Blaine Graboyes, Executive Producer, The Gamer Agency 
Terence Gray, Founder & Executive Director, New York Television Festival (NYTF)
Rob Grossberg, CEO, Tresensa
Owen Grover, Senior Vice President and General Manager, iHeartRadio 
Patricia Hadden, SVP, Digital Enterprises, NBCUniversal 
Brian Halligan, CEO, Hubspot 
Cortney Harding, Founder, Cortney Harding Consulting
Meg Harkins, SVP of Marketing, Roc Nation
Blake Harris, Writer & Filmmaker, HarperCollins 
Jason Hirschhorn, CEO and Chief Curator, REDEF
Gene Hoffman, Chairman & CEO, Vindicia 
Rick Howe, The iTV Doctor
Teemu Huuhtanen, CEO, Next Games
Jocelyn Johnson, Founder, VideoInk
Quinn Kilbury, Senior Brand Director, Heineken 
Koh Kim, Business Development, Google Play Games 
Michael Klein, EVP, Programming & Content Strategy, Digital Channels, Conde Nast Entertainment
Paul Kontonis, President, GOVA 
Dennis Kooker, President, Global Digital Business and U.S. Sales, Sony Music Entertainment
Amir Korangy, Publisher, The Real Deal 
Albert Lai, CEO/President, Big Viking Games
Kyu Lee, President, Gamevil USA
David Leibowitz, Managing Partner, CH Potomac
Jeremy Levine, SVP of Digital Sales, Live Nation
Vivien Lewit, Director, Content Partnerships, Music at YouTube
Lisa Licht, SVP, Marketing Partnerships, Yahoo 
Jim Lidestri, CEO, Border City Media
Aaron Luber, Head of Partnerships, Google Cardboard
Rick Mandler, VP, Strategy & Digital Media Advertising, Disney/ABC 
Joy Marcus, EVP & General Manager, Conde Nast Entertainment
Damon Marshall, VP, Business Development, Supersonic 
Bill Masterson, Co-Founder, Believe Entertainment Group
Christian Meinberger, Head of Content Programming & Production, Studio71, ProSiebenSat.1
Jarrod Moses, CEO & Founder, United Entertainment Group
Tony Mugavero, Founder & CEO, Littlestar
Elizabeth Hendricks North, President, CuriosityStream
Sahil Patel, Reporter, Video, DigiDay
Chris Pizzurro, Head of Sales and Marketing, Canoe Ventures
Brian Popowitz, VP, Head Of Marketing & Business Development, Black Box
Barry Pousman, Director of Programming, Discovery Digital Networks
Rick Rey, CEO & Co-Founder, Surreal
John P. Roberts, Chief Digital Officer, Bunim/Murray Productions Digital
Jesus Rodriguez, Head of Marketing, Fuse Media
Hayley Rosenblum, Music Outreach Lead, Kickstarter
Jason Ross, President, LoveLive US
Edward Roussel, Chief Innovation Officer, The Wall St. Journal & Dow Jones 
Jessica Rovello, CEO, Arkadium 
Michael Rovner, Co-Founder, Columnist, Mr. Finn Content Works, Inc. Magazine 
Anna Rozwandowicz, Director of Communications, ESL 
Marc Ruxin, Former COO & CMO, Rdio, Founder, TastemakerX 
Tom Ryan, CEO PlutoTV
Detavio Samuels, President, One Solution 
Art Santos, SVP Big Development, MediaBrix
Brett Sappington, Director of Research, Parks Associates
Seth Schachner, Managing Director, Strat Americas 
Ted Schilowitz, VR Creator & Futurist/CinemaVangelist, 20th Century Fox/Barco 
Fabrice Sergent, Co-Founder & CEO, BandsInTown Group
Mikko Setälä, EVP, Rovio Entertainment / Chairman, Setala Capital
Eliah Seton, President, Alternative Distribution Alliance
Andrew Sheppard, COO, GREE International 
Ned Sherman, CEO, Digital Media Wire, Inc.
Adi Sideman, CEO & Founder, YouNow 
Rob Simmelkjaer, Senior VP, NBC Sports Group
Michael Simon, President, & CEO, Harry Fox Agency
Howie Singer, Senior VP & Chief Strategic Technologist,Warner Music Group
Daniel Stedman, Founder, Northside Media Group
Greg Stuart, CEO, Mobile Marketing Association 
Christy Tanner, SVP & GM, CBS Interactive Media Group
Livia Tortella, CEO & Founder, Black Box
Mike Vorhaus, President, Magid Advisors
Kent Wakeford, COO, Kabam
Margaret Wallace, CEO, Playmatics
Yale Wang, Head of Marketing, DramaFever
Maria Weaver Watson, SVP East Coast Sales & Integrated Marketing, Interactive One
Corey Weiner, CEO, Hyprmx
Jonathan Weitz, Partner, IBB Consulting Group, LLC
Robby Wells, Chief Strategy Officer, United Entertainment Group (UEG)
Alex White, Head of Next Big Sound
Don Wilcox, VP Digital Marketing and Services, PBS 
Rodney Williams, CEO, LISNR 
Kevin M. Wilson, Music Director, ESPN
Zeeshan Zaidi, General Manager of Artist Services, Ticketmaster
Natalie Zfat, Co-Founder, The Social Co.
Many More to Come...
OUR SPONSORS & MEDIA PARTNERS

REFUND POLICY
Refunds are subject to a $100 processing fee, which will be subtracted from your refund total.  We must receive your written request for a refund by August 30, 2015.  Cancellations received after August 30, 2015 are non-refundable.
You may transfer your registration to another person by September 20, 2015.  Please provide written authorization to info@digitalmediawire.com. Confirmed and paid attendees who do not attend or who cancel after the deadline are liable for the entire fee.
When & Where

Museum of Jewish Heritage
36 Battery Place
New York, NY 10280


Thursday, October 8, 2015 from 9:00 AM to 6:00 PM (EDT)
Add to my calendar
Organizer
Digital Media Wire

Digital Media Wire (www.dmwmedia.com) is a media company that provides strategic consulting and manages marketing campaigns for digital media brands, and owns and produces industry conferences. The company also publishes daily newsletters and operates the popular www.dmwmedia.com news and community portal. The company produces conferences and events in four media verticals: games, music, video and advertising. DMW's portfolio includes: Digital Entertainment World (an IDG World Expo joint venture), NYME:  NY Media Festival (formerly DMW Week NYC) and LA Games Conference. Participants include entrepreneurs and senior decision-makers at leading media, entertainment and technology companies, investors, advertisers, policy-makers and legal professionals. DMW has one of the largest and most engaged and senior-level communities in the digital media industry.
DMW Games: NY Games Conference 2015