DMV Ques of PLL 2016 Poker Run, Bike Show, & Q-Carnival (Featuring DJ Trini of 93.9 WKYS, DJ So-N-So, & DJ D-Lux)

Saturday, September 10, 2016 from 12:00 PM to 5:00 PM (EDT)
Event Details
DMV Ques of PLL
2016 Q-Carnival & Poker Run
A COMMUNITY, MOTORCYCLE & FAMILY FUN EVENT!
AN OFFICIAL THROTTLE LIFE REGISTRATION SITE FOR THE MARCH OF DIMES "DMV BIKERS FOR BABIES" CHARITY POKER RUN RIDE - ALL BIKERS WELCOME!
PRESENTED BY THE DMV QUES OF
PLL CHAPTER, OMEGA PSI PHI FRATERNITY, INC.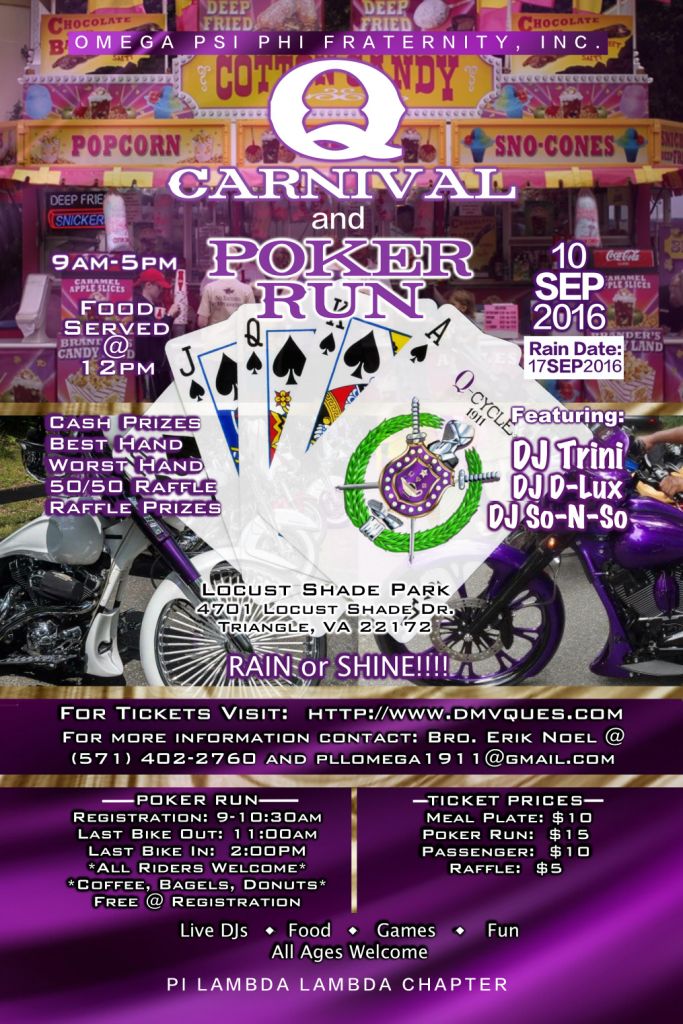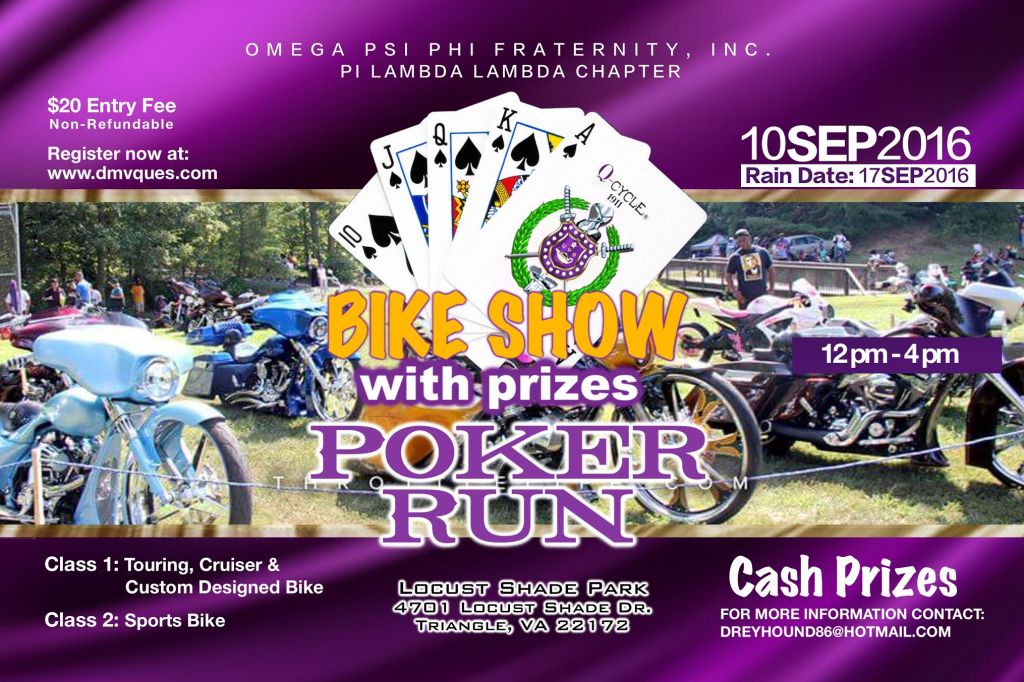 SATURDAY SEPTEMBER 10, 2016
POKER RUN (MOTORCYCLE RIDE & PRIZE MONEY):  9:00 AM - 2:00 PM
BIKE SHOW (CASH PRIZES FOR THE BADDEST BIKES!):  12:00 PM - 4:00 PM
Q-CARNIVAL (GAMES, ACTIVITIES, & COOKOUT):  12:00PM – 5:00PM
RAFFLE PRIZES (INCLUDES HD TV, MOTORCYCLE LICENSE CERTIFICATION COURSE, & MORE!)
DJ TRINI (93.9 WKYS), DJ SO-N-SO, & DJ D-LUX ON THE TURNTABLES!

TICKETS AVAILABLE AT WWW.DMVQUES.COM
MEAL TICKETS (FRIED FISH, GRILLED CHICKEN, & MORE) $10
POKER RUN PARTICIPANT TICKETS $15
POKER RUN PASSENGER TICKETS $10
POKER RUN EXTRA HAND $5
BIKE SHOW ENTRY TICKETS $25
RAFFLE PRIZE TICKETS $5
50/50 RAFFLE (ON-SITE ONLY) $1

TENTS AND CHAIRS WILL BE AVAILABLE FOR SHADE & POTENTIAL DRIZZLE!  IF POSSIBLE, PLEASE BRING YOUR OWN TENTS & CHAIRS TO ENSURE MAX COMFORT

LOCUST SHADE PARK
4701 LOCUST SHADE DRIVE
TRIANGLE, VA
THREE MAJOR EVENTS IN ONE LOCATION:
Q-CARNIVAL - THE QUES WILL HAVE A VARIETY OF ACTIVITIES TO PARTICIPATE IN FOR FAMILIES AND YOUTH. GAMES AND SOME RIDES WILL EVEN BE ON-SITE. THE QUES WILL ALSO BE ON THE BURNERS & GRILL SERVING IT UP AS WE ALWAYS DO.  THE MENU WILL CONSIST OF THE FOLLOWING:

1. FRIED FISH (CATFISH & WHITING)
2. GRILLED CHICKEN
3. HOT DOGS
4. FRENCH FRIES
5. POTATO SALAD
8. BREAD
9. CORNBREAD (BOSTON MARKET)
10. BEVERAGES & WATER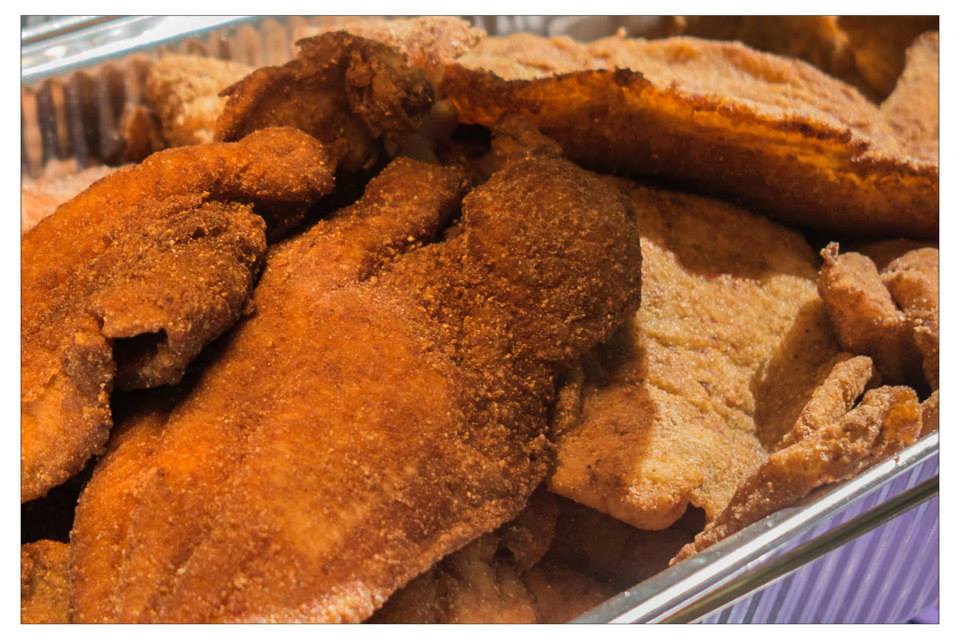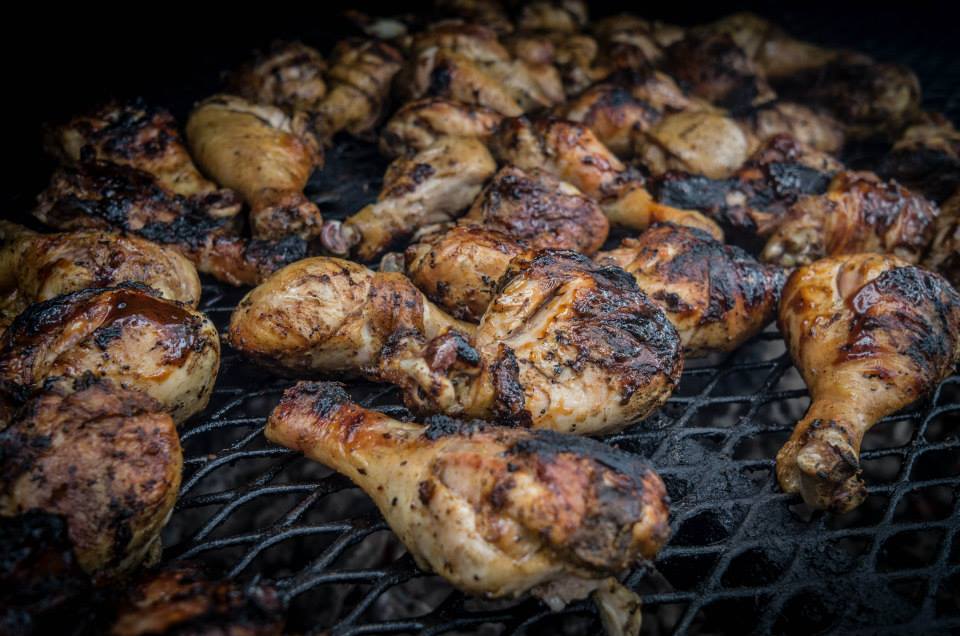 POKER RUN (MOTORCYCLE RIDE) - FOR ALL THE MOTORCYCLE RIDERS, MOTORCYCLE CLUBS, & SOCIAL CLUBS, COME KICK IT WITH THE QUES!  THE OMEGA RYDERZ MOTORCYCLE RIDING GROUP WILL BE ON-SITE SUPPORTING THE BROTHERS OF PLL WITH THE ANNUAL POKER RUN.  REGISTER NOW FOR THE RIDE.  YOU COULD BE THE LUCKY WINNER OF ONE OF THE CASH PRIZES (BEST HAND & WORST HAND).  REGISTER NOW AT WWW.DMVQUES.COM.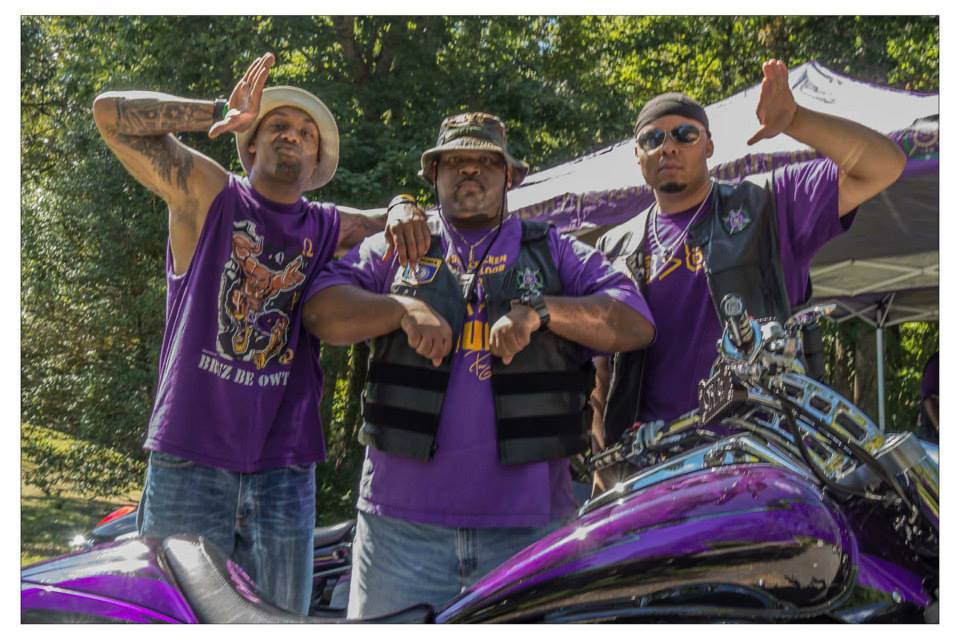 BIKE SHOW - THE QUES WILL ALSO HOST A BIKE SHOW DURING THE EVENT.  CLEAN UP THOSE CUSTOM SPORTS BIKES, BAGGERS, AND CLASSICS!  WE HAD SOME PRETTY STEEP COMPETITION LAST YEAR; BE PREPARED.  BIKES WILL BE STAGED FOR THE BIKE SHOW IN THE SMALL PARKING LOT TO ENSURE ALL BIKES STAY OUT OF POTENTIALLY MOIST GROUND.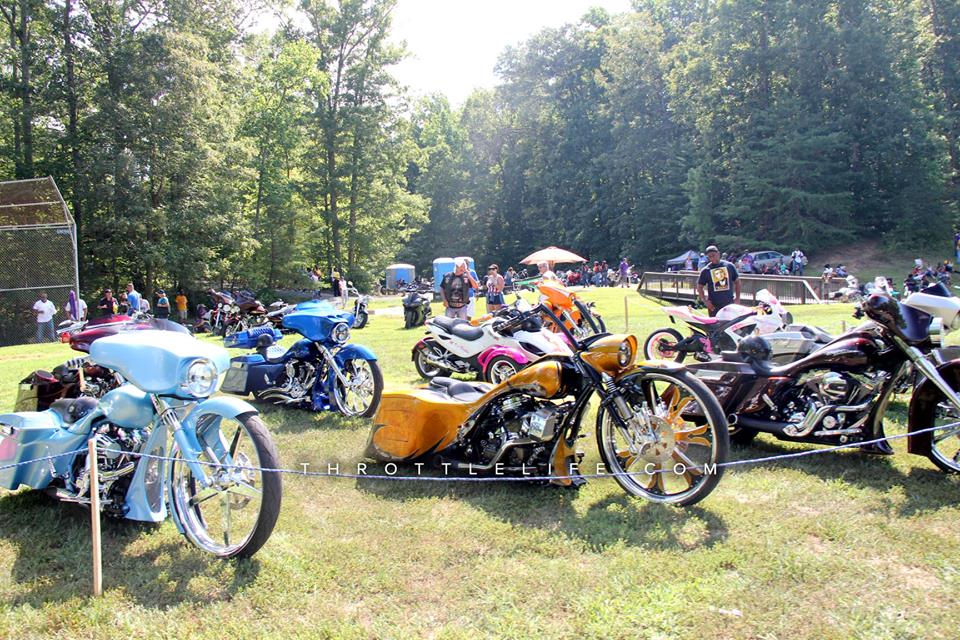 Poker Run Schedule (Motorcycle Riders Only):
Registration:  9:00 - 11:00 AM
Last Bike Out:  11:00 AM
Last Bike In: 2:00 PM
Fish Fry Start: 12:00 PM
DJ Start Time: 12:00 PM
Bike Show Start Time: 11:00 AM
Poker Run Winner Announcement: 2:30 PM
Raffle Off: 3:30 PM
Fish Fry End: 6:00 PM
Special Thanks to our Poker Run & Bike Show Registration Ladies for their support!  These ladies will be assisting everyone register their motorcycles for the Poker Run & Bike Show!

Miss Stringfield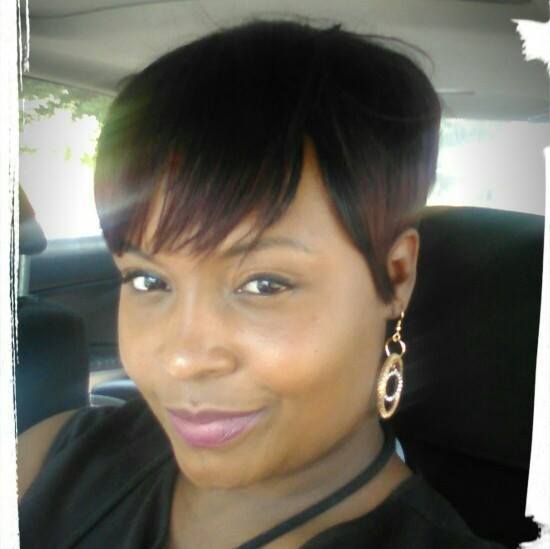 At 3:30 PM, we will start to RAFFLE OFF the following items and MORE:
40" Flat Panel HD Television (Best Buy Woodbridge)
Motorcycle Driver Improvement Safety Course - DMV Motorcycle License Certification (MRC)
Motorcycle Gear & Gift Cards (Coleman Power Sports Woodbridge)
Motorcycle Gear & Gift Cards (East Coast Harley Davidson)
Food Gift Card (Famous Dave's)
Food Gift Card (Hooters Potomac Mills)
PLUS MORE!!!!!!!
COME OUT AND LOOK FOR OUR RAFFLE LADIES FOR TICKETS!  THEY WILL BE ON-SITE SELLING TICKETS TO OUR PATRONS IN ATTENANCE! 
              Miss Valerie "Smiley"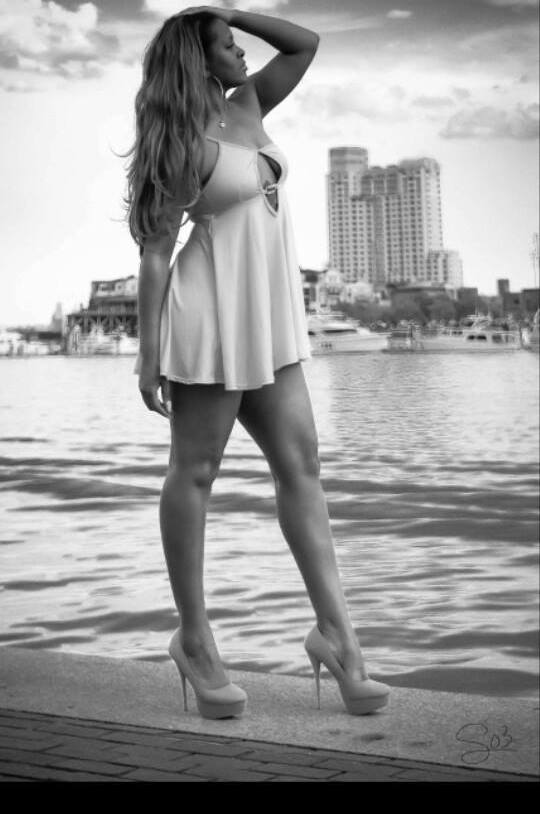 Special thanks to the following Sponsors / Vendors for their support! (CLICK LINKS FOR WEBSITES)
Food Menu:
Fried Fish (Catfish & Whiting)
Grilled Chicken
Hamburgers/Cheeseburgers
Hot Dogs
French Fries

Potato Salad
Beverages
Bread
Cornbread
Ticket Prices:
Meal Plate - $10
Poker Run - $15
Poker Run Passenger - $10
Raffle Prize - $5
Extra Hands (On-Site Cash Payment Available) - $5
Bike Show Entry Fee (On-Line Credit Card Payment or On-Site Cash Payment Available) - $20
Hotel Accomodations:
Quantico Holiday Inn - http://www.ihg.com/holidayinn/hotels/us/en/dumfries/dumva/hoteldetail
Hampton Inn Dumfries - https://plus.google.com/111260755494569895682/about?gl=us&hl=en
Music Entertainment:
Special shout out to DJ Trini (93.9 WKYS) and Spin Wax Academy members Dj D-Lux and DJ So-N-So for their support at this year's Poker Run & Fish Fry! Spin Wax Academy specializes in vinyl record deejaying and turntablist tricks of the trade! This trio of DJs is definitely something you don't want to miss as they specialize in mixing the latest hip-hop, r&b, reggage, and old school classic hits!
DJ Trini (93.9 WKYS)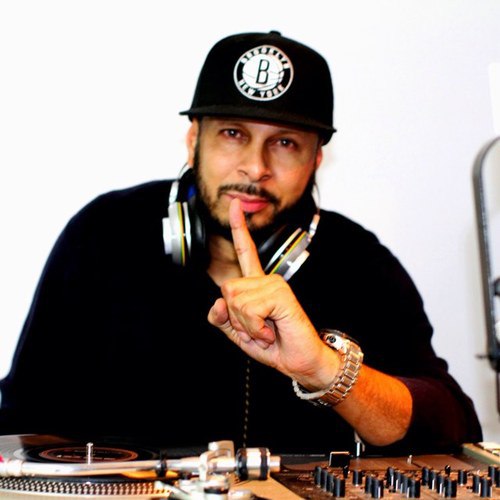 DJ D-Lux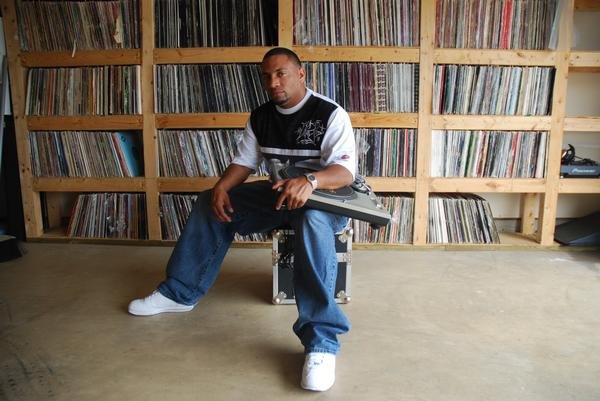 DJ So-N-So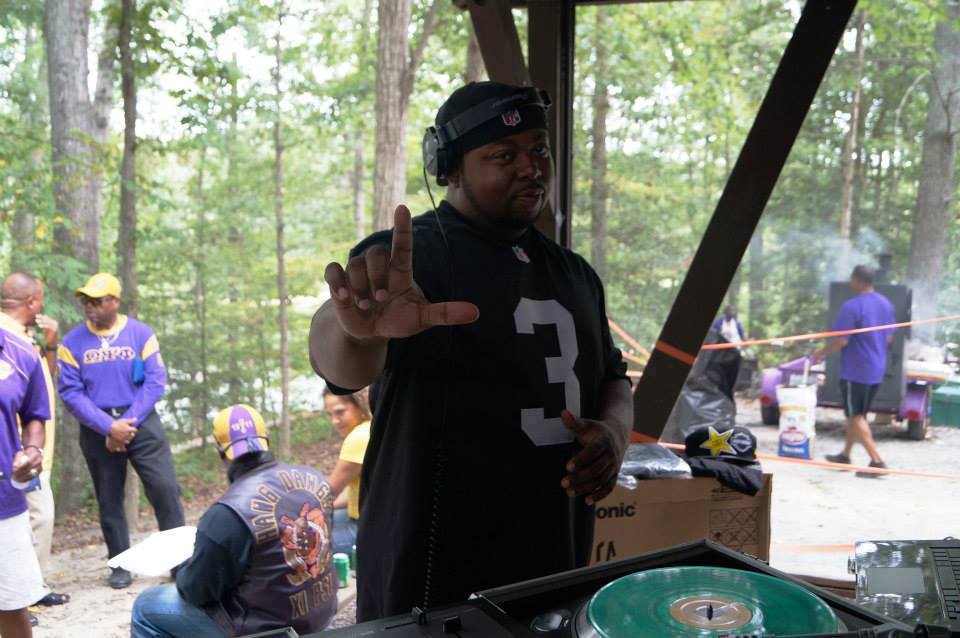 A portion of the proceeds will be provided to the PLL Scholarship Fund for select local Prince William County Schools gradutating seniors. 
For additional information, please contact Brother Erik Noel at 571-402-2760 or pllomega1911@gmail.com.
Be sure to add us as a friend on Facebook for future event invites @ http://www.facebook.com/dmvques2.
The DMV Ques of PLL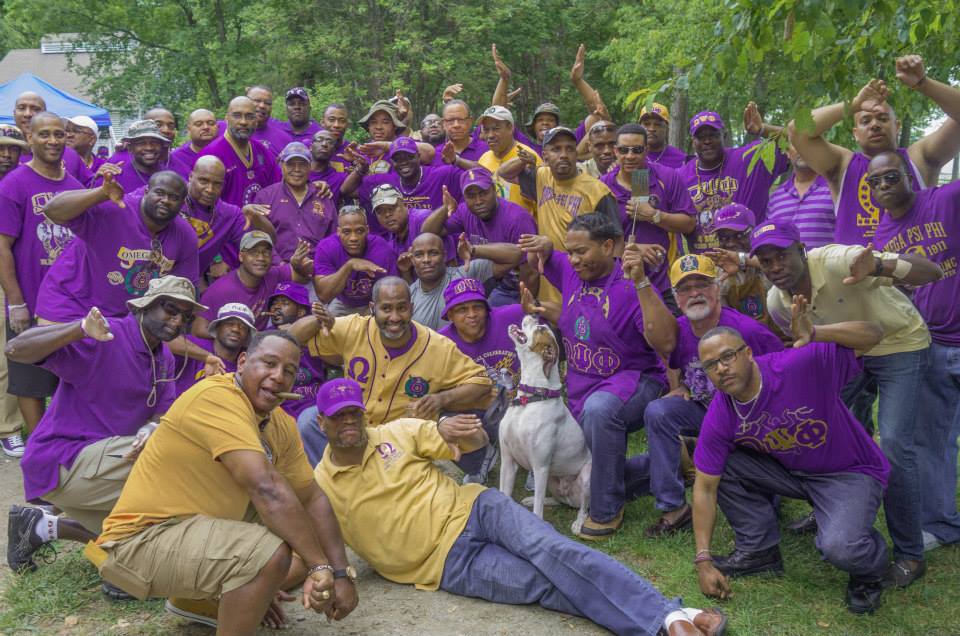 SPECIAL THANKS TO OUR SPONSORS:
COLEMAN POWER SPORTS WOODBRIDGE
HARLEY DAVIDSON OF QUANTICO
TED'S MOTORCYCLE REPAIR
EDDIE'S CUSTOMS (MOTORCYCLES & CARS)
THROTTLE LIFE
TEAM GRAND VENDOR
FAMOUS DAVE'S
BOSTON MARKET

 SEE YOU THERE!

~DMV QUES OF PLL
When & Where

Locust Shade Park
4701 Locust Shade Dr
Quantico, VA 22134


Saturday, September 10, 2016 from 12:00 PM to 5:00 PM (EDT)
Add to my calendar
Organizer
PLL CHAPTER OF OMEGA PSI PHI FRATERNITY
Omega Psi Phi Fraternity, Inc., Pi Lambda Lambda (PLL) Chapter supports the Greater Prince William County Virginia area. PLL is pleased to sponsor and support a wide range of educational and humanitarian activities.
www.pll-omega.org
Mission
The Brothers of Pi Lambda Lambda are proud to be a part of the Greater Prince William County Community. In support of our mission to be good servants and stewards for citizens of Prince William County, Pi Lambda Lambda Chapter of the Omega Psi Phi Fraternity, Incorporated is pleased to sponsor and support a wide range of educational and humanitarian activities. The chapter welcomes the often challenging–but always gratifying–work of helping others in need. As Omega Men, we feel it is our obligation to uplift fellow members of society, and view it as an honor to render service.
Overview
Pi Lambda Lambda is the Prince William County, Virginia Chapter of the Omega Psi Phi Fraternity, Incorporated. The Chapter was chartered on January 24, 2004. The Fraternity's Supreme Council officially approved the charter and assigned the name as Pi Lambda Lambda Chapter of Prince William County, Virginia. Thus, Pi Lambda Lambda Chapter was officially born as Chapter #919 of the Omega Psi Phi Fraternity,
DMV Ques of PLL 2016 Poker Run, Bike Show, & Q-Carnival (Featuring DJ Trini of 93.9 WKYS, DJ So-N-So, & DJ D-Lux)