Description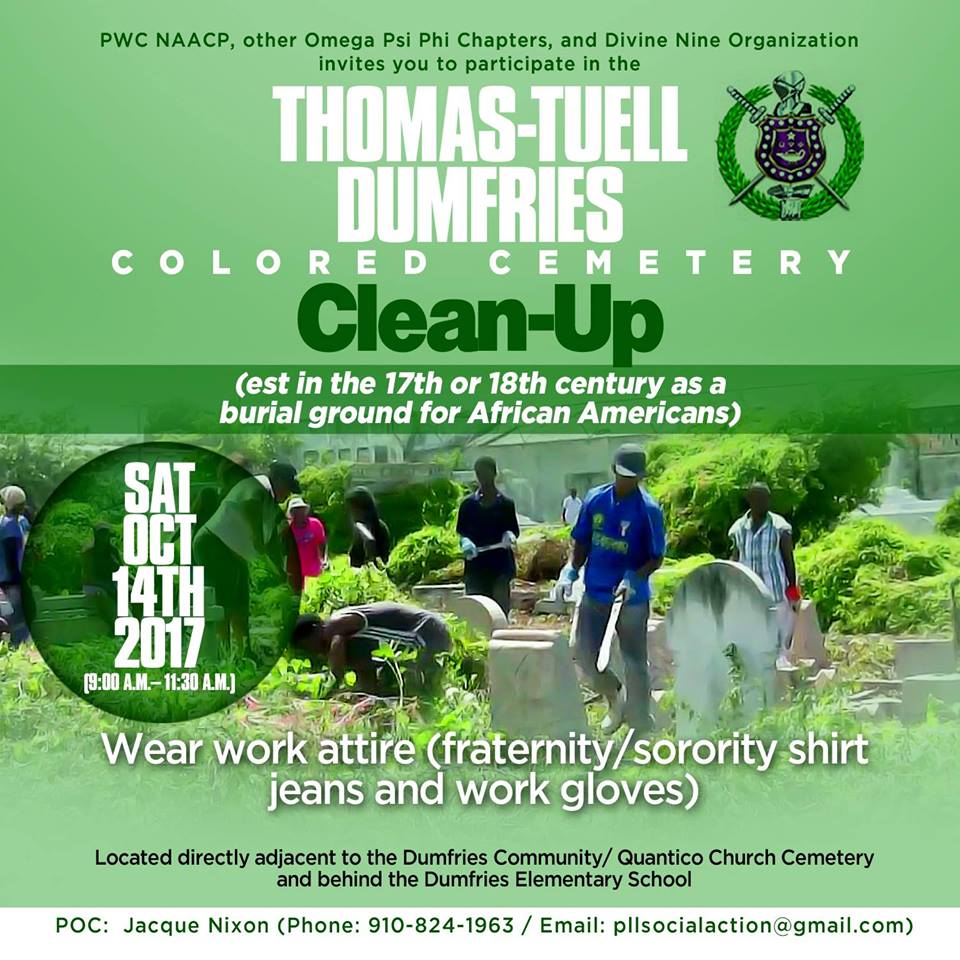 The Dumfries Colored/Thomas-Tuell Cemetery; a cemetery that was established in the 17th or 18th century as a burial ground for African Americans, is in need of clean-up and minor landscaping. As indicated in the attached article the Prince William NAACP was given authority to clean up and maintain the cemetery. Omega Psi Phi Fraternity as well as other groups have diligently worked to answer the call for support.
We will meet and execute a joint chapter Social Action Project on 14 Oct 2017, (9:00 a.m. - 11:30 a.m.) at the Dumfries Colored/Thomas-Tuell Cemetery directly adjacent to the Dumfries Community/ Quantico Church Cemetery and behind the Dumfries Elementary School.
What we need from you:
- be participants and show up in work attire (shirt, jeans and work gloves)
- provide sweat equity from 9:00 - 11:00 a.m.
- be present for the photo opportunity from 11:00 - 11:30 a.m.
To date we have the following organizations confirmed -- Let me know if your chapter/organization will be participating:
Omega Psi Phi Inc., (Pi Lambda Lambda)
Omega Psi Phi Inc., (Psi Alpha Alpha)
Kappa Alpha Psi Fraternity, Inc. (Woodbridge Alumni Chapter)
Phi Beta Sigma Fraternity, Inc. (Omicron Zeta Sigma Chapter)
Zeta Phi Beta Sorority, Inc. (Phi Kappa Zeta Chapter)
Registration: https://2017cemeterycleanup.eventbrite.com
Bro. Jacque Nixon (Q-Sto)
PLL Social Action Committee Chairman
Omega Psi Phi Fraternity, Inc.
Cell: 910-824-1963
Wrk: 703-695-0247
~DMV Ques of PLL