Event Information
Location
Tawes Fine Arts Building, Room 1310- University of Maryland
7751 Alumni Drive
College Park, MD 20742
Description
It is time for immigrant and refugee children to be treated with dignity, respect, and the human decency that starts with keeping families together. Join local community groups on Saturday, March 7, from 7-9pm at the University of Maryland's Tawes Fine Arts Building, Room 1310, for a gathering to support the work of Tsuru for Solidarity, a nonviolent, direct action project of Japanese American social justice advocates working to end detention sites and support front-line immigrant and refugee communities.
The event--which will include a presentation by Tsuru for Solidarity's co-chair Satsuki Ina, group conversations regarding additional support that DMV groups can tackle, and folding origami cranes ("tsuru")--is to help build momentum toward the "National Pilgrimage to Close the Camps," taking place in Washington, D.C. from June 5 to 7. The June pilgrimage will feature a march, rally, taiko drumming, and the presentation of 125,000 tsuru that represent the 125,000 Japanese Americans affected by the camps. A unique feature of the Pilgrimage will be cross-community, intergenerational "Healing Circles for Change" to promote solidarity and healing through sharing of stories about incarceration and detention.
If you can't make it to the fold-in event, but would like to support efforts by donating tsuru**, you can ship tsuru to:
Japanese American Citizens League, 1629 K Street, NW, Suite 400, Washington, DC 20006
For more information about the March 7th event, please contact Prof. Phil Tajitsu Nash at pnash@umd.edu
-----
Looking for other ways to contribute? Additional ways to support the national movement include:
**Don't know how to fold tsuru? Check out this folding guide and video tutorial demonstrating how to string tsuru together into strands that will be presented during the June Pilgrimage.
FAQs
What are my parking options at the event?
Parking is currently free in Lot 1 and Lot Z. These lots are not directly in front of Tawes Hall, but right behind the first lots near Tawes Hall.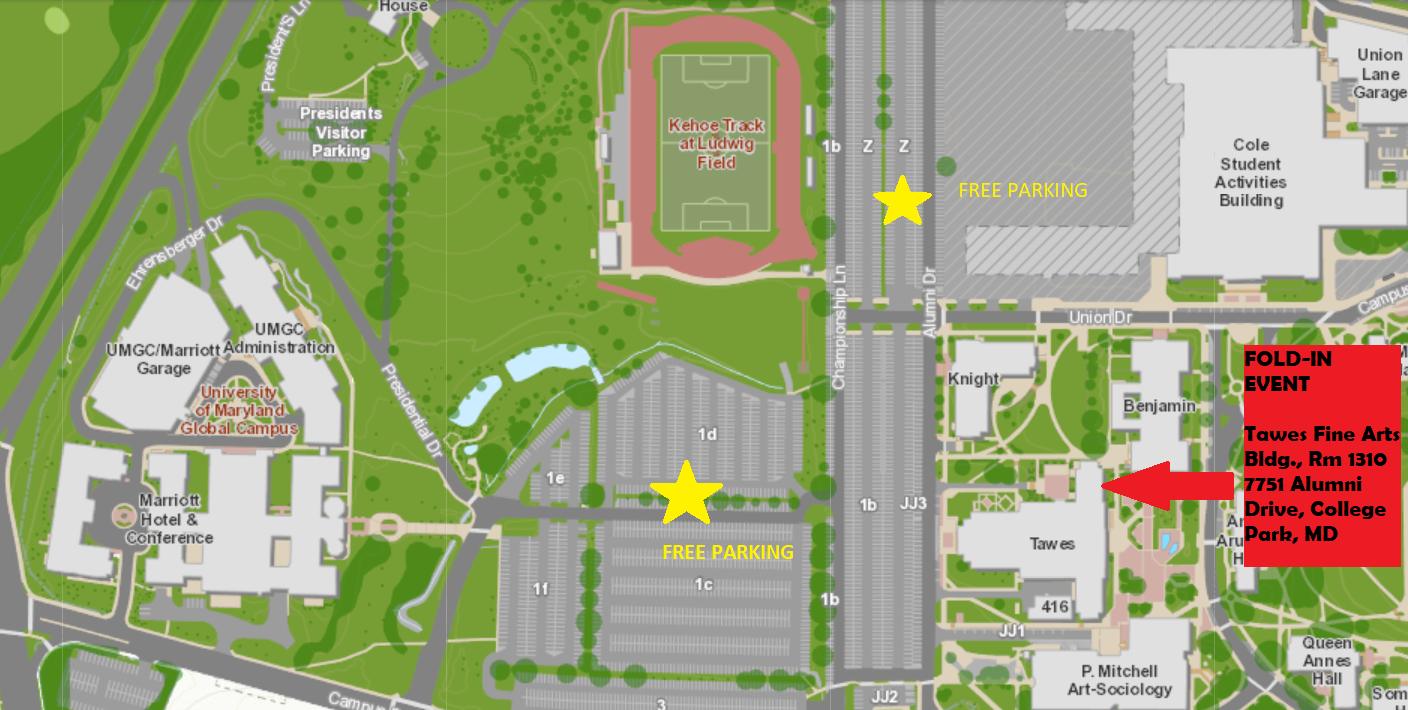 Date and time
Location
Tawes Fine Arts Building, Room 1310- University of Maryland
7751 Alumni Drive
College Park, MD 20742