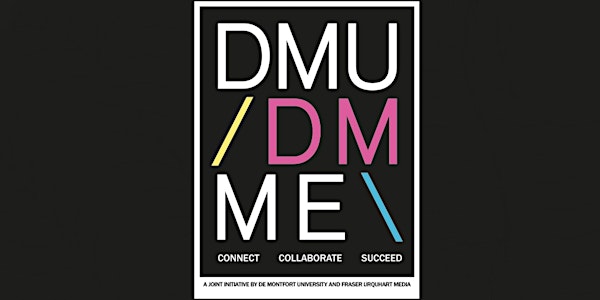 DMU / DM ME: Wellbeing in the Workplace
Location
Hugh Aston Building
The Newarke
Leicester
LE2 7BY
United Kingdom
DMU and Fraser Urquhart Media launch DMU/DM ME – a new Networking & Learning group that brings industry and academia together.
About this event
De Montfort University's Castle Business School and Leicestershire PR Agency, Fraser Urquhart Media, are collaborating to launch DMU/DM Me – a new Networking & Learning group that brings industry and academia together, and designed to connect, collaborate and succeed.
Launching on Friday 20th May, this Director-level group will combine the best motivational keynote speakers from industry and thought leaders, networking opportunities and, exclusively, a fast track to meet the hottest new graduate talent.
Free to attend, the launch event will consider the importance of Wellbeing in the Workplace and will welcome speeches from the High Sheriff of Leicestershire, Mehmooda Duke MBE DL, alongside motivational business-focused sessions by top Executive Coach, Dr Alexandra Morgan and stress management guru, Natasha Jolob.
DATE: 20th May, 2022
VENUE: Leicester Castle Business School, Hugh Aston Building Room Atrium and Lecture Room HU0.10 (Reached via our Main Entrance to the Hugh Aston Building)De Montfort University, The Gateway, Leicester, LE1 9BH
TIME: 08:30 for 09:00 start.
TOPIC: Wellbeing in the Workplace
The event will commence 09:00, with interactive learning sessions until 11:00, followed by optional networking and refreshments 11:00-12:00. Refreshments are included.
With a central ethos of 'working together, we can do more,' the group will host quarterly events, all taking place on the award-winning campus of De Montfort University. It is an opportunity for already-successful business leaders looking for additional growth to hear from industry leaders, who will deliver short, impactful seminars designed to motivate and upskill.
Critically, each event is also an opportunity to meet with newly qualified graduate talent entering employment, so could be a powerful source of recruiting, too.
FUTURE DATES FOR YOUR DIARY:
Friday 16th September – topic tbc.
Friday 20th January – topic tbc.
Friday 17th March – topic tbc.
Friday 16th June – topic tbc.