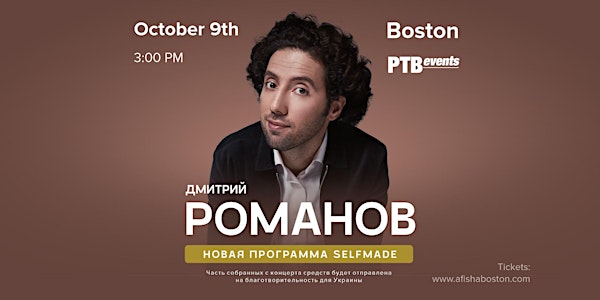 DMITRIY ROMANOV in Boston
Odessa born standup comic for the first time in the US.
When and where
Location
Laugh Boston 425 Summer Street Boston, MA 02210
About this event
Впервые появившись в студенческой команде КВН, Дмитрий быстро набрал популярность. Стал участником «Comedy Одесса» и «Comedy Киев».
Артистизм и острые шутки на актуальные темы позволили ему одержать череду блистательных побед в таких юмористических шоу, как пятый сезон «Смеха без правил», «Убойная лига», фестиваль «Большая разница». А также стать хедлайнером проекта Stand Up на ТНТ .
C 2019 по 2022 год Дмитрий вел рубрику «Светский исход» в программе «Вечерний Ургант».
C началом войны Дмитрий покинул Россию и переехал в Европу. Дмитрий выступает против военной агрессии со стороны России в Украине.
Часть собранных средств пойдет на благотворительную помощь Украине.