DMEHA Samstagsschule (IowaKinder) Registration Spring 2020
Description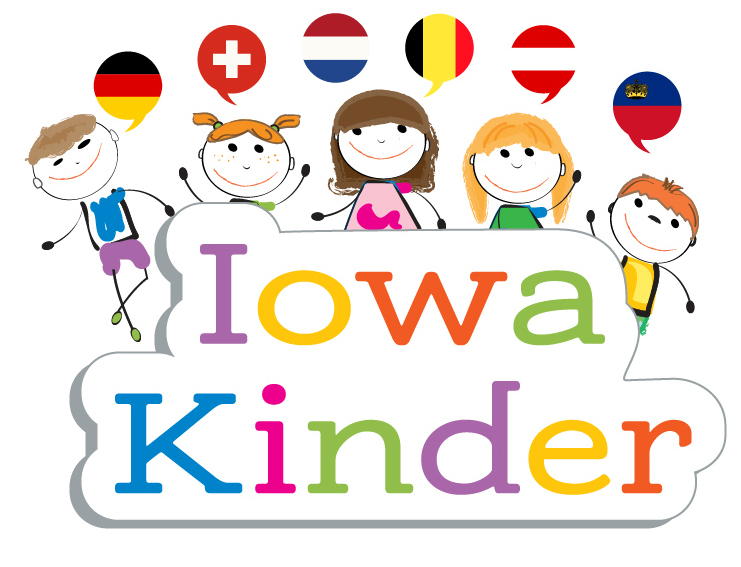 Herzlich Willkommen bei der DMEHA Samstagsschule!
We provide a fun and immersive environment for kids to learn, improve, and practice the German language! Our teachers have decades of experience and are excited to share German language and culture with your kids.
Wo?
We meet at Central Presbyterian Church (3829 Grand Avenue, Des Moines, IA).

Wann?
Classes are Saturday mornings 10-11:30am on January 18, 2020 - May 2, 2020: a total of 13 classes (no class on 14Mar or 21Mar).
Wer?
We are currently offering classes for kids with German experience at home as well as beginning lessons for kids in grades 2-7!

-Preschool & Kindergarten students (age 2-5) with German experience at home (Heritage German/native)
-Grade 1-9 students with German experience at home (Heritage German/native)
-Beginner German for students in grades 2-7.
Wie viel?
Heritage Preschool/Kindergarten attend with a parent $110/semester
Heritage Grades 1-9 $175/semester
If you are registering siblings, the total class cost is discounted by 10%
To receive the sibling discount, enter promotional code "10PERCENT" immediately after you click the green "Tickets" button.

New for Spring 2020: ala carte classes. Some families find it difficult to attend every Saturday during the semester. With Ala carte ticketing, purchase a ticket for each class you are able to attend.

Join Des Moines European Heritage Association as a member and receive an additional 5% - 10% off. Click here to join.
Registration deadline is January 11, 2020.

Questions? Please contact us at languages.dmeha@gmail.com.

Learn about the classes:

Mäuse (PreK, Kindergarten): The "Maeuschen" class is a 90 minutes course for kids age 2-5 with German background or experience. With the help of German songs, games and crafts the kids are using the German language while having fun. Typical German holidays are celebrated too, for example St. Martin (Nov), Nikolaus (Dec), Karneval (Spring) and the Maifest (May). The goal of this class is for the kids to get to know daily used words in German and basic grammar.

Mini (1-2.te Klasse): The Mini group is designed for 1st and 2nd grade students who grow up with German language being spoken at home. During the class we explore different themes while playing games, reading stories, singing songs and making crafts. We study the German alphabet, extend our vocabulary and work on writing and reading words and basic sentences.

Maxi (3-5.te Klasse): The Maxi group is intended for 3rd through 5th graders who speak and hear German at home. We read German stories and poems, sing, act and play. Children work on increasingly independent writing, spelling, and grammar in an age appropriate way, using a curriculum called Einstern's Schwester for in-class and at-home practice. The goal of this class is to develop literacy in German and to expand German academic vocabulary.

Schlaumeier (6-9.te Klasse) My name is Dagmar Scheel. Before moving to Iowa, I taught Kindergarten at a bilingual IB (International Baccalaureate) school in California. Here in Iowa I have been working as a substitute teacher in several school districts in the Des Moines area, often in middle school. For the last four years I have dedicated my Saturday mornings to the German Saturday School in Des Moines. The Smarties are 5. - 10. grade students. We read, write, listen and speak in German and work on vocabulary and grammar. We listen to German movies, read news articles and stories in German. As a native speaker who grew up in Germany, I enjoy including German culture in our classes and making German a fun experience.
Löwen: A class for 3rd-6th grade students who are starting their learning journey! We learn basic vocabulary and German expressions by playing games, singing songs, and creating art! Our goal is to practice spelling, vocabulary, and fluency in conversational German.