DMALA - March 20 (no meeting in April, next meeting in May)

Tuesday, March 20, 2012 from 7:00 PM to 10:00 PM (PDT)
Event Details
yes....  March is on for the Third Tuesday.  20th. 7-10pm
IMAGINEER SYSTEMS mocha v3
Imagineer Systems presents mocha v3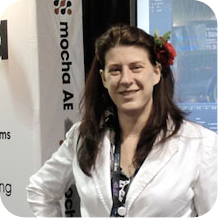 A preview of the newest version of mocha, Imagineer Systems's popular planar tracking and vfx tool. mocha v3 products have been updated to add new features and improve core areas for our customers: from large facilities that require advanced layer management tools for film effects and roto pipelines, to creative boutiques and artists who've been asking for true 3D camera support for years. You asked for it, you got it in v3! mocha v3 is targeted to in April 2012.
Mary Poplin is Imagineer Systems' Los Angeles based product specialist (www.imagineersystems.com). She will be presenting a technology preview of mocha Pro v3, Imagineer's planar motion tracking application optimized for rotoscoping, object removals and other difficult visual effects tasks users face day to day, including lens correction, stabilization and more. One lucky door prize winner will win a full seat of mocha Pro software (valued at $1495). Fore more information: http://www.imagineersystems.com/products/mochapro
Mary Poplin is an experienced visual effects artist who has worked on major 3D Hollywood feature films such as The Last Airbender, Gullivers Travels, and Jackass 3D. As Imagineer Systems' west coast product specialist, Mary consults with studios and provides hands on training to help evangelize the power of mocha and planar tracking.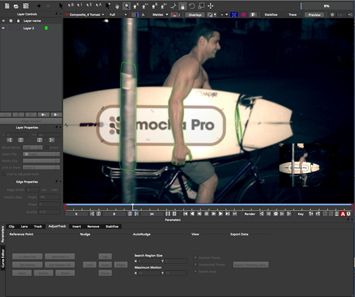 FREELANCE SURVIVAL GUIDE
THE WILD WILD GRAPHICS WEST

Working as a freelancer is a challenging task.  Sometimes getting your first paid-project can be daunting.
Fede Ponce has years of insight to help you decide which plan of attack is right for you. Tips to help you grow your career and best business practices for keeping your career as a freelancer on track.
Freelancing, interviews, reasons for incorporation, starting your own studio - - which is right for you?
WHAT SHOULD YOUR RATE BE - AND WHY?  Probably the most frequently asked question in freelancing.
Fede Ponce has been working in the industry since 2003 and has worked for several studios, including Royale, National, Capacity, High Ground, SuperFad, Ant Farm, Solid, Iron Claw, Logan, Zoic, Paranoid, Imaginary Forces, Monkey Head, Chromatic, and Disney.  He has been a VFX Supervisor for Michele and Olivier Gondry, Golden Trailer recipient, and is the Art Director for the 'most downloaded trailer in history'.
YOUR DEMO REELS
 Your work is inspiring. Your work is new. Your work can get you that next job.
Want to show off your latest?  Put it on a playable DVD, or bring an H264 movie file to the meeting.  We have invited people to come see your work - and they want to hire you.  (so bring a business card too).
Bring your info for me too.
10Min Tip : Photoshop on iPad2
Adobe has brought Photoshop Touch to Apple's iPad2.  It's not 'Photoshop', it's 'Photoshop Touch'. On the go, you can start to create while you're away from your desk, then export it back to your desktop version of Photoshop to finish it up.  This month, 10 minutes? 5 great features of Photoshop Touch.
If you'd like to find out more about Photoshop Touch in detail, there are two other groups having some deep dive presentations about the software, with product demos from Adobe. The groups will meet in San Diego and Orange County.  more information on Adobe Groups
JOB ANNOUNCEMENTS AND NEW DOOR PRIZES!!:
As if fun creative jobs aren't enough of a prize, we'll also have some door prizes to give out at the end of the meeting.
GET NOTICED! BALLISTIC PUBLISHING IS LOOKING FOR TALENT:

Ballistic Publishing's dedication to representing artists through its publications has changed the lives of artists worldwide and launched many careers. Ballistic's EXPOSÉ titles have given many artists unprecedented publicity at no cost, while inspiring countless others!
Call For Entries - Ballistic Publishing is now calling on artists to submit digital images for consideration in EXPOSÉ 10.   The tenth edition of the premier annual art book, which celebrates the creative talents of digital artists worldwide will be a major part of our first decade in business celebration.
We are interested in digitally-created fine art, whether it be 2D or 3D, for commercial use, or personal satisfaction. 
As with all Ballistic Publishing showcase publications, artists with work published in EXPOSÉ 10 will receive a complementary copy of the book and will enjoy worldwide exposure in the premier collection of digitally-created artwork to ever be published. 
There is no entry cost nor limit to the amount of artwork you submit.   EXPOSE 10 will give Artists enormous exposure in the film, game and animation world. 
Entries close 15th March, 2012 – to upload your artwork visit http://www.ballisticpublishing.com/books/expose/expose_10/callforentries/
ARTBEATS FOOTAGE YOU CAN USE: 
This month SPECIAL PRIZE DRAWING FOR $500 worth of footage!
HERE'S HOW:
1. Register, and download a free clip of footage from Artbeats.com (https://www.artbeats.com/register);
2. Make something with that footage (anything), and;
3a. Post it or a link to it on our DMALA Facebook page(*if you don't have a FB acct, just send me a linkto post for you), or;
3b. Or Tweet a link to it with #dmala #artbeatsinc (*if you don't have twitter acct, send me your name and a link to post for you).
That's it!  You're in the door prize pool for the Artbeats prize.  You must be present to win.
If you get more than 10 "Likes" on the DMALA Facebook page, come see me, and you can have your pick of some Adobe swag, or a VideoCopilot TShirt (XL).
See you on the 21st!
DON'T FORGET TO CHECK THE FACEBOOK PAGE FOR LOTS OF J-O-B-S.  
If you are a designer, and/or know After Effects, CINEMA 4D, Maya, Photoshop, FinalCut Pro, PremierePro  MochaPro - companies are looking for you.
---
Did you know you can add/approve your friends for the FB Group?
INVITE A FRIEND: http://dmala.eventbrite.com
 SPECIAL THANKS TO VOLUNTEER MEMBERS
Steve Toyama and Paul Lujan
---
ADOBE USER GROUPS!

If you've ever been to one of our meetings before, you know that we're also an ADOBE USER GROUP, which means that there are even more benefits for you online. http://dmala.groups.adobe.com.
--------
AWE INSPIRING WORK
• BALLISTIC MEDIA http://ballisticpublishing.com #ballisticmedia
Ballistic Publishing has books that will inspire you to design the next awesome work.  You'll
RESOURCES FOR THE COMP:
• Artbeats - Footage you can use. http://artbeats.com #artbeatsinc
Register online, and you can start downloading footage right now.  Their huge library has something for eveyone.
SOFTWARE for PROS:
• Imagineer Mocha & Mocha PRO  http://imagineersystems.com #imagineersystem
Track it. Replace it. Roto. Clean up.  You may have mocha AE, but check out mochaPRO for some heavy hitting features.  Once you start using mochaAE, you'll be glad you did.
• Toolfarm http://toolfarm.com #toolfarm
The animation PRO SHOP. You don't even need to be a pro to shop there.
• Red Giant Software http://redgiantsoftware.com #RedGiantNews
Red Giant Software. Everyone jsut says "REDGIANT" year - because everyone knows - trapcode / magic bullet / knoll light factory / colorista /... and most think of RedGiant for the plugins you purchase from them - but did you know that Aharon is also running tutorial videos at the site (the many superstar guest hosts). Check it out.
• Video CoPilot http://videocopilot.net #videocopilot
It's Andrew Kramer.  Plugins, Tutorials, Apps.  Check it out.
GET SMARTER - READ UP
• Class on Demand http://www.classondemand.com
Tons of classes for Adobe software. DMALA members know their Photoshop and After Effects front and back.... but do you know all of Production Premium? How about Adobe Premiere Pro? Class on Demand is giving away special online prizes this year! Check them out
• Peach Pit Press http://www.peachpit.com #Peachpit
With tons of eBooks to choose from (as well as physical paper), you can fill your melon with tons of tech. Many of the offerings have Safari Books Online subscriptions attached as well. ADOBE CLASSROOM IN A BOOK? Peachpit makes it - check out their iTunes podcasts as well.
• Focal Press http://www.focalpress.com #focalpress
Publisher of Steve Wright's books on compositing, Focal press has given readers a resources for their library mainstays. Whether you're an animator in After Effects, Nuke, Flame or other software, you'll want to check out how Steve can help you improve the look of your digital comps.
*Thanks to Our Supporters*
• ADOBE SYSTEMS http://www.adobe.com #adobe
Each meeting is made possible by Adobe. Whether your a beginner or a veteran Adobe user, you should probably check out their site again. Did you know that there is a Community Page at the Adobe site for tips/tricks/FAQs about their software?
Also: Save 15% on Adobe Software through the store.
-Visit http://www.adobe.com/go/cspartners
- Enter your info and the validation number : 72360
Until then, please be sure that you're part of our growing Adobe groups page (over 500 members already this year!): http://dmala.groups.adobe.com
--
So get 'em while they're available (seats are first-come basis)
Not on the list, or can't bring your ticket? Bring your wallet / Tickets $10 door!
--
SPONSORS
I'd like to thank our annual sponsors for giving us amazing product - to give to you! You can thank them too by checking out their websites. Many have new tutorials / tips / project files for their end users. http://www.dmala.org
SPECIAL THANKS to Adobe Systems for providing a space for us to meet.
--
Ko
ARE YOU ON FACEBOOK? Update your wall with our meeting
Twitter users too! Check link buttons on this page!
*Must be registered with Eventbrite and be present to win, other restrictions may apply
If you've signed up before - it doesn't matter - please sign up again. We'd like to know if you're coming. If you have a friend who wants to come along - great, but please have them sign up for their own ticket.
Share your pictures with us: http://www.flickr.com/dmala
Registration does not guarantee you a seat! Be sure to show up early.
Doors open at 6:30PM.
PLEASE REGISTER FOR THIS MEETING
We will be issuing doorprize tickets to registered attendees when you come in.You MUST BE REGISTERED here for a doorprize ticket.
See you there.
Ko & Warren
Special thanks to Adobe Systems for providing space for you to join us each month!
Attendee List
Sort by:

Date

|

First Name

|

Last Name
When & Where
4800 Hollywood Blvd
Los Angeles, CA 90027


Tuesday, March 20, 2012 from 7:00 PM to 10:00 PM (PDT)
Add to my calendar
Organizer
Digital Media Artists \ Los Angeles
Digital Media Artists / Los Angeles (DMA/LA) is an association for professionals creating imagery for video, film, and other media using desktop tools. MGLA was formed in August 1997 through the merger of several previously-existing groups. DMA/LA is an extention of that - continuing in 2008. DMA/LA's area of discussions are not restricted to a specific hardware or software solution, understanding that an artist often has to employ 2D, 3D, and other digital tools to realize their vision - and that artistic inspiration can be universal.
DMALA - March 20 (no meeting in April, next meeting in May)