Dlectricity's signature Light Bike Parade is a 3-mile+ ride that connects Detroit's Cultural Center to DTE's Beacon Park.
About this event
The Light Bike Parade is a show of light bike artistry for everyone to enjoy. Come with your bike already illuminated, or grab a limited light kit the day of the ride (available to those who pre-register and on a first-come, first-served basis), and be part of this mobile art installation. Perfect for families and FREE to join!
The 2021 Dlectricity Light Bike Parade starting point is at Traffic Jam Restaurant's parking lot located on Canfield Street (between Cass and Second Avenues) just across the street from Shinola.
Parade Forms: 5:00 PM – 7:30 PM
Estimated Start Time: 8:00 PM
Estimated End Time: 9:00 PM
For More Information: call 313-420-6000
Sponsored by: Shinola Detroit
In Partnership with: Traffic Jam Restaurant
NOTE: Please bring your Eventbrite registration to the parade staging site -- a hard copy or show a digital copy from your phone!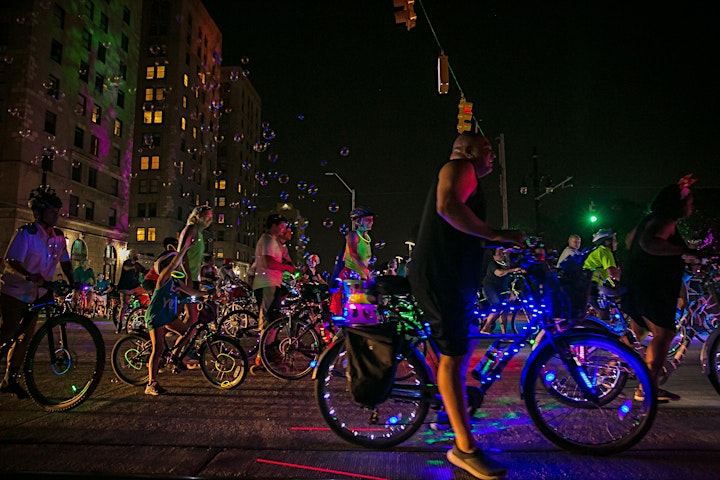 Organizer of DLECTRICITY 2021 Light Bike Parade
Midtown Detroit, Inc. (MDI) is a nonprofit planning and development agency charged with revitalization of Detroit's Woodward Corridor. Representing over 150 area stakeholders, including Detroit's anchor educational, medical and cultural institutions, MDI provides public space maintenance and security services; marketing support; technical assistance; infrastructure and real estate development; small business support; grant administration; and arts programming for the district.