DLE Culture Chat: Create a Workplace Culture Where People Want to Stay
THE TOPIC EVERYONE'S TALKING ABOUT: CREATE A WORKPLACE CULTURE WHERE PEOPLE WANT TO STAY
About this event
Spurred by the current exit movement known as "The Great Resignation," the October 15 Culture Chat examines the magnetic power of an organization.
Join professionals from diverse companies and industries for an interactive, moderated conversation, starting at 12 noon ET, on the topic: Create a Workplace Culture Where People Want to Stay. Share tips and acquire new practices for driving an inclusive, supportive work environment that encourages employees to stay.
Culture affects nearly every aspect of an organization, and a strong, positive one delivers a competitive advantage—particularly at a time when employee exit rates are climbing. Attend this one-hour program to air your experiences and gain insights from others for improving morale, retention and teamwork.
Register now to reserve your virtual seat. Thanks to the sustained sponsorship of Dulye & Co. consultancy, there is no fee to attend this program.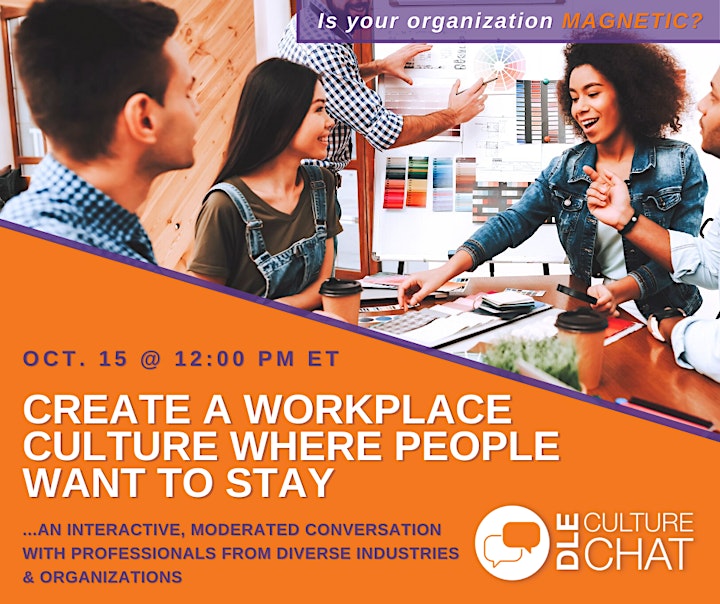 Organizer of DLE Culture Chat: Create a Workplace Culture Where People Want to Stay
ABOUT THE DULYE LEADERSHIP EXPERIENCE
Since 2008, the Dulye Leadership Experience (DLE) has invested in hundreds of young professionals nationwide to enthusiastically and confidently contribute to the success of their company, community and career.
Through the sustained sponsorship of Dulye & Co., the management consultancy owned by DLE founder Linda Dulye, an inclusive, innovative, informative curriculum has been developed to inspire rising leaders' career and life success. Training in critical skills and networking is offered at no cost to DLE Community Members, whose diverse representation by industry, geography, vocation and expertise is a distinctive dynamic of the organization.
Today, the DLE has responded to the isolating impact of the COVID-19 pandemic with its largest offerings of skills workshops, networking exchanges, instructional videos and career coaching that connect curious, motivated young professionals to each other and their personal developmental needs.