IT'S A HYBRID HOLIDAY SEASON! HOW IS YOUR ORGANIZATION CELEBRATING?
About this event
In-person. Remote. Hybrid. All three work environments have become mainstays this holiday season.
What new traditions are your organizations creating to unite people in celebrations? Attend the December 10 DLE Breakfast Club at 7:00 AM ET for an interactive conversation on the topic of Hybrid Holiday Connections. Join professionals from diverse companies and industries and explore how employers will mark the season as we toggle the line between virtual and in-person.
The program will include time to build connections through a holiday networking exercise in small groups. As a bonus, participants will receive a PDF copy of the festive DLE Holiday Kitchen Traditions cookbook--2021 Edition.
Have fun, learn new workplace dynamics and gain new contacts. Seating is limited to 20 participants to foster a supportive, interactive experience.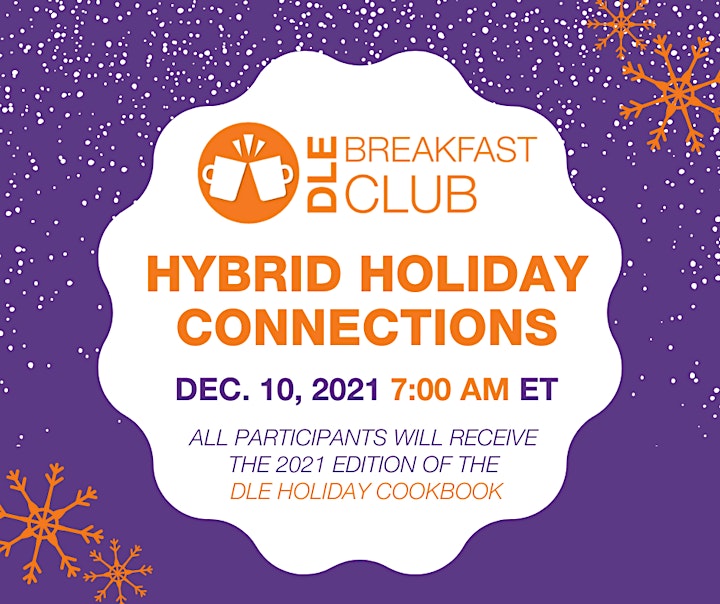 Organizer of DLE Breakfast Club: Hybrid Holiday Connections
ABOUT THE DULYE LEADERSHIP EXPERIENCE
Established in 2008, the Pittsfield (MA)-based Dulye Leadership Experience (DLE) connects professionals from diverse industries, positions and organizations in the Berkshires and beyond through in-person and virtual career development and networking opportunities, year-round.
Operated as a philanthropic organization, the DLE is managed and underwritten by Dulye & Co., an impact-driven leadership development and employee engagement consultancy owned by DLE Founder Linda Dulye.
The DLE is unmatched for the diversity of its global community, inclusive culture that supports career ownership and fee-free professional development curriculum. Watch and hear first-hand from DLE members how they've achieved personal and professional growth by clicking here.