Sales Have Ended
Registrations are closed
Unfortunately, the registration deadline for this event has ended. If you are interested in joining the class and paying cash or check at the door, please email us at help@djiphotoacademy.com and we will confirm that a seat is available. Also, please check out website schedule – www.djiphotoacademy.com – for future classes in your area!
Sales Have Ended
Registrations are closed
Unfortunately, the registration deadline for this event has ended. If you are interested in joining the class and paying cash or check at the door, please email us at help@djiphotoacademy.com and we will confirm that a seat is available. Also, please check out website schedule – www.djiphotoacademy.com – for future classes in your area!
Description
This Day will Change Your Drone Experience Forever. We Promise.
You found the right class!
We are the original DJI Aerial Photography Academy. We'll make your drone photography simple, fun, & profitable.
Get inspired & grow your business. This is a rapid-paced, full-day class built for you. Learn to create top quality, compelling, marketable drone photographs under the guidance of the world's most experienced drone photography instructors.
This class is for you because:
You are a drone owner looking to create the highest quality aerial photographs, and explore an additional source of income.

You are a photographer who wants to add aerial photography to your professional services.

You are a realtor, inspector, contractor, emergency responder, artist, civil engineer, insurance adjuster, farmer, developer, or journalist, surveyor... wanting to make your job safe and more efficient.

You are confused by the rules, the equipment, costs, the drone operation. You want the facts.

You are retired and looking for an amazing hobby that can generate side-income and keep your spouse happy.
Expert drone photographers Randy Braun & Stacy Garlington come from DJI global headquarters as the only authorized instructors to share their expertise during this fun five-hour, tag-team presentation.
---
If you want something you have not yet achieved, now is the time to schedule it; make it real.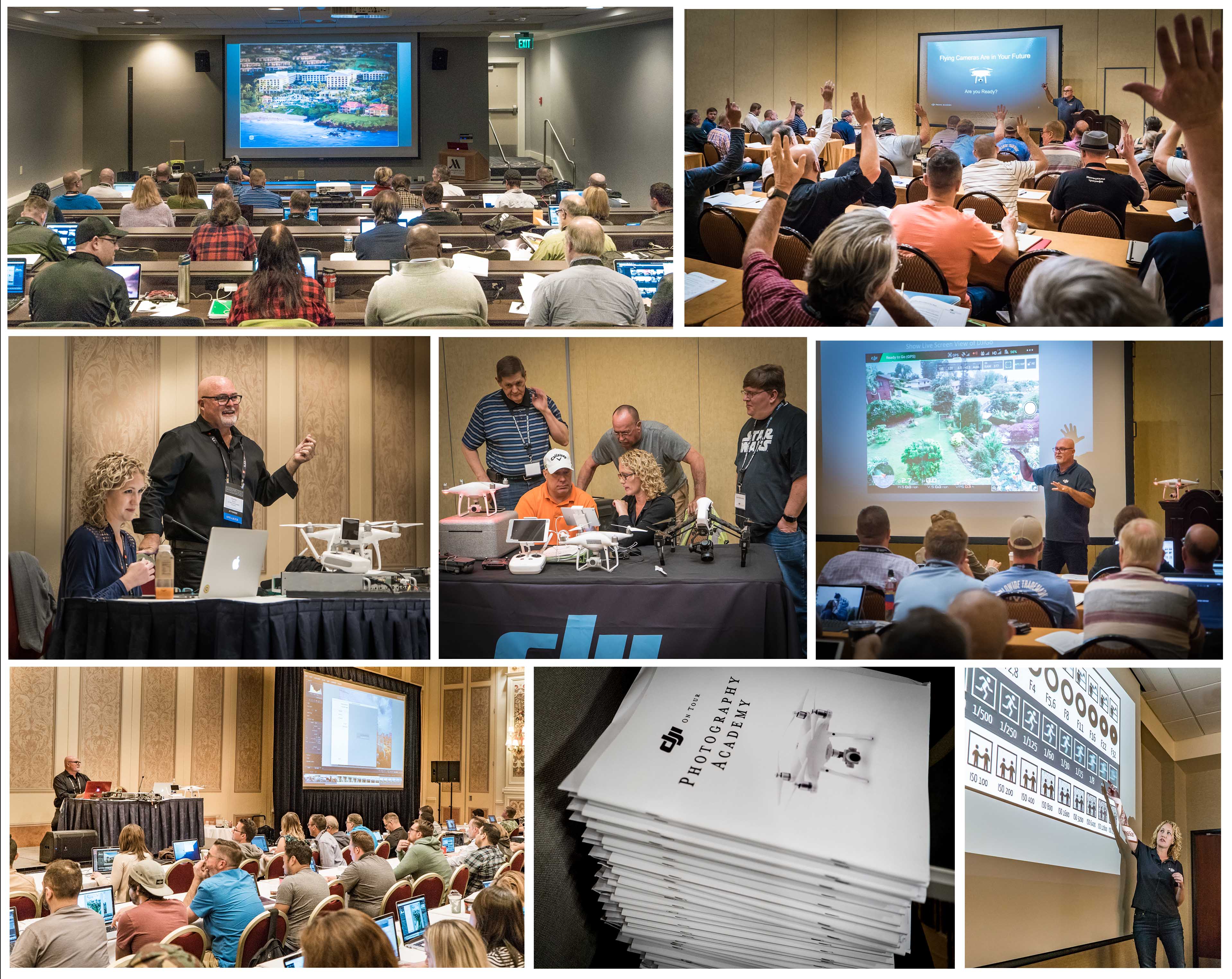 Interested? You will also receive:
Five exciting hours of priceless insight from truly experienced drone photography instructors (not YouTube wanna-be's.)
Tips & tricks to accelerate your skills by months or years, in your pursuit of quality aerial photography.
Business guidance from drone industry experts who led the Aerial Still-Photography Development Team in DJI corporate headquarters.
Face-to-face question/answer time with instructors in a small class environment.
Post-processing instruction/demonstration with Adobe Lightroom Classic, the industry standard.
High-value drone product and service coupons that will easily recover your registration fee, and a lot more.
An excellent opportunity to make connections with fellow drone operators in your own home-town.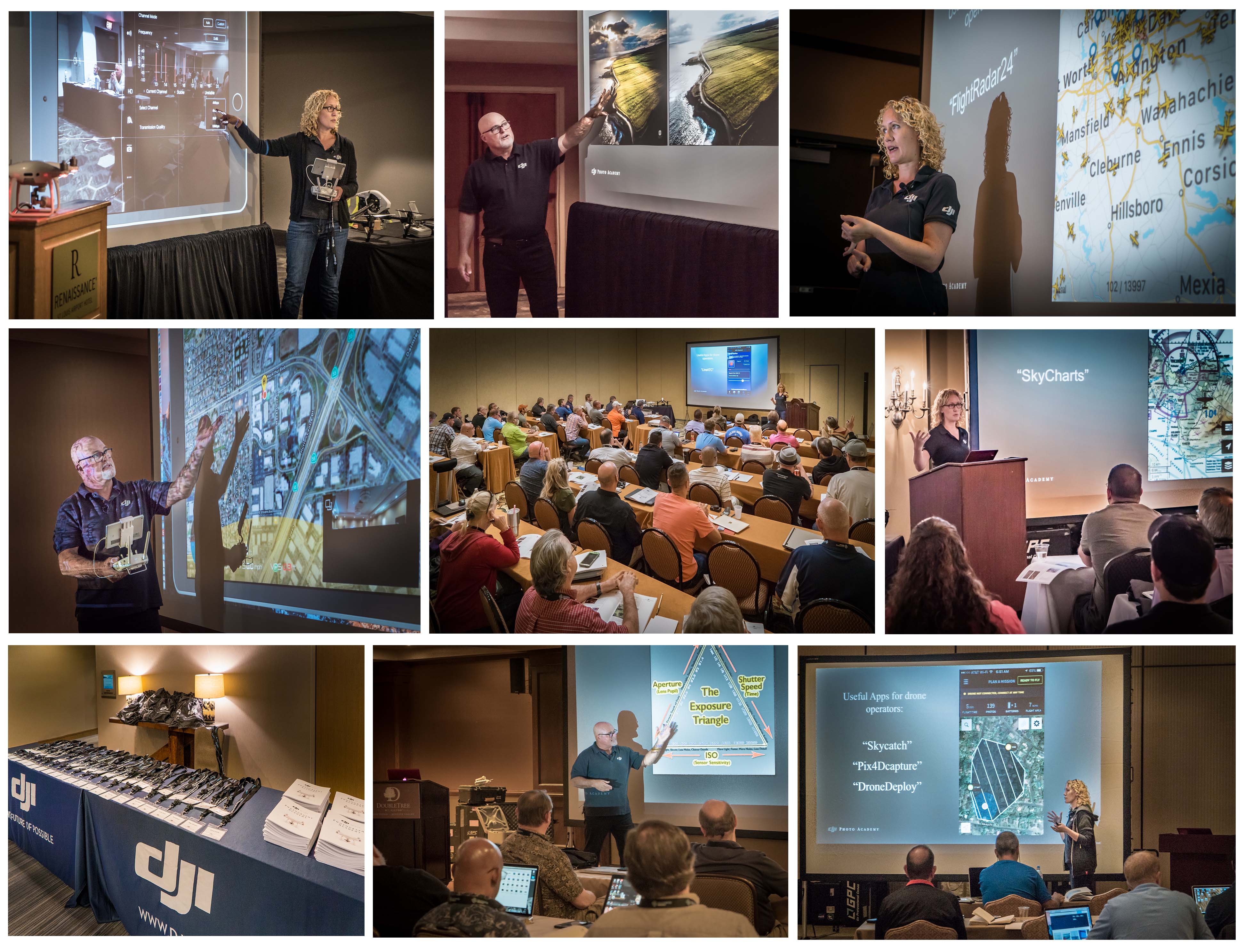 Questions?
Is there a minimum age to attend? This event is open to anyone 18 years of age and older. Under 18 must be accompanied by an adult who is also registered.
What room is the class held at the Hotel? Pinot Noir Ballroom Link to the hotel HERE.
What can I bring to the event? We will present you with a 64-page class workbook upon arrival. We encourage you to bring a laptop computer if you wish to follow along with post-processing in using Adobe Lightroom. (Tablets are not guaranteed to have the full functionality of Adobe Lightroom Classic.) Sample photos will be provided to you prior to the event. You may also bring your day-pack and store it under your table.
May I contact the instructors with any questions? Please do! Email is best at randy-stacy@djiphotoacademy.com
Refund Policy - You may apply for a full refund up to 72 hours (3 full days) before the 10 a.m. start of the event. If you are unable to make it because of a last-minute conflict, you are invited to either transfer your ticket to a friend, or attend another of our scheduled classes during the next 365 days following this event. We are strict with this 72 hours policy and are unable to make any exceptions.
Lunch break? There will be one full hour lunch break, on your own, at about 12:30 pm.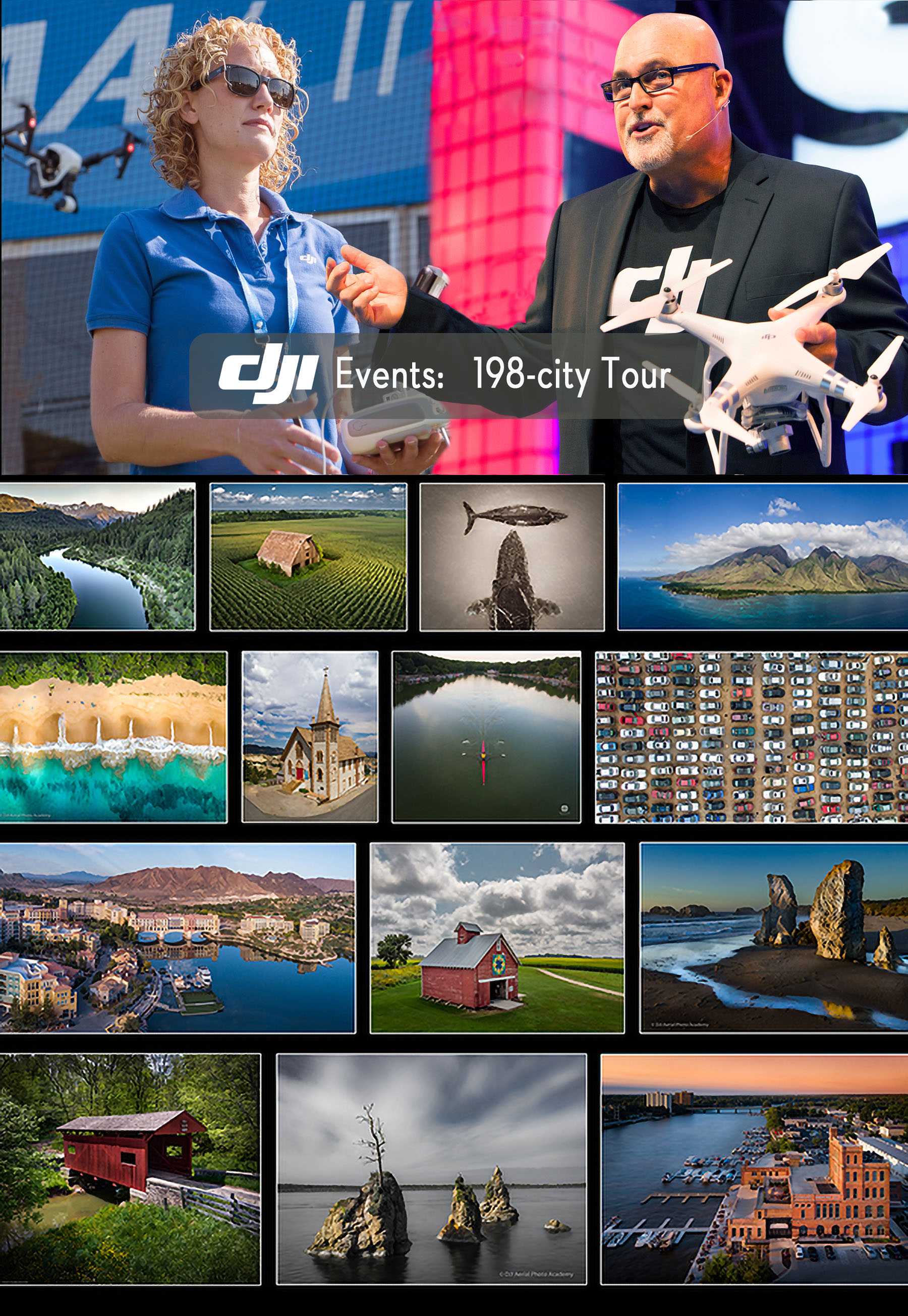 Special thanks to our event sponsors: DJI, Adobe Systems, Drone Deploy, Multicopter Warehouse, Remote Pilot 101, GoProfessional Cases, The Drone Flight School, Skylum Software, and Moment Mavic filters. We use their products and services passionately during our 198-city North America tour!
Don't hesitate. Seating is limited to 45 at this event. Complete info is on our website: www.DJIPhotoAcademy.com. Make it happen.
Organizer of DJI Drone Photo Academy – Atlanta, GA
Randy Jay Braun is likely the most experienced drone photography instructor on the planet. He brings to this drone class a lifetime of professional photography experience, with more than 200 drone classes and workshops under his instruction.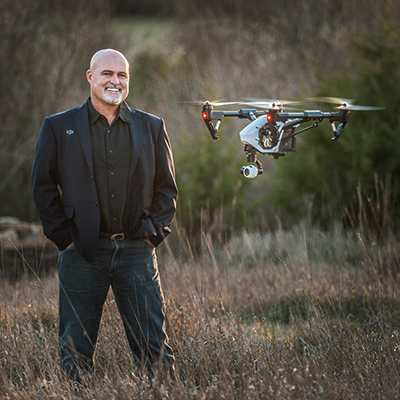 The DJI Phantom quadcopter came onto the market in late 2012. Braun was one of the first photographers in the world to adapt to this new genre of aerial image capture.
He began testing prototype drones and cameras for DJI, the world's largest drone company. DJI solicited Braun's help to promote the Phantom consumer drone across social media channels in the Western world.
In 2014, Braun published the first-ever book about the topic, entitled, Aerial Drone Photography: Essential Methods with Your Phantom Quadcopter.
DJI hired Randy Braun full-time in 2014. After several weeks working with the company founders in the Shenzhen, China headquarters, Braun helped open the first official North America office in the basement of a co-worker, in Silicon Valley, California.
Braun served as Director of Product Experience for DJI. He traveled worldwide demonstrating practical and unlikely uses of the new quadcopters. Braun split time between the Shenzhen Headquarters and Silicon Valley for three years as the company began its rapid global expansion. Braun was on the launch teams for the Inspire 1, Phantom 3, Phantom 4, Mavic Pro drones.
Braun created DJI's Still Photography Development Team, insisting that small drones would forever change the playing field of photography. During this tenure, he became an international expert; a spokesperson for aerial drone photography, lecturing at every major photography and drone conference worldwide.
In 2017 he co-founded the DJI Aerial Photo Academy, a traveling workshop series teaching drone photography skills across North America. Braun and his partner produce and instruct drone photography workshops in fifty cities annually.
Stacy M Garlington is co-founder and instructor for DJI Aerial Photography Academy – the world's only aerial photography education partner to be authorized directly by DJI.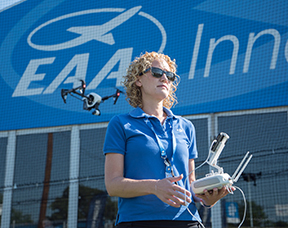 Garlington stumbled upon a used DJI Phantom 1 quadcopter during her personal quest to become a noteworthy photographer. She attached a GoPro camera to the drone and practiced her flight and aerial photography skills voraciously. At the same time, DJI was expanding into North America.
DJI recognized her skills. Garlington was hired by the new Silicon Valley office to produce marketing events and brand the new DJI drones as a tool for photographers. She continued to augment her flying abilities, developing a technical knack for flying in difficult locations and situations.
DJI brought Stacy Garlington to the Shenzhen, China headquarters in 2014 to expand her responsibilities in the drone industry. Her title changed to Product Experience Specialist. She quickly became DJI's lead demo pilot and a spokesperson for the Phantom drone series.
An underlying interest in photography guided her path during her next two years with DJI. Garlington is widely known for her ability to coach aerial photography. A few of her remarkable accomplishments include:
 •Lead drone operator for NOAA permitted humpback whale research team Keiki Koholā Project 2017- present
•TEDx presenter: Perspective from Above
•Published in: TIME, Forbes & GQ Magazines
•Hands-on drone training for the New York Times, Wall Street Journal, BBC, & CNN staff reporters.
•Featured instructor at Adobe MAX, Santa Fe Photography Workshops, Photoshop World & Imaging USA annual conferences.
•Featured profile in DJI Video collection: Journey to the Sky
•Featured profile story in Lynda.com documentary: Flight Club
•Skypixel.com Gallery World Tour contributor
•Selected for book publications Masters of Drone Photography and Above the World – Earth Through a Drone's Eye.
•Phantom 3 launch event keynote presenter before a worldwide online & live press audience.
•Co-developer of DJI's internal Still Photography Development Team.
•Drone photography workshop organizer & instructor on a 50-city tour during 2018.
•Taught 5000+ individuals how to safely fly and use drones for aerial photography.