DJEMBE - An Interactive Conversation on Wellness for Men of Color

Saturday, June 14, 2014 from 1:00 PM to 6:00 PM (EDT)
Event Details
 The Akoma Newark Sister Circle & Center Stage Cuts Presents:
"Djembe"
An Interactive Conversation on Wellness for Men of Color
 Overview: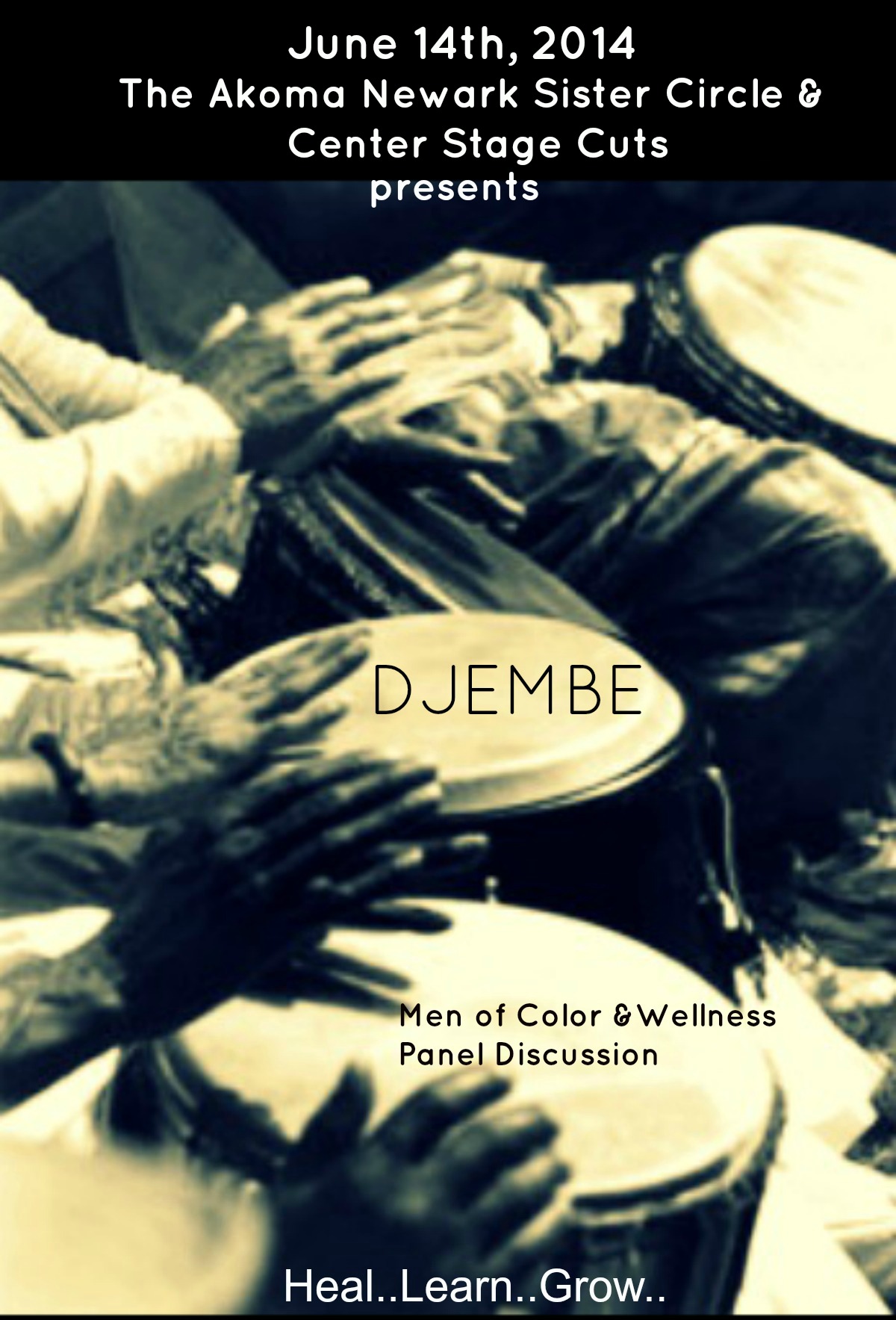 According to The Federal Bureau of  Investigations, in 2012 there were 1,154 acts of violent crime, 34 murders/suicides,19 rape cases, 708 robberies, and 391 aggravated  assault cases in Newark, NJ.
A large percentage of the victims were men. In order to reduce the frequency of these tragedies, The Akoma Newark Sister Circle in collaboration with Center Stage Cuts will host  "Djembe: An Interactive Conversation on Wellness for Men of Color". The intent for this  event is to initiate discourse around the following topics: 1) The recent  shootings within the Newark community and 2) the rise in suicide rates among men in urban areas. 
Cultural Significance of the Djembe:
Dje translates to gather, and be translates  to peace.
Drum circles are increasing in popularity as a platform for medication, team-building and alternative therapy for a number of diseases. Whatever the truth of djembe history may be, the drum is an intrinsic part of West-African culture. Storytellers and healers find the djembe's brilliant and expressive voice the perfect complement to their art. The instrument is used to reconcile differences between the men of a community. Djembes are also the instrument of dance for social occasions such as births, funerals, marriages, rites of passage and the planting and harvesting of crops, all of which have their own songs, dances and rhythms. Through usage of the drum as a symbol for connecting the community as "One" we plan to gather community activists, local leaders, Newark residents to create an environment where young men of all age groups feel safe to openly discuss issues that affect them. There creating a platform for potential future programs fostering awareness and support for men of all ages suffering from mental illness.
Mission:
According to the Center for Disease Control, the suicide rate for Black men between the ages of 20 and 24 years old is 18.8 per 100,000. The suicide rate for young Black men in this age range is highest among Blacks of all ages and both genders. Dr. Waldo E. Johnson Jr. said during a one-day symposium at the University of Chicago, "Black boys are more depressed because they believe their physical safety is always being threatened. Their families are economically poorer than Whites and many Black families live below the poverty line." Many researchers, including Charles H. Hennekens, M.D., of Florida Atlantic University's School of Medicine, state that homicide is the leading cause of death among young Black men, a phenomenon he has referred to as a "national tragedy." Our mission is to use the Djembe to help heal a community and restore African traditions.
Event Logistics:
Date: June 14th, 2014
Time: 1:00pm - 6:00pm
"Help our men march to the beat of their own drum."
We are happy to announce DJEMBE Guest Panel Speakers!


Panel I - Guest Panel Speakers:
Al-Tariq Fp Youthoutcry Best 
Archange I. Antoine
Jesse Pierre 
Tyrone Hartmen 
Vincent Bonds

Panel II - Guest Panel Speakers:
Darren Arthur 
Kenneth Todd Nelson 
Nate Crawford
Naseed Gifted
Shaheed K Woods

Moderator:
Ali McBride

Opening Ceremony Performed by
Baba Oluwole Ifakunle

Event Produced by Haitian American Artist,
Sophia Domeville 
Co-Produced - Tracee Thomas & Jessica Dunston
Venue:
Center Stage Cuts,
402 Broad Street, Newark, NJ
Event Sponsored By: 
Bright Mood, Inc.
Face2FaceAfrica
Fatherhood, Inc.
Health Corps.
HLS Juice Bar & Grill
MUI | The PR Company
Phoenix Aficionado, Inc
The Black Man Can Organization
The Carib Diva
The Royal Men Foundation
S&K Sweets, Inc.
When & Where

Center Stage Cuts Barbershop
402 Broad St
Newark, NJ 07104


Saturday, June 14, 2014 from 1:00 PM to 6:00 PM (EDT)
Add to my calendar