Sales Have Ended
Ticket sales have ended
Email: info@AnyCityPromotions.com for more tickets!
Sales Have Ended
Ticket sales have ended
Email: info@AnyCityPromotions.com for more tickets!
Description
D'Jais
- SPRING FLING 2017 -
The Pool After Dark Harrahs - Atlantic City, NJ
Doors Open 9:00PM, Kipples Happy Hour til 10:00PM
Music By
Chris Moody, DJ Kipples, DJ Finesse, Sal Cianci,
DJ John Farruggio, Brendan O'Neill, and Joe Rocco!
One of the hottest and largest clubs in Atlantic City to party!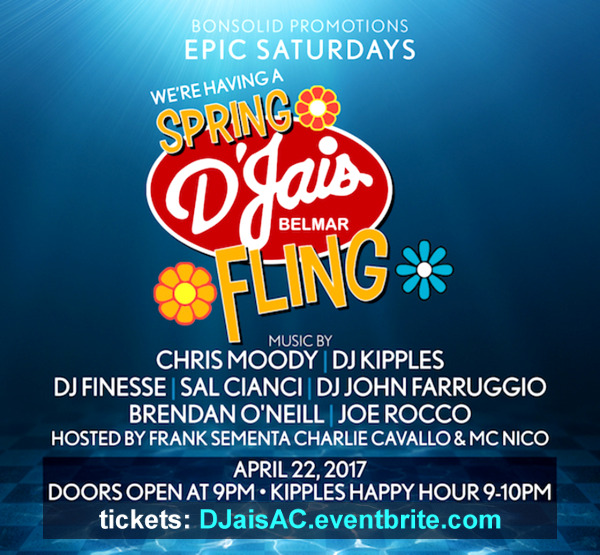 DJs DJais D'Jais of Belmar Famous Spring Fling!
The Pool After Dark, Atlantic City, NJ

Hosted by Frank Sementa, MC Charlie Cavallo, Nico, BonSolid & The D'Jais Staff. Summer 2017 Giveaways! 2017 VIP Cards! + That D'Jais Summer Lovin'. Fashionable bathing suits are encouraged for this event!
The Pool at Harrah's is Atlantic City's Largest Indoor Pool & Entertainment Complex with 172,000 Square feet of Cabanas, Bars, Private Jacuzzis & Panoramic Stage. All in a climate controlled Environment. Recent Celebs: 50 Cent, Ja Rule, Jesse McCartney, Blac Chyna, Jump Smokers, Amber Rose, Snoop Dogg, Pauly D, Ray J, Brody Jenner, Jay Sean and many more!
If you haven't been there yet you have to check out this amazing spot. Cabanas / Tables / Jacuzzi's are all around and even Palm Trees! There is also an outside deck where you can chill out and enjoy the weather under the stars, and the lights of Harrahs.
- Must be 21+ with Valid ID