Accomplished DJ's & educators G Silva and Dana J will guide you through all aspects of DJing using the Djay app and Hercules DJ Controllers
About this event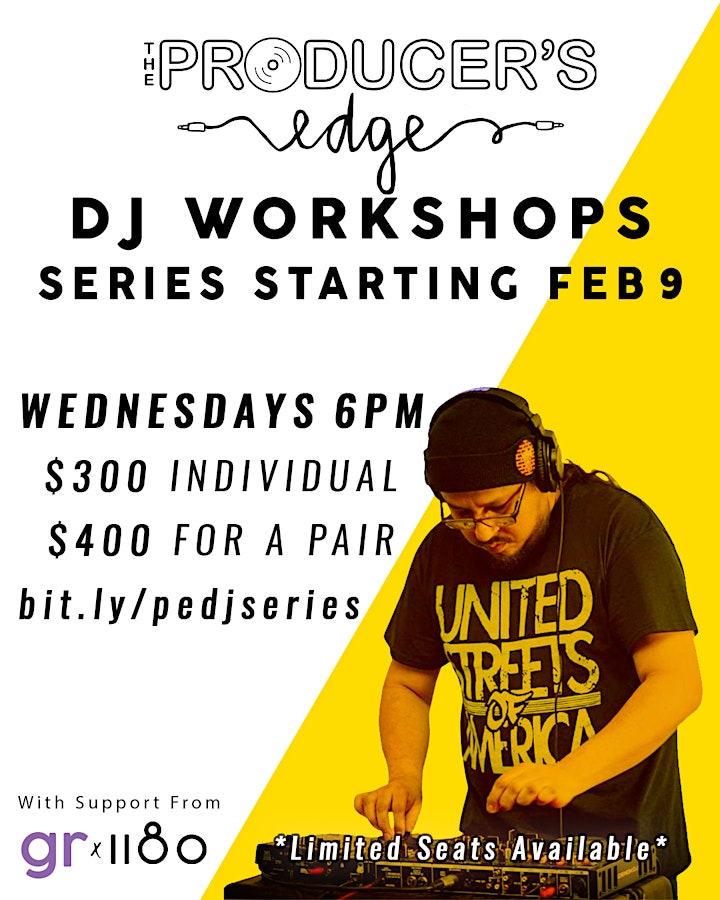 In association with GalleryRetail and 1180 Studios, well-versed DJ's and educators Gonzalo Silva and Dana J will guide you through all aspects of digital DJing in a 4-part weekly series. You will learn the ropes and be invited to show off your new skills at Newark First Fridays on April 1st. [No Joke!]
The series will utilize the app Algoriddim Djay for iOS and Hercules Starlight DJ controllers, a powerful but lightweight personal DJ setup. You will learn about the history of DJing, understand and perform your own mixing, blending, cueing and scratching of tracks, identify the different hardware and software controls and their functions, practice building your own set, and learn how to release your mixes, promote yourself, and get gigs. This series is great for someone completely new to the craft, and if you already have DJ experience, this series can serve to enhance those skills.
There is a limited number of seats, so purchase quick before they run out!
See you there!
*The Producer's Edge supplies iPads, DJ controllers, personal speakers, and headphones for the duration of each class (although your own headphones are ok too, if you choose)
GalleryRetail is a prosocial creative agency providing a full-line of creative services to artists and small businesses. Since 2017, has powered Newark First Fridays (NFFr), an arts and cultural festival including an artwalks and markets. NFFr seeks to empower equitable business and exposure to Newark as a complete city.
1180 Studios A 2,000 sq ft daylight creative studio located in the heart of downtown Elizabeth. Newly renovated space located 4 minutes walking distance from the Elizabeth Train station. Beautiful oversized windows that let in plenty of natural light. Perfect for photography or videography rentals, and flexible event space.
This event will be held in person, thus seating will be at reduced capacity and socially distanced in accordance with CDC and State of New Jersey guidelines. Venue for the event operates under City of Elizabeth Covid-19 restrictions and mandates. Information will be shared with attendees as we near the date to update on current restrictions and requirements.
Organizer of DJ Workshop Series with The Producer's Edge
The Producer's Edge provides affordable music production training and support to adults ages 18 and up, as well as community building and networking opportunities with local creatives. Participants will learn modern techniques as well as the tips and tricks needed to be successful in the DIY music industry of today.