Sales Have Ended
Ticket sales have ended
Pre-Sales have ended for this event. VIP Tickets available fora Bottle Service only. Bottle Service/VIP Inquiries: BottleService@1015.com
Sales Have Ended
Ticket sales have ended
Pre-Sales have ended for this event. VIP Tickets available fora Bottle Service only. Bottle Service/VIP Inquiries: BottleService@1015.com
About this Event
DJ Dials + 1015 Folsom Present
DJ WINDOWS 98 aka WIN BUTLER of ARCADE FIRE
with Disco Shrine
Jamie Jams - White Mike - K3lves
Thursday September 5th -- 10pm -- Ages 21+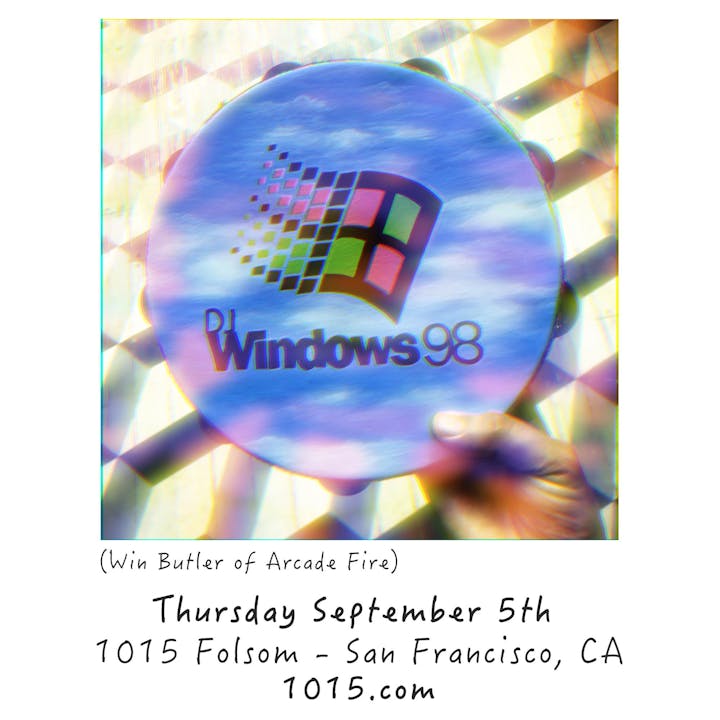 WIN BUTLER aka DJ WINDOWS 98
The founder of Arcade Fire & one of Canada's most acclaimed musicians -- Win Butler is responsible for not just the soundtrack behind your favorite quintessential indie rock playlists but also one of the most important bands in indie history.
Win founded Arcade Fire during the summer of 2003, when he spotted Régine Chassagne singing jazz standards at a Montreal art exhibit. The grandson of famed swing-era bandleader Alvino Rey, Win was quickly charmed by Chassagne's performance, leading the two to launch a songwriting partnership. Romance followed shortly thereafter, and the duo expanded its sound by gathering Parry on organ, Kingsbury on bass, and Win Butler's younger brother, William, on synthesizer and percussion. Drawing from the bandmates' varied influences, Arcade Fire began mining an eclectic mix of bossa nova, punk, French chanson, and classically tinged pop music, referencing everything from U2's passion to David Bowie's eclecticism in the process.
Canada's Arcade Fire became underground favorites when they debuted in 2004 with the critically acclaimed baroque-pop-meets-indie-rock Funeral. Stylistically evolving over the years, the unabashedly earnest group took its first foray into darker textures and electronic flourishes with 2007's politically charged Neon Bible, the first of a string of chart-topping albums. They hit a commercial peak with 2010's nostalgic, Grammy-winning effort, The Suburbs, which took home the Album of the Year Award in 2011. With the incorporation of heavy synths and higher concepts like modern living in a technologically connected and commercially driven world, they extended chart dominance into the late 2010s with the island-beat double-album Reflektor (2013) and the divisive, disco-kissed Everything Now (2017).