DJ QUIK W/HIS LIVE BAND & SUGA FREE (TICKETS WILL BE AVAILABLE AT THE DOOR...
Description
TICKETS WILL BE AVAILABLE AT THE DOOR !!!
CELEBRATE VENUE OAKLAND THREE YEAR ANNIVERSARY
WITH 2 of THE BAY AREA'S BEST IN ENTERTAINMENT!

VENUE OAKLAND | DEEPLY ROOTED ENTERTAINMENT PRESENTS


|| DJ QUIK W/ HIS LIVE BAND ||
|| SUGA FREE ||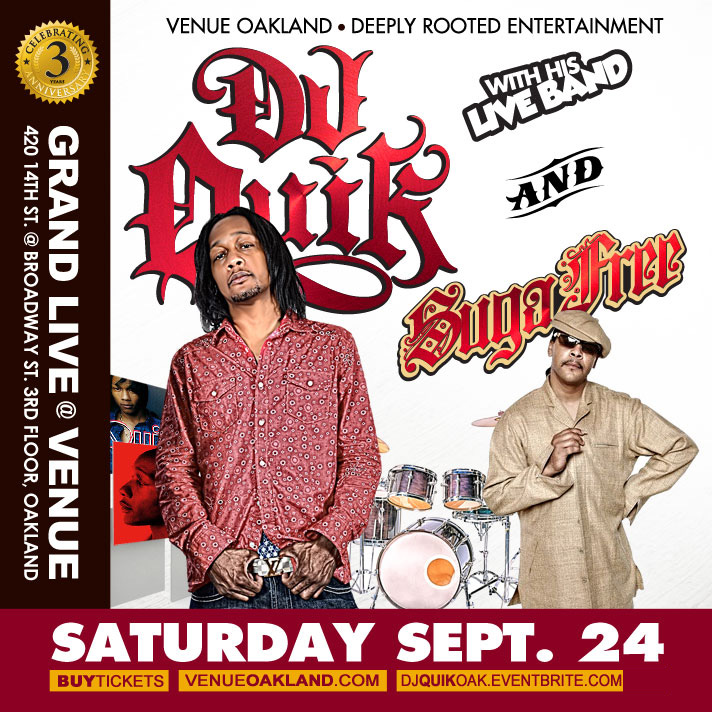 SATURDAY, SEPTEMBER 24TH 2016

AT OAKLAND'S MULTI-LEVEL ENTERTAINMENT FACILITY
VENUE OAKLAND
420 14TH STREET @ BROADWAY
DOWNTOWN OAKLAND, CA 94612
8PM-2AM | MATURE 21+
On Saturday, September 24th, prolific multi-platinum producer and recording artist, DJ Quik, and his pressed hair, smooth rappin' and straight mackin' compatriot, Suga Free perform onstage together for the first time in the East Bay. Quik who performs in the Bay annually to sold out or near sold out attendance will be bringing his live band.

Since the Platinum selling Quik is the Name hit stores in 1991, DJ Quik has carved a well defined and respected niche in the rap game. With four gold and platinum albums and production work with 2Pac, Talib Kweli, Jay-Z, Snoop Dogg, Janet Jackson, Tony, Toni, Tone and Dr. Dre to his credit, DJ Quik stands as one of hip-hop's most consistent artists and musicians.

With a slew of Billboard Awards under his belt, this Compton, California native set the bar high for street oriented hip-hop, raising the standard with well crafted production and dense musicianship. His lyrics are always honest and straightforward and his beats stay dense and funky.

Considering his conspicuous beginnings as a gangster rapper, Quik, a natural musician and beatmaker, eventually transformed himself into a funk driven band leader and front man. Because of this, he has an unusually varied fanbase, from die-hard roughneck rap devotees to the most erudite backpackers and everything in-between.

Quik discovered Suga Free and then produced Suga Free's 1997 debut album, Street Gospel. Five other albums have followed, solidifying Suga Free's status as a street legend. Suga Free's entire career is best described as a pimp guidebook set to beats. Suga Free will be joining Quik and his live band on stage for their first joint performance in the Bay Area where both artists have a deep and loyal following.
MEDIA SUPPORT BY :
JE MEDIA | BLACK MONTHLY | KBLX | Q102 | HIP HOP FROM WAY BACK | ELECTRIK HONEY
OFFICIAL EVENTS | OFFICIAL LADIES | SEAN HEALY PRESENTS + MORE
FEATURING
DJ OUMA
(TIGHT FADE ENT, HIP HOP SINCE WAY BACK, BAYLIFE)
& CJ FLASH
(WORLD FAMOUS RICK AND RUSS SHOW, KBLX)
MIXING LIVE INSIDE GRAND LIVE AT VENUE OAKLAND
(3rd Floor)
+
DJ TRUTH
(OFFICIAL DJS) MIXING LIVE INSIDE VINYL NIGHTCLUB/LOUNGE AT VENUE OAKLAND
(2nd Floor)

OPENING ACT:
Dawnari

PLUS SPECIAL PROMOTIONS THROUGHOUT THE NIGHT!

NO REFUNDS

Ticket Transfer Policy: If you would like to have someone else claim your will-call spot, you MUST provide them with a photo copy of your driver's license or credit card used to purchase the tickets, along with a signed note authorizing them to use your spot (specify quantity). Without proof and written consent, they will not be admitted inside the venue.