DJ Neil Armstrong x Senor Sisig x Fully Laced presents "Dinner and a Mixtape"

Sunday, August 31, 2014 from 6:00 PM to 10:00 PM (PDT)
Event Details
Dinner & A Mixtape:
Fully Laced and Señor Sisig present the San Francisco edition of "Dinner & A Mixtape". This unique eating experience that brings together people's love of food and music have been traveling the globe - NY, LA, Hong Kong and Toronto. It is finally coming to the Bay Area Sunday, August 31st at The Soma Streat Food Park.
The event gives the Bay Area's first listen to DJ Neil Armstrong's new mixtape "Original5" with incredible local food, ambience and style.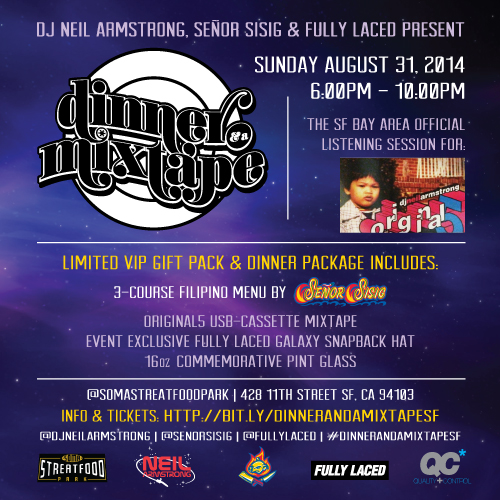 Providing food for the event will be Bay Area's own Señor Sisig. Recently featured on Diners Drive-Ins and Dives, one of the city's best food trucks will be flexing their culinary skills, offering for the first time a 3 course Filipino inspired menu, alongside their classic favorite offerings. Check out their bio HERE
1st course will be a green mango and heirloom tomato salad topped with chicharrones.
2nd course is braised coconut adobo pork belly served with a bed of saffron rice and garnished with a slice of shrimp okoy (shrimp and sprout pancake)
3rd Salted Mango Ice Cream (Senor Sisig x Mr & Mrs Miscellaneous)
This limited pre-fixe meal will be available for purchase, which includes "Original5", an event exclusive snapback by SF streetwear brand and retailer Fully Laced, a commemorative pint glass and guaranteed entry to this highly anticipated event. Pre-fixe meals will not be required for entry, however it is highly advised as reservations and space will be on a first come, first serve basis.  This is a public event welcome to all ages. Senor Sisig will be serving their regualr menu as well for the general public. There is a beer and wine bar and plenty of standing room for those who just want to come hang out and enjoy the vibes with us. 
What: Dinner & A Mixtape San Francisco - special listening session for Neil Armstrong latest mixtape project "Original5"
Where: The Soma Streat Food Park 428 11th Street, San Francisco, CA 94103 http://somastreatfoodpark.com/
When: August 31st Sunday from 6 - 10 PM
Who:  DJ Neil Armstrong. Born and Bred in NYC, DJ Neil Armstrong is a world-renowned DJ with his collaborations with Jay-Z to Adidas. Check out his bio HERE
About DJ Neil Armstrong:
DJ Neil Armstrong, member of the 5th Platoon DJ crew from NYC as well as Jay-Z's former tour DJ and Adidas Global Ambassador, is celebrating his 40th bday by sharing his passion for food and music with the fans who made his career possible.
About FullyLaced :
Fully Laced began as a shoelaces company almost 10 years ago, providing accessories and gear to sneaker enthusiasts. Today they continue to sell laces and apparel, along with top streetwear brands at their flagship store in Stonestown Galleria.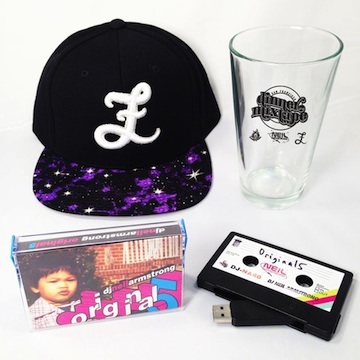 Have questions about DJ Neil Armstrong x Senor Sisig x Fully Laced presents "Dinner and a Mixtape"?
Contact the organizer