About this Event
Over the past two years, San Diego native DJ Kaos has quickly ascended from local DJ to one of the West Coast's premier DJ's. His talent, unmatched work ethic, and distinct style of play has garnered attention and put him on everyone's radar on a national level.
Kaos has been a life long music lover; His influences stem from his teenage years, watching local radio DJ's and the way they mesmerized crowds with their perfected blends, scratches and music selections. A career in DJing became his ultimate goal and life long passion. Now, with over 10 years professional DJ experience, this San Diego resident is mesmerizing crowds of his own. Whether playing at San Diego hot spot Oxford Social Club, San Francisco's Infusion Lounge or spinning at Daylight Beach Club in Las Vegas, DJ Kaos delivers quality performances every time.
He is also a featured DJ and content creator for DJ sites like ClubKillers, BPM Supreme and DMS. DJ Kaos's custom edits and remixes have been recognized as some of the best in the industry and have become a regular staple in sets from some of the biggest DJ acts in the country. Nationally he has now performed in some of the top nightclubs in San Diego, San Francisco, Miami, New York City, Chicago and Las Vegas with no stop in sight.
His recent success is not one of luck, but one that can be attributed to a lifetime of dedication and hard work. Expect Kaos to continue touring the country and expand into new markets further separating himself from the pack.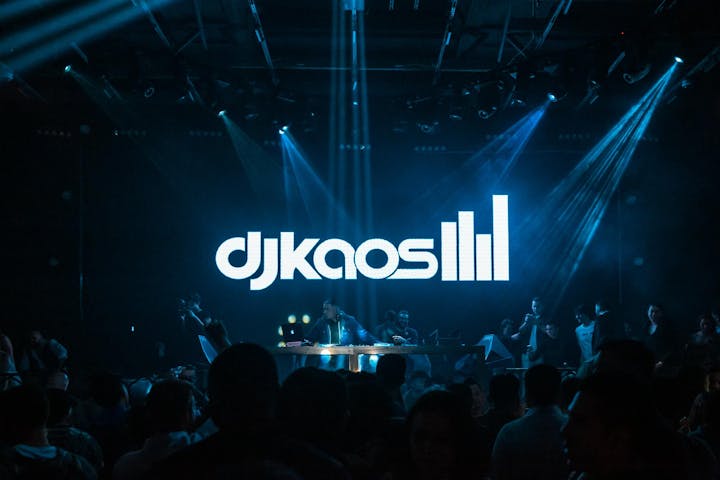 Guest must arrive by 11:30pm for guaranteed entry. Failure to do so may result in loss of reservation and ticket will not be refunded.
* Guest is required to bring a printed copy of the scannable ticket (or a scannable ticket on their mobile device) and e-mail confirmation along with the credit card that the ticket was purchased with, in order to gain entry to the venue.
* Guest must be at least 21 years of age and present a valid government issued photo ID at the door. Copies, paper, or photographs of IDs will not be accepted. U.S. residents must bring state or federal issued ID; Non-U.S. residents must bring a valid passport or global entry card.
* Tickets are non-transferrable and may not be exchanged. LOST, STOLEN, ALTERED OR DESTROYED TICKETS WILL NOT BE REPLACED, REFUNDED OR EXCHANGED FOR ANY REASON. TICKETS HAVE NO CASH VALUE.
* DJ and event subject to change without notice.
* All ticket sales are final and nonrefundable. Venue is not responsible for talent cancellations or closures due to inclement weather or other unavoidable events. Tickets are non-refundable.
* Venue reserves the right to delay or deny access into venue due to capacity restrictions.
* Guest must comply with all venue dress code requirements. Appropriate dress is required and strictly enforced. No athletic gear of any kind including flip flops, tennis shoes, shorts, hats, etc. No chains, offensive prints, torn/cut-off or baggy clothing.
* All guests and bags will be searched for prohibited items including but not limited to, weapons of any kind, illegal drugs (including marijuana products), alcohol, medications, vitamins or supplements, selfie sticks, party props, containers and recording devices. If you elect not to give consent to such searches, you may be denied entry to the event without refund or other compensation. Prohibited items will be confiscated and not returned even if guest is denied access or removed from venue.
* Guest must comply with all venue policies and disregard or violation of such policies or these Terms and Conditions will automatically invalidate ticket(s) purchased and guest will not receive a refund of any kind and guest will be denied access to venue.
* Venue reserves all rights, including, without limitation, the right to cancel, suspend or modify the event for any reason at its sole discretion