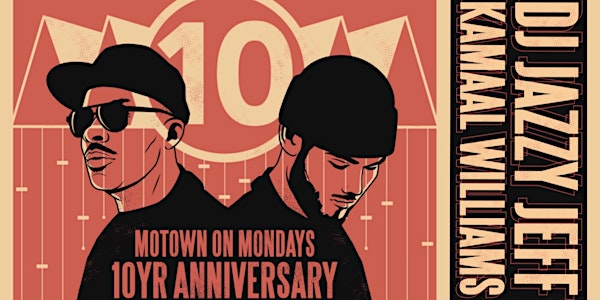 DJ JAZZY JEFF + KAMAAL WILLIAMS :: MOM 10-Year Anniversary at 1015 Folsom
Ages 21+
Motown On Mondays, 15Utah, DJ Dials & 1015 Folsom
Hip Hops Greatest Living DJ -- DJ JAZZY JEFF -- with a live performance from gifted UK jazz fusion artist Kamaal Williams & MOM DJs 10-Year!
When and where
Location
1015 Folsom 1015 Folsom St San Francisco, CA 94103
Performers
Headliners
Kamaal Williams
DJ Jazzy Jeff
About this event
JAZZY JEFF isn't just a DJ, he's an icon and he's playing at the Motown on Monday's 10 Year Anniversary party.
Come dance your ass off and then vibe with us to Kamaal Williams, the UK's very own funk answer to the question, "Can this party get any better?!"
The answer, of course, is yes. For only $20 bucks you get to let your hair down to classic hip hop, funk and soul provided by ELEVEN Motown on Monday heroes!
MOTOWN ON MONDAYS present
A Special 10-Year Anniversary Party
featuring live performances from
DJ JAZZY JEFF
KAMAAL WILLIAMS live
++Support From+++
SPYDA TEK - NINA SOL - DJ LAZYBOY - DON GORDO
RASHIDA CHASE - AUDIO ANGEL - ZIEK MCCARTER - WILL MAGID - TEK NEEK
BREAKBEAT LOU - AMERIGO GAZAWAY - EXPO - HELLACAT - BAYSIK - KNOWPA SLAPS - MALACHI
Friday December 13th -- 10pm-3am -- Ages 21+
Table Reservations: BottleService@1015.com // 415-988-3099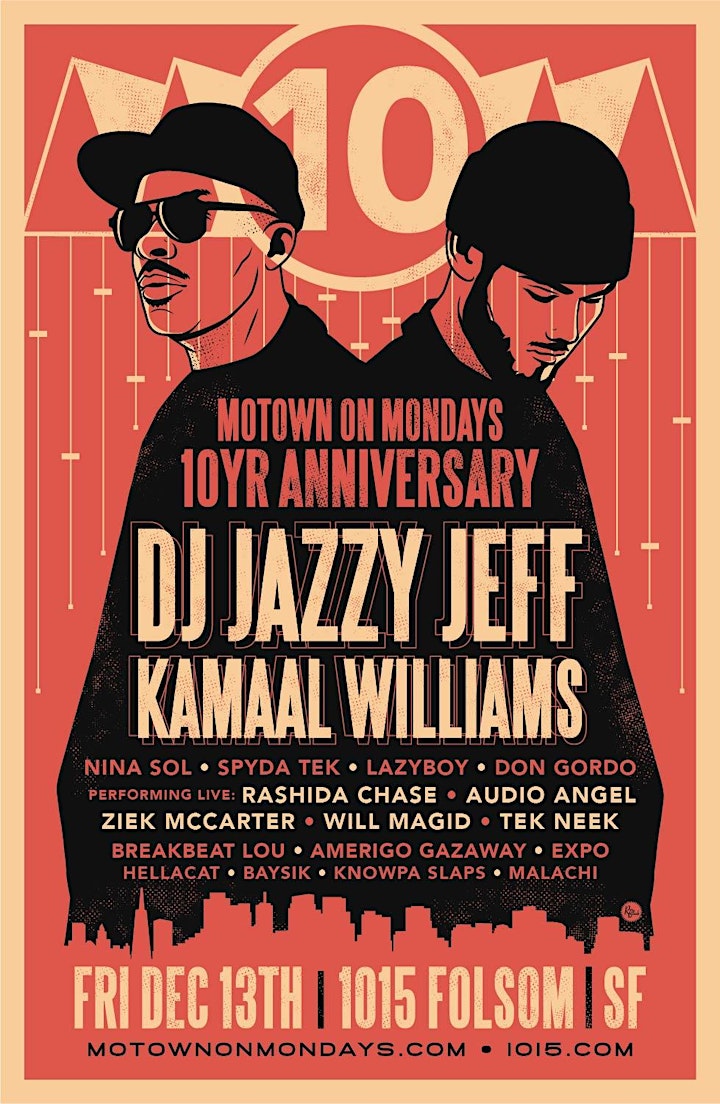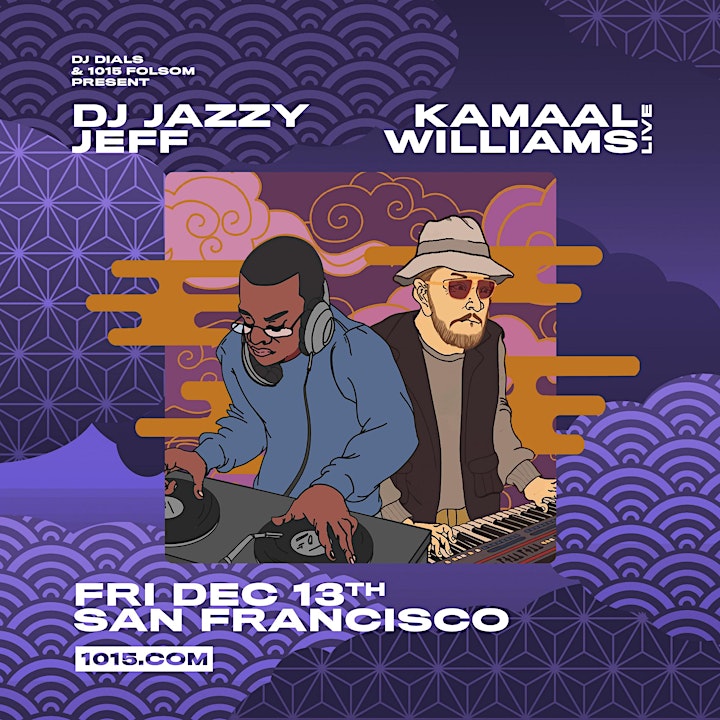 KAMAAL WILLIAMS
London's Kamaal Williams is a gifted keyboardist, DJ, and producer known for combining his love of '70s-style jazz fusion and funk with more contemporary hip-hop and electronic dance influences. Although he had played in various bands since the mid-2000s, including a two-year stint with dubstep singer Katy B, Williams first came to prominence in 2016 as a member of the jazz-funk duo Yussef Kamaal with drummer Yussef Dayes. Influenced by the '70s albums of artists like Miles Davis and Eddie Henderson as well as works by acid jazz artists like Brand New Heavies, the duo garnered praise for its 2016 album, Black Focus. Since then, Williams embarked on a solo career, releasing his similarly cross-pollinated 2018 debut, The Return.
Born Henry Wu in South London, Williams grew up in a culturally diverse family with a Taiwanese mother and British father, both of whom worked in graphic design. Influenced by his parents, he learned some Mandarin as a child, and even picked up Muslim calligraphy, which he later put to use as a graffiti artist. By his teens, however, he was passionate about music and played percussion in the school band. An early love of the garage/grime duo Oxide & Neutrino led him to hip-hop. Around the same time, his father introduced him to jazz and fusion via artists like Miles Davis, John Coltrane, and Carlos Santana. He later discovered acid jazz groups like Brand New Heavies and Incognito.
By the time he left high school, he was an in-demand keyboardist, working in various funk groups around London. He joined dubstep singer Katy B's backing band, and spent two years with the group. Around 2011, he left the band and converted to Islam, adopting the name Kamaal Williams. He signed with the artist-run 22a label and began producing his own tracks, combining his love of jazz with house music and electronic broken beat sounds. Around 2016, he befriended drummer Yussef Dayes and formed the jazz-funk duo Yussef Kamaal. After parting ways with Dayes, Williams returned in 2018 with his solo debut, The Return. The album found him honing his jazz-funk and electronic hybrid sound, working alongside bandmates drummer Joshua McKenzie (aka McKnasty), bassist Pete Martin, and sound engineer Richard Samuels.
DJ JAZZY JEFF
DJ Jazzy Jeff was born in West Philadelphia and developed a love of music at an early age. Jeff was just 10 years old when he started spinning records at parties using his family's basement as a training ground for his expert mixing. Since 1985, DJ Jazzy Jeff has wowed us with his flawless turntable skills, innovative production and musical versatility.
From the success of "DJ Jazzy Jeff and the Fresh Prince" with partner Will Smith, to the critical acclaim of his production company "A Touch of Jazz", Jeff proved time and time again that he would always be a force to be reckoned with. And he continues to represent with his solo projects, collaborations, mixtapes and live shows. His love of music shines through in everything he does.
Most recently, DJ Jazzy Jeff has been busy traveling the globe. With each set, he takes fan on a musical journey. Jeff satisfies his passion for sharing good music with two annual European tours, regular tours of Canada, Asia, Australia, New Zealand and the Middle East, and shows across the US throughout the year. And he chronicles all of his travels in the increasingly popular Vinyl Destination, a web series that documents DJ Jazzy Jeff's experiences on and off stage.
Though DJ Jazzy Jeff is busy playing good music all over the world, he hasn't stopped producing great music. He is currently working with Philadelphia newcomer, Dayne Jordan. The duo recently completed a project entitled Memoirs of Dayne Jordan, to be released in Spring 2015, In the meantime, the pair has released a number of singles and videos including Room Test, All About the Art, I Want it All, Einstein (prod. by DJ Ferno) and Play Dat.
Over the course of his career, DJ Jazzy Jeff has achieved many accomplishments including a DMC Championship and multiple GRAMMY and American Music Awards and nominations. But he is a humble man who is still doing it as his 2002 hit said: "For Da Love of Da Game."