Description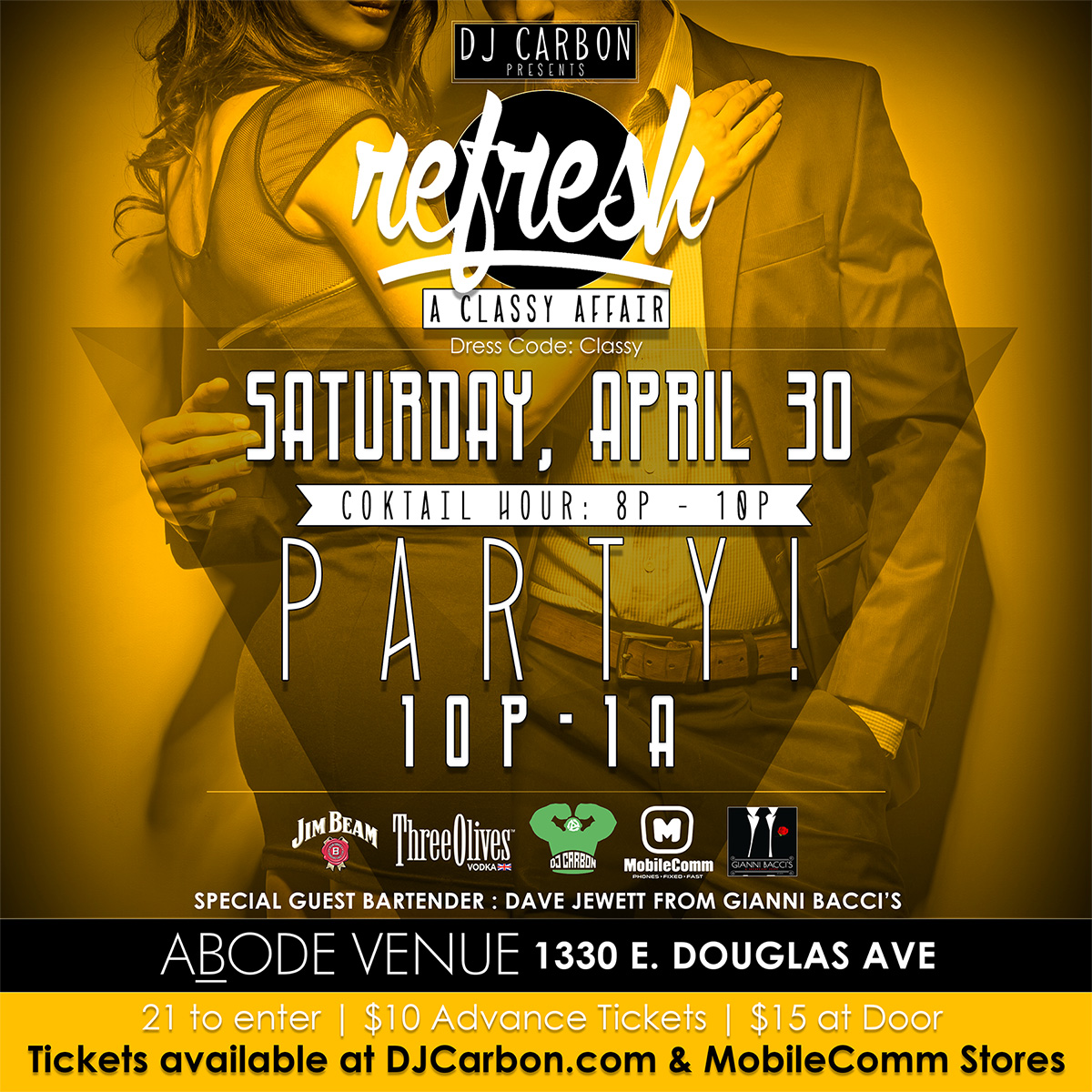 Well, it seems we have time for one more event before summer comes around and it is a bit too hot for a suit and tie affair.  And for something different, we are doing it up on a saturday night.  That's right, always trying to change things up, so the night is different, but the expectation of a great time is no different.  As a special guest behind the bar, Dave Jewett, from Gianni Bacci's, will be crafting up some one of a kind cocktails for the night.  We will have a few more surprises to announce, so keep an eye and an ear out.  Also new this month, tickets will be avaialble for purchase at MobileComm stores, so you can save on service fees.
It seems with too much of the Wichita nightlife, the only thing that changes is the address. Refresh aims to bring something a bit different. A step up, to give people a reason to step out. An elegant venue with posh decor. Chill music for you to groove as needed, but not too loud to drive away your conversations. Appropriate lighting, and some cocktails designed just to suit the evening. And as we elevate, so shall you; dress code strictly enforced, finally giving you a place to wear those nice clothes to, and not have to worry about being out of place. Sound good? I hope so.
Dress to impress.  Jeans and sneakers are not going to cut it, and you won't be able to make it in, as the dress code is strictly enforced at the door.  Fellas, get out that suit and tie (at a minimum, some slacks, a button up shirt, and nice shoes), ladies time to break out that cocktail dress that has been waiting for the right occasion.
Here are some highlights from some past events:
Refresh: Stay Klasé from Trussell Media on Vimeo.
DJ Carbon presents Refresh from Trussell Media on Vimeo.