About this Event
Unsound Foundation - 8:15
Rogue - 9:00
The Ex Teens - 9:45
Dizzy Box Nine - 10:35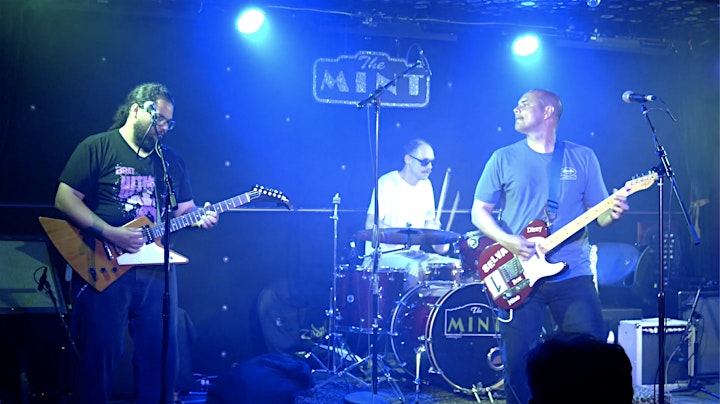 Dizzy Box Nine is an indie-pop-rock band out of Southern California. The band was created by singer-guitarist Randy Ludwig in the summer of 2016, and features guitarist Tony Robles and drummer Ryan Gio. The play melodic, upbeat, and radio-friendly pop songs which have been described as "instantly catchy," "well-written," and "memorable." There is a positive 80s and 90s vibe to many of their songs. In fact, they have been influenced by a variety of bands—from the Cars, Maná, and the Refreshments—to MXPX, Blink 182, and the Ramones. And yet, the music of Dizzy Box Nine is unique and stands on its own. "I like making music that feels good to listen to, but I also want to challenge the listener at the same time," Randy says. Dizzy Box Nine released their debut record, Electric Illusion, in September 2017. It sold hundreds of copies and has been streamed thousands of times. Their second record, Pop Fantasy, was released in February 2019, and received many favorable reviews. It contained the notable songs "Anytime, Anyplace," "I Won't Let You Down," and "Rosie." Additionally, it received airplay on over 40 different radio stations. Their upcoming record, Faster Than Anticipation, will be released in May 2020. It contains the standout singles "Friday Night," "Near You," and "Deep Inside Your Mind." Dizzy Box Nine loves performing live, and continuously plays at a variety of venues throughout the Southern California area. They can often be seen at venues such as the Mint, Amplifi, the Silverlake Lounge, and Chain Reaction. They have also played outdoor festivals at several popular L.A. areas including Griffith Park and Highland Park.Overall, Dizzy Box Nine has something special to offer nearly everyone. Randy claims that eclecticism and optimism is what help give Dizzy Box Nine their signature sound. "We have been inspired by all kinds of music, and this clearly shows in our songs. We also like to keep it positive. Even during the slower, contemplative, trance-rock type songs, there's always hope, there's always a way out." Come find that "way out" with Dizzy Box Nine!
Stay positive, get Dizzy Box Nine!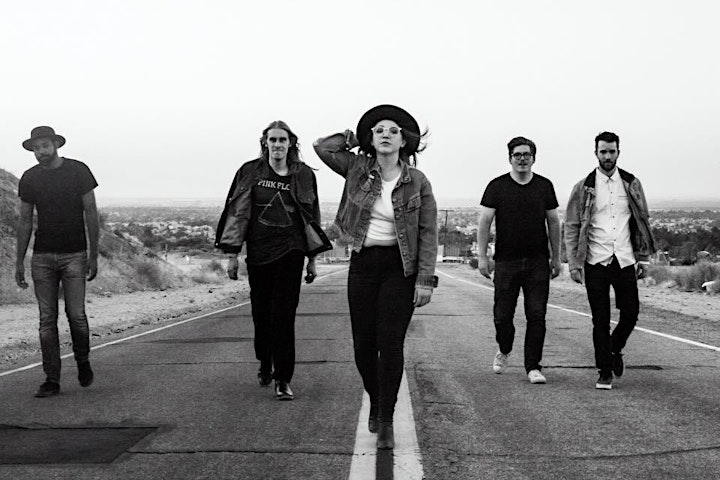 Born from the Commercial Music Department at Antelope Valley College, five friends set out to make the music we weren't hearing or feeling today. That feeling they loved seemed to be in short supply. The warm vintage vibe of classic rock without being doomed to repeat it. After playing their first show on February 10th 2018, Rogue! hasn't looked back. Their debut EP, Wasted Heart, was released in December of 2019 was mixed by Chris Constable (Kamasi Washington, Fitz and the Tantrums) and mastered by Pete Lyman (Brandi Carlile, Chris Stapleton, Rival Sons).
Rogue! consists of Kasey- Lead Vocals, Dylan-Guitar/Backing Vocals, Jesse- Bass/Backing Vocals, Tyler-Keys, Backing Vocals, David-Drums.

The Ex Teens combine power-pop, post-punk, glam and garage elements into a spiky, melodic mélange that's drawn comparisons to Elvis Costello, David Bowie and The Buzzcocks, among others.
The band consists of frontman/songwriter Simon Glickman, guitarist Chris Silagyi (formerly of power-pop legends 20/20), bassist Jim Cushinery (The Wigs) and drummer Joey Ponchetti.
The foursome has released a six-song EP, Get on an Ice Floe, as well as a trio of digital singles. They are currently preparing their first full-length album. Their set mixes aforementioned edgy pop originals with such covers as "I'll Feel a Whole Lot Better," "Love Is the Drug," "Wichita Lineman" and "Dig a Pony."
The band has appeared at such venues as Molly Malone's, The Hotel Café, The Federal, The Redwood and the Silverlake Lounge. Their music has been heard on KCSN's The Open Road and KALX as well as such online shows as The Music Truffler (U.K.), Cambridge 105 (U.K.), The Music Authority, There Once Was a Note (DailyBOOM), Mad Wasp Radio and more.