DIY Workshop at WeFF: "Faux Ikat" Space Dyed Warps with Kathleen Waln
About this Event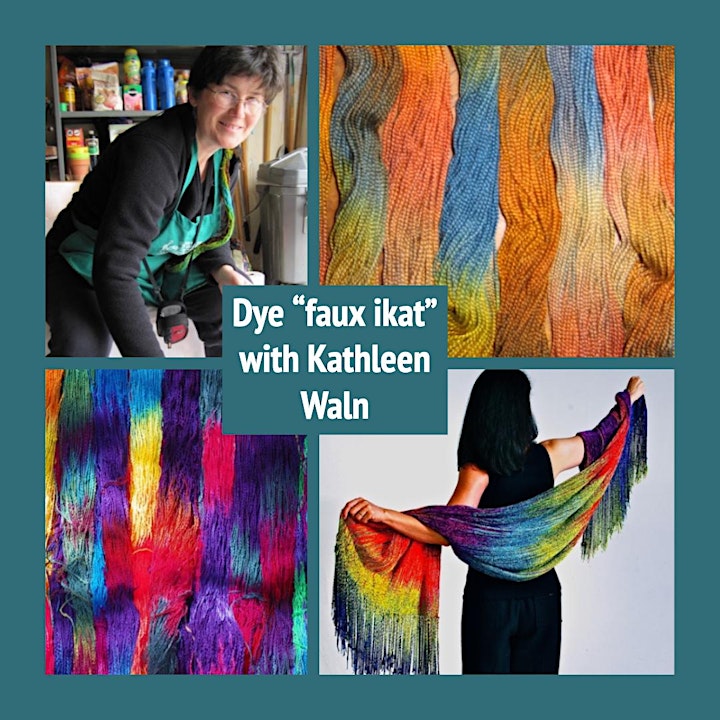 "Faux Ikat" warp dyeing is, as the name implies, a way to cheat the time involved with genuine ikat. One dyes the warp chain in a surprisingly simple, colorful manner and with some short cuts at the loom, the faux ikat look is created.  In this workshop, we will discuss dye/warp preparation, color, and with the warp provided, you will dye it in the colors you choose.  You'll take your warp chain home, rinse and dry it. You'll then be ready to get to your loom and using the faux ikat warping method discussed in the workshop, you can create a lovely scarf. With these fascinating techniques, you'll be dyeing to weave!
Supplies: Materials fee $30, payable to the teacher. Material kits includes: 5/2 Perle Cotton warp chain to weave a scarf 7" W x 72" L (finished with fringe), dyes, dye equipment (gloves, brushes, etc.), plus dye instructions, suggestions, and directions for weaving your scarf.
Please note that you will provide your own weft for weaving at your loom at home. Color options will be discussed in the workshop.
About the teacher: Kathleen has been working with fiber and fabric for over forty years, first as a theatre educator/costume designer and more recently as a fabric designer. She has been dyeing, spinning, and weaving for over twenty years.  Her passions include shibori and ikat and researching the history of the fabric arts. She enjoys making connections between her field and larger cultural patterns, an interest that dates back to her years as a university professor and costume historian. Although retired from the university, she now teaches at the Charter Oak Weaving and Spinning class in Covina, which is famous for its 100 looms in one large room! She also harvests her own wild, organic cotton trees and loves to dye and spin their yield.  Kathleen holds a MFA in Theatrical Design from the University of Texas at Austin where her love of weaving began.
FREE PARKING. Free admission to WeFF with workshop registration.