Description
Create a skirt of your own design in this hands-on sewing workshop!
Our DIY parties are designed to give you the confidence to attack any cute Pinterest project that comes your way. This one-day workshop focuses on basic garment construction skills and will feature a beginning level project. (There are no formal pre-requisites for this class, but confidence on a sewing machine is recommended. Students may find it helpful to take our monthly Sewing 101 class prior to joining this workshop.)

We'll cover:
Basic pattern drafting from your own measurements

cutting out a pattern

assembling a garment via instinct

gathering, finishing seams, hemming

inserting a zipper
The Project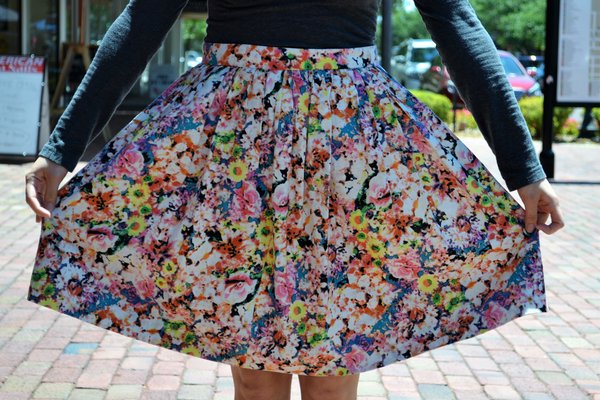 Each participant will create their own high waisted gathered skirt using their own measurements. This project is based on a number of popular pins, including this one by Gertie's Guide for Better Sewing.
We chose this project because while it is fairly simple and very achievable for those with basic sewing skills, it is also a great project for practicing essential garment contruction techniques for more complex garments.
The Materials and Equipment
Each participant is responsible for purchasing their own materials for this skirt, which puts you in full control of how your finished piece will look (as well as the cost)! We will send out more specifics about appropriate materials to those who register for the class, and if you want to get an idea, you can scroll to the end of this description for a brief materials list. Sumalee is very available to help you with any materials questions :) Just call the shop or send us an email.
We recommend that you bring your own sewing machine to this class. If you do not own a machine, we will have 3 machines available in-haus. The first three guests to both purchase a ticket and call/email us to reserve a machine will have use of them during class.

What to expect
We pride ourselves on a low-pressure, casual, and creative atmosphere, making this the perfect opportunity to jump into sewing for just about anyone. This workshop is recommended for ages 12 and up, but if you have a child who is crafty and serious about learning to sew, let's talk!

And as always, our parties include complimentary refreshments! We serve our guests a variety wine, beer, tea, and snacks from our sister business, the Magnolia Square Market. Yum!
Reservations for a spot in the class must be made at least 36 hours in advance, and there are 5 spots available. You can reserve your spot by purchasing a ticket on Eventbrite or calling 407-732-7801 during our open hours (Tues/Wed 10am-5pm, Thurs-Sat 10am-6pm).
Additional Material Notes
We will be making a custom pattern for the skirt, so there is no need to purchase a pattern, but you will need to purchase the other necessary materials, which include:
2 yards of fashion fabric (which MUST be pre-washed and shrunk prior to class)

1 spool of matching thread

1 matching 12" zipper
Sumalee will send out a very detailed message about materials to anyone who registers for the class, and is available for questions at any point, before or after registration.