Multiple Dates
DIY HCSSA FOR THE PROFESSIONAL NURSE
Description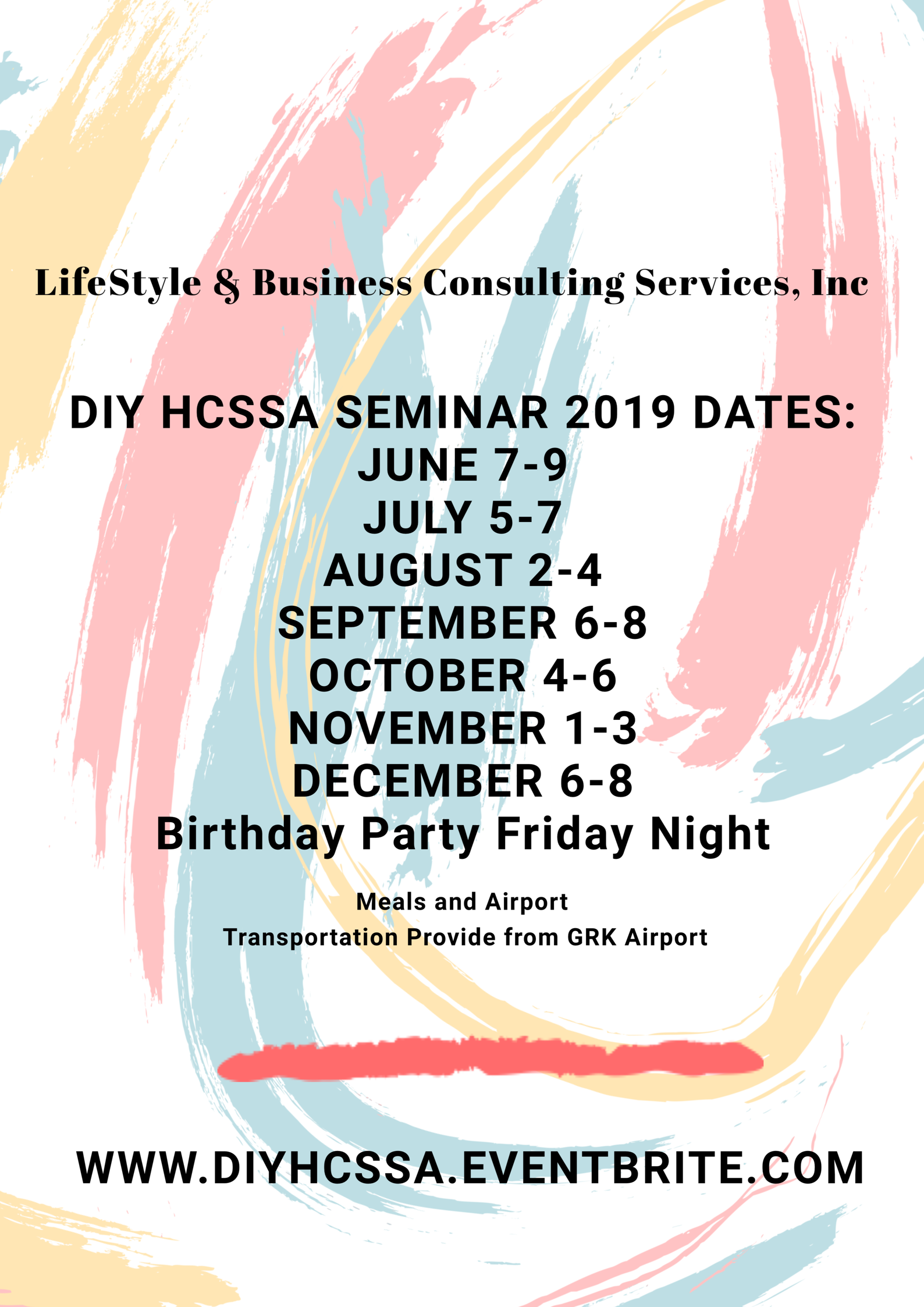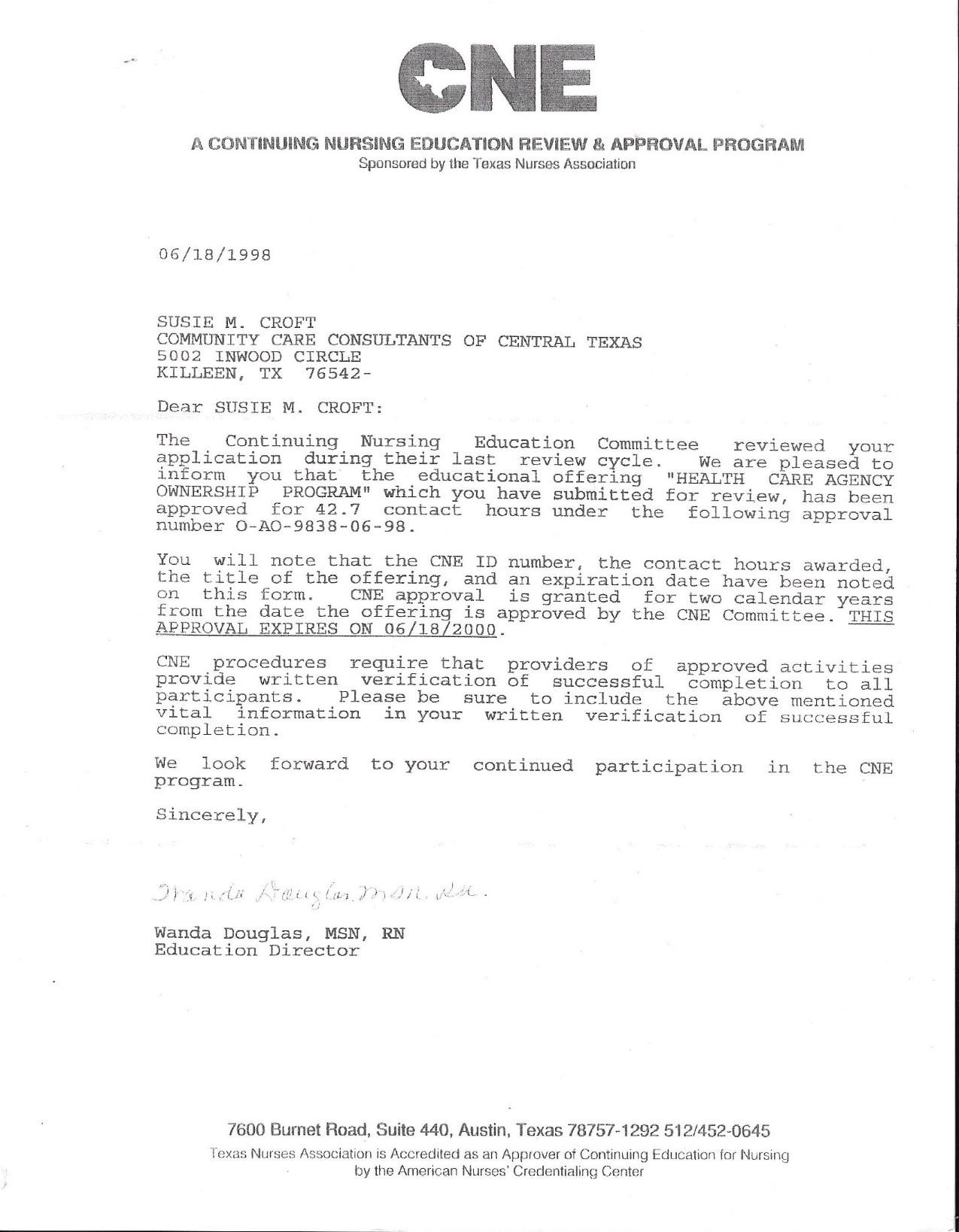 For more information about the seminar and an application send request to:
fnp.cardio@gmail.com
Subject: DIY HCSSA APPLICATION
First Session: May 3-5, 2019
Future Sessions are scheduled the first Friday of the month, ending Sunday Afternoon.
$500.00 Deposit to hold your seat payable via eventbrite link:
Final Payment Due: Registration Day of Seminar.
Registration Deadline 7 Business days before seminar.
---
LifeStyle & Business Consulting Services (formely Community Care Consultant) will sponsor a 2 Day Weekend (Friday-Sunday Noon) Seminar that introduces the experience health care professional to the business of health care agency ownership. Participants will gain an understanding of how to develop a successful home health agency.
The seminar will present slide, video and hands-on presentation of actual home-based and free-standing agencies developed using the DIY Home Health Agency Manual.

This invaluable manual was developed especially for the Do It Yourselfer with limited income and resources to hire a huge consulting firm, costing 25K and up just for the infrastructure alone. This manual is filled with pertinent information and easy-to-use sample editable policies and procedures and forms required by state and federal licensure and certification agencies.
All policies and procedures are included and downloadable from within our Facebook group. If you are unable to attend the seminar, don't miss the chance to purchase this vital manual separately.
---
Sample Course Content:
The following topics are covered in detail in this must have manual:
RN Entrepreneur as a Business Owner
Legal Issues in Home Care Industry
Policy & Procedure Development
Home-based Home Health Care Agency Development
Organizational Structure and Team Building
Continuous Quality Improvement
Medicare Compliance Issues
OSHA
HCFA/CMS-485
Business Management in Home & Community Support Service Agencies
The Application Process
Medicare and What Your Really Need to Know About Your Pre-Survey and The Final Certification Survey
HCSSA Resources and References
HCSSA StartUp Forms
The OASIS, Compliance,G-Tags and More
---
Register Today Enrollment is Limited to 20 Participants Act Now!!
Registration Deadline 15 days prior to Seminar
Full Registration Price $3750.00
Same Day Registration Price $4760.00
DIY HSSCA Manual $3500.00 plus shipping and handling $25.00
Deposit to Secure your Seat: $500.00
Additional Business Partner from same company: $2150.00
Registration Balance Due day of the Seminar.
Payment accepted: Cash/Cashier's Check/Credit Card NO PERSONAL CHECKS PLEASE.
---
Cancellation Policy:
You may cancel your registration up to 14 days prior to the seminar a 25% enrollment cancellation fee.
Less than 14 days you may:
1. Send a substitute
2. Transfer your registration to another seminar within 3 months
3. Apply your your deposit toward the purchase of the DIY Home & Community Support Services Manual.
NOTE:
Please ensure that you bring RN License Number and A Picture ID. Business Partners bring your notarized partnership agreement. Please Bring Your Laptop Computer with you. Also bring a copy of your state application with you.
---
We encourage you to secure your overnight accommodations:
CourtYard Marriott is across the street from the mall and restaurants are within walking distance. https://www.marriott.com/hotels/travel/ilecy-courtyard-killeen/
Shilo Inn is about a mile from the mall. https://www.shiloinns.com/shilo-inns-killeen/rooms
GRK is Our Airline Call Sign
MUST READ
---
#Repost
As CMS Lifts HHA Medicare Provider Enrollment Moratorium, States Continue to Limit HHA Licenses
As of January 30, 2019, CMS lifted its temporary provider enrollment moratoria ("Enrollment Moratorium") for home health agencies ("HHAs") in Florida, Illinois, Michigan, and Texas. The Enrollment Moratorium had prevented new home health agencies in these states from enrolling in Medicare and Medicaid.
CMS first issued a temporary Enrollment Moratorium for HHAs in 2013 covering certain counties around Miami, Florida, and Chicago, Illinois. CMS later expanded the moratorium to counties in Texas and Michigan, and by August 2016, the Enrollment Moratorium covered all counties in Florida, Illinois, Michigan, and Texas.
CMS has the authority to impose a temporary moratorium on the enrollment of new Medicare, Medicaid, or CHIP providers if it determines a moratorium is necessary to prevent fraud, waste, or abuse. In issuing the Enrollment Moratorium and extending it every six months for the past few years, CMS cited high incidents of fraud in these geographic areas and the saturation of HHAs in these markets, which mitigates concerns of beneficiary access.
Lifting the Enrollment Moratorium allows new HHAs to enroll in Medicare; however, before enrolling in Medicare, facilities must be licensed by the state and complete the Medicare certification process, which can be a long and involved process. Many states are currently limiting the number of home health licenses through the Certificate of Need ("CON") process and state moratoriums. New York, for example, has a current moratorium on licensing of Licensed Home Care Services Agencies. Further, the CON process in many states can take months. With uncertainty around whether CMS plans to reinstate the Enrollment Moratorium, state licensing requirements may continue to limit HHA enrollment.
©1994-2019 Mintz, Levin, Cohn, Ferris, Glovsky and Popeo, P.C. All Rights Reserved.