Learn how to make your own tabletop games!
About this event
Learn how to create your own tabletop games, featuring cards, dice, and other assorted bits. Stephen will show you how you can create your own game in as little as 15 minutes!
The workshop will also cover:
- Play-Testing a Design / Gathering Feedback
- Reiteration / Improving Your Prototype
- Other Resources (online tools, affordable components, print-on-demand)
- Focus on the Fun (when you don't really intend to submit to publishers)
Stephen Thomas is an aspiring tabletop game designer. He runs the website http://www.let-off.com, is a former 2640 collective member and has taught tabletop gaming at three previous DIY Fests. We are thrilled to have him back!
This workshop is part of the 13th Annual DIY Fest Virtual Edition!
Please be aware that if you sign up, you agree to the following Attendee Guidelines:
Recording or taking screenshots are strictly prohibited, without the host's consent.
Be respectful to the Host and the Speaker
No Bullying
Take Space, Make Space
No Put-Downs
No Hateful Speech
Understand the time limit, keep the conversations flowing
Please note that disrupting the workshop could result in removal from the Zoom call.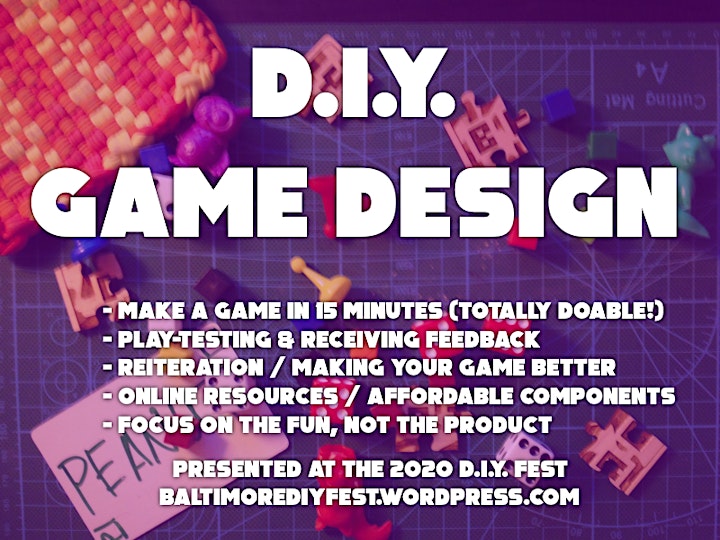 Organizer of DIY Fest Presents: Tabletop Gaming
DIY Fest 2020 (Do It Yourself Festival) will be the 13th DIY Fest to take place. Due to COVID this year's Fest will be completely virtual. All workshops are free!
The event will take place via Zoom meetings, on YouTube and on Facebook and Instagram Live on October 10, 2020.
Past Fests have had workshops such as (though this is nowhere near a complete list): bike repair, beer making, drywall repair, hula hoop making, intro to yoga, environmentally friendly screen printing, animal skinning, infant care, urban composting, basic pet care, knife making, cordage & friction fires, urban foraging intro to pop up card making, kombucha making, candle making, Japanese stab binding, beekeeping, women's health and birth control, dog body languages, self defense, yarnbombing, guitar set up workshop….
The Fest is put together by four very dedicated people and it is only a success because of YOUR contributions. Help the fest succeed by teaching/presenting a workshop or helping us spread the word!
Fill out the appropriate questionnaire if you would like to teach a workshop or table the event. Keep an eye on this site or like our Facebook page to keep up with the fest.