Make your own cute Fascinator headpiece wth Aunty Jonna! All supplies included.
About this event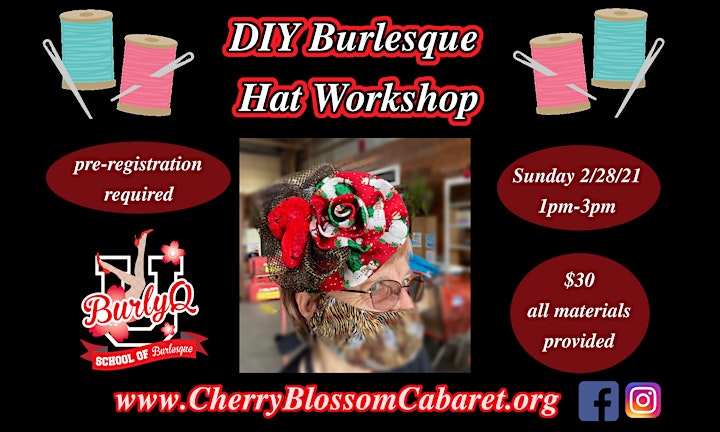 Letʻs get crafty! A cute little fascinator is the perfect accessory to add some pizzaz to any outfit!
What is a fascinator you ask? According to Wikipedia: "Since the 1990s the term has referred to a type of formal headwear worn as an alternative to the hat; it is usually a large decorative design attached to a band or clip. In contrast to a hat, its function is purely ornamental: it covers very little of the head, and offers little or no protection from the weather. "
Learn how to make your own cute fascinator headpiecepiece wth Aunty Jonna! This is made out of a necktie, and clips to your hair. No experience needed, and all supplies are provided! Come and have some fun with us, and take home your creation at the end of class!
Limited space, pre-registration required! www.BurlesqueMiniHat.eventbrite.com
Date and Time: Sunday February 28th 2020, 1p-3p
Cost: $30, all materials included
********************
LOCATION
Ka Waiwai ma Nuuanu. Located at 1164 Nuuanu Avenue, on the 3rd floor of the new Arts and Letters building in the heart of Chinatown Honolulu across from the Arts at Marks Garage building. There are no elevators in this building, stairs only .
********************
PARKING
Free street parking on Sundays. There is also the paid parking lot adjacent to Marks Garage directly across Nuuanu Ave, as well as the Municipal underground lot (entrance on Beretania st). See map below
********************
COVID
Masks are required and must be worn during class.
Please do not come to class if you have any of the following:
-any signs or symptoms of a fever in the past 24 hours such as chills, sweats, felt "feverish" or had a temperature that is elevated for you/100.0F or greater
-currently have any of the following symptoms: Cough, Shortness of Breath or Chest Tightness, Sore Throat, Nasal Congestion/Runny Nose, Myalgia (Body Aches), Loss of Taste and/or Smell, Diarrhea, Nausea, Vomiting, Fever/Chills/Sweats
-traveled internationally or outside of state in the last 14 days, or had any close contact in the last 14 days with someone with a diagnosis of COVID-19
********************
Questions?
contact cherryblossomcabaret@gmail.com