Florida Cracker 2nd Annual Catch & Release Tournament in Homosassa, Fl. Captain's Meeting & Awards located at Florida Cracker Monkey Bar!
About this event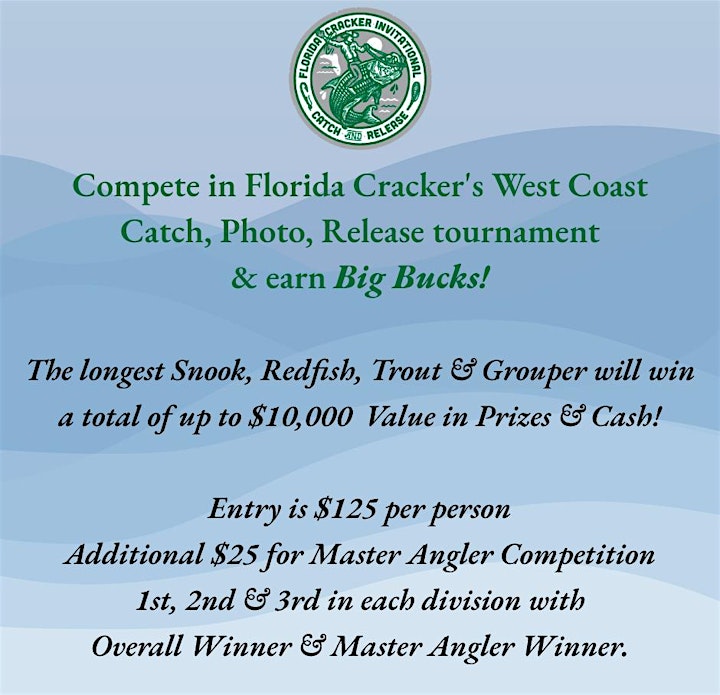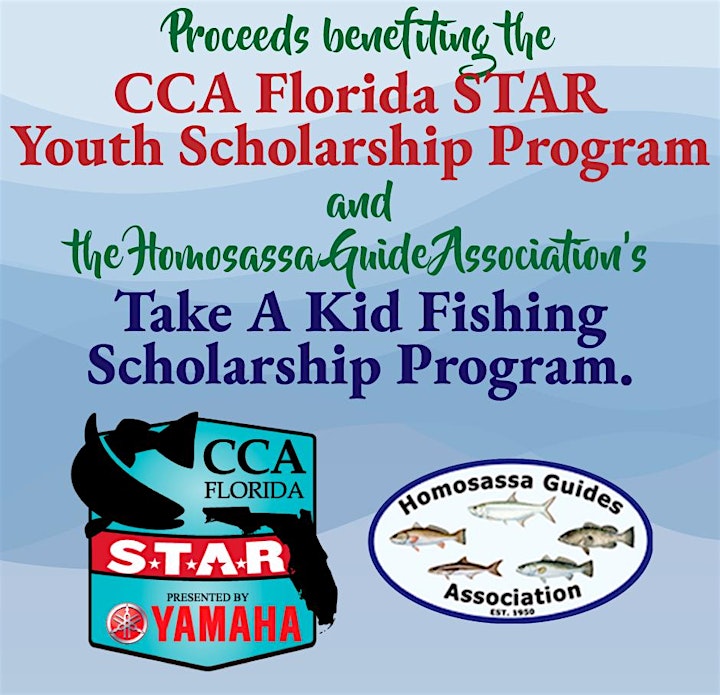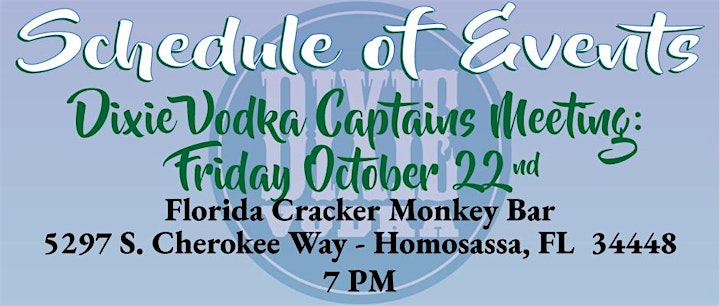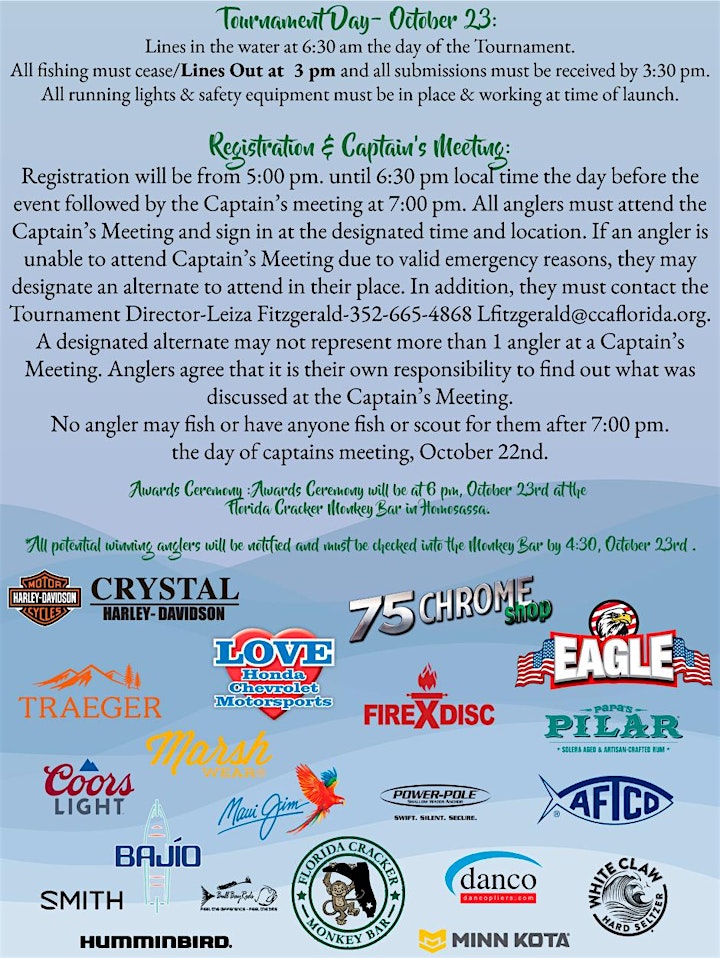 **WARNING**
Tickets for Florida Cracker Events are sold ONLY tthrough our website at www.floridacrackerfishing.com in partnership with our authorized ticket vendor, eventbrite. Tickets are non-transferable.
Please beware of other non-reputable online ticket sellers – only tickets sold through the authorized channels above will be recognized for admission.
Tournament Rules
Revised 8.18.21
PARTICIPATION AND ELIGIBILITY:
Any person under the age of 18 must have written consent from a parent or legal guardian. The tournament reserves the right to refuse participation in the event to any individual at the discretion of the Tournament Director.
This is an Individual Angler competition; each angler will be able to enter fish in each species. Anglers MUST submit their fish in a photo with their identifier on the official measuring device in order to place in the Tournament.
Registration is $125 per angler
Registration includes a great swag bag, Florida Cracker measuring device, & FREE Shit!
SAFETY:
Safe boating will be observed at all times. The Tournament may be shortened or canceled due to unsafe weather or water conditions. The decision to shorten or to cancel will be left totally to the discretion of the Tournament Director. A 4-hour period shall constitute a day of fishing. Anglers are all fishing at their own risk, each angler must determine if conditions are safe and reasonable to fish during Tournament.
In the event of a rule violation, the Tournament Director may impose such sanctions as they deem appropriate, including, without limitation, disqualifications, forfeiture of prizes, and prohibition from participation in subsequent tournaments. Decisions of the Tournament Director are final in all matters and are not subject to appeal, and are not reviewable by any court of law. The tournament reserves the right to make needed changes to these rules in order to ensure the safety and welfare of the tournament anglers and the public, and preserve the integrity of the event. Any rule changes will immediately supersede all previously published copies of rules. It is your responsibility to read and understand the rules and how you are affected by not complying with the following rules. Every competitor will be required to sign a liability release/permission form for use of image/agreement to the official rules prior to the tournament.
SCORING:
• Photo, Catch and Release Tournament standings, auxiliary awards, and final winners shall be determined by the total length of each fish measured in inches to 1/16 of inch of each anglers catch during the tournament. You may upgrade your entries as this is a catch photo competition and only the longest fish will be submitted as part of the bag limit for species.
• Total inches of each fish will be measured on the official Florida Cracker Invitational Tournament ruler provided in tournament swag bag.
• Nose of fish must be on the zero line and the entire fish must be visible in the entry photo. Photo shall be taken from above the fish on the Florida Cracker Invitational measuring device with the angler identifier in the photo. Photo must be time stamped.
• Length of Redfish, snook, trout and grouper will be determined by the pinch tail method with mouth closed.
• Photo's will be submitted to Weigh Master via I angler tournament app or text. Procedures for I angler app will be provided at Captains meeting and in tournament Swag Bag. The prevailing rules as set forth by tournament along with federal, state, and local statutes and regulations bind all competitors. Competitors will at no time have in their possession, in the live well or cooler, a tournament species. Tournament official length for all fish will be according to the state laws in the state in which that event is being held. Any fish that appears to have been penned, mangled, mashed, mauled, or otherwise altered will not be eligible at the discretion of the Weigh Master.
• In the Event of a Tie, the fish that was submitted first in tournament via app or text shall be the longest fish of species and winner.
Prizes will include: based on total of 100 angler entries
Anglers may only win in one division in addition to Top Angler. So please enter all your fish as they will count for the Top Angler. The tournament director will assign angler's fish to win the highest prize value.
First, Second & Third place for each species:
based on total inches of bag limit of each species.
Redfish/Red Drum shall be legal bag limit of 1 fish per angler with no size limits. Only the longest fish will count towards bag limit.
Trout shall be legal bag limit of 4 fish per angler with no size limits. Only the longest four fish will count towards bag limit.
Snook shall be legal bag limit of 1 fish per angler with no size limits. Only the longest fish will count towards bag limit.
Black/Gag Grouper shall be legal bag limit of 2 fish per angler with no size limits. Only the longest two fish will count towards bag limit.
Top Angler: Total # of inches for all 4 (redfish, trout, snook, grouper) tournament species caught.
Dockmaster: Trashcan Slam of largest Ladyfish, Jack and catfish.
Master Angler (additional $25.00 entry): Total number of inches of largest fish in each species (4 fish) entered by angler (must have all 4 species)
The angler with the highest total inches for 1 red, 1 trout, 1 snook, 1 grouper will be named Master Angler. A perpetual Trophy with angler's name to be hung in Florida Cracker until next year.
All winning anglers must attend the Awards ceremony to earn their prize.
POLYGRAPH EXAMINATION: All winners may be subject to a Polygraph Examination prior to being deemed a winner. A polygraph examiner will be at the Awards Ceremony in order to polygraph potential winners before awarding prizes.
REGISTRATION AND CAPTAIN'S MEETING:
Registration will be from 5:00 p.m. until 6:30 p.m. local time the day before the event followed by the Captain's meeting at 7:00 p.m. All anglers must attend the Captain's Meeting and sign in at the designated time and location. If an angler is unable to attend Captain's Meeting due to valid emergency reasons, they may designate an alternate to attend in their place. In addition, they must contact the Tournament Director-Leiza Fitzgerald-352-665-4868 Lfitzgerald@ccaflorida.org. A designated alternate may not represent more than 1 angler at a Captain's Meeting. Anglers agree that it is their own responsibility to find out what was discussed at the Captain's Meeting. No angler may fish or have anyone fish or scout for them after 7:00 p.m. day of captains meeting, October 22nd.
AWARDS CEREMONY: Awards Ceremony will be at 6pm, October 23rd at the Monkey Bar Homosassa.
*All potential winning anglers will be notified and must be checked into the Monkey Bar by 4:30, October 23rd. Potential winners should not consume alcohol prior to polygraph examination which may be administered before announcement of official winners. All winners must successfully pass polygraph exam if administered and be present to accept their winnings.
PERMITTED FISHING LOCATIONS: Competitors may fish anywhere on tournament waters (Pasco/Pinellas County border to the South and Dixie/Levy County border to North) accessible to the public by boat, except areas designated as "off limits" or "no fishing" by private ownership or local, state, and federal officials. Competitors may not fish within 50 yards of a competitor's boat that was in a location first and anchored. (An anchored boat is a boat held in a stable position by a line attached to a weight, push pole, Power Pole, etc., with the trolling motor in the up position). If the boat does not have a trolling motor the definition of anchored still applies.
INFORMATION: Tournament competitors may share information with each other up to and after competition hours. However, no communication between teams whatsoever is allowed via cell phone, VHF radio, pager, or any electronic device during competition, except for medical emergency as allowed or boat breakdown.
PROTEST AND REPORTING PROCEDURE: All protests must be submitted in writing along with a $100 cash deposit within 30 minutes of closed competition to the Weigh Master or designated tournament official. The protester also agrees that if there is a question of verifying the charge of a protest that he or she also may be subject to take a polygraph and agree to testify in a court of law if necessary. If the Tournament Director or polygraph upholds the protest, the cash deposit shall be returned to the contestant submitting the protest. Each competitor agrees to report any rule violation to the Weigh Master immediately upon discovery of the violation.
FEDERAL, STATE, AND LOCAL LAWS: All competitors are expected to obey all applicable federal, state, and local regulations and laws. Violation of such rules may result in your disqualification from the tournament. Repeated or flagrant violations will result in said competitors being banned from future participation in this tournament and possibly reported to the FWC or Local authorities.
PERMITTED FISHING METHODS: All fish must be caught alive in a conventional sporting manner. Only one fishing rod may be used at a time per angler. A cast must be fully retrieved before another angler may pick up/touch that rod. Foul hooked fish shall not be weighed during competition. A foul hooked fish is defined as a fish that does not have at least one hook in its mouth, and it must be released. Competitors may not catch fish or submit fish that have been caged or confined in an area prior to the tournament. Competitors may not submit another anglers catch as their own.
TACKLE AND EQUIPMENT: Only one casting, spin casting, conventional reel, spinning rod, and reel or fly rod may be used at any one time per angler. Be prepared to show your current fishing license, at registration, from the state in which the tournament is being held.
FISH Handling: Every effort must be made to keep fish alive. Please keep fish in net or live well to prepare for photo. Wet the measuring device and deck to protect the fish. Hold your breath when the fish is removed from the water, when you can no longer hold your breath neither can the fish. Put the fish in the live well or net and then continue with the process of entering your catch. No dead fish shall be entered in competition. Any alteration of length of fish or measuring device is prohibited and angler will be disqualified and banished from any future tournaments.
ANGLER IDENTIFICATION: Prior to Tournament start (at Captains meeting), an identifier will be given to each angler. This identifier must remain with angler during tournament competition, and included in each photo submitted.
OFFICIAL CHECKPOINTS: There will be NO official checkpoint for boat check. Anglers may get on the water prior to lines in but no submissions will be eligible if caught before 6:30am day of tournament. Lines in the water at 6:30a.m the day of the Tournament. All fishing must cease/Lines out at 3pm and all submissions must be received by 3:30pm. All running lights & safety equipment must be in place and working at time of launch.
LATE PENALTY. Any late submission will be automatically disqualified. All entries must be submitted by 3:30pm day of tournament.
SPORTSMANSHIP: Competitors in the tournament are expected to follow high standards of sportsmanship, courtesy, safety, and conservation. Any infraction of these fundamental sporting principles may be deemed cause for disqualification. Maximum courtesy must be practiced at all times, especially with regard to boating and angling in the vicinity of non-competitors who may be on tournament waters. Evidence of chemical or substance addiction or abuse or other conduct reflecting unfavorably upon the Florida Cracker Invitational efforts to promote safety, sportsmanship, and compliance with tournament rules shall be grounds for rejecting any entries for participation and for disqualification. Any act deemed by the Tournament Director that gives an angler an unfair advantage not specifically covered under this set of rules shall be grounds for disqualification. Any violation by an angler deemed intentional or preconceived by the Tournament Director to gain an unfair advantage would be grounds for permanent disqualification.
ENTRY FEES AND PAYMENTS:
An Entry Fee of $125 per angler is required to fish the Tournament. Additional $25.00 each angler to compete in Master Angler. All entry fees are NONTRANSFERABLE and NON-REFUNDABLE, NO EXCEPTIONS.
Organizer of Dixie Vodka 2nd Annual FL Cracker Invitational Catch & Release Tournament