Description
This three-day event will include stage entertainment, light installations, processions, workshops traders stalls and community group marquees. Local schools, artists, community groups and traders are all invited to take part.
The free event is being organised to mark Diwali, the 'Cutty Sark Diwali Festival of Light', which is observed by Hindus, Sikhs and Jains in India and many other countries around the world.
The event will be launched with trading and stage entertainment and, in the evening a Festival of Light parade and traditional Garba dancing, offering everyone the chance to join in.

On the main stage, there will be a variety of entertaining performances, ranging from professional performers to local community musicians and dancers. There will also be a fashion show of Indian inspired clothing coordinated by Asian Clothing businesses.
Children can take part in a range of activities, including story-telling sessions, games and arts and crafts activities that will teach them about the history of Diwali.
We are making plans to light-up the local attraction including the Cutty Sark Clipper, and Greenwich Foot Tunnel entrance.
Dance and Music from the stage Bright Illumination of the Cutty Sark Gardens
Rangoli Patterns around the Cutty Sark Fashion Show with the latest designs for the family
Laser Show and night time illuminations Lantern Parade lead by Dhol players
Workshops with professional guidance, try your hand at:
Henna Painting, Rangoli Designs, Lantern Making, Face Painting and Balloon Modelling
All events, activities and timings are provisional and subject to change without notice
Programme
We intend to include :
- Lamps and bright colours illuminate the Cutty Sark Garden.
- Rangoli patterns are created using rice, paint, coloured sand or flower petals – colourful geometric - designs around the ship on the pavements.
- The Cutty Sark will be illuminated at night with a laser show to Bollywood music.
- Fashion show from the fashion houses with the latest designs for the family
- Parade lead by dhol players and procession of people carry lamps and lantels around the Cutty Sark Gardens.
- workshops to encourage participation in ancient cultural practices
- Entertainment from Local schools artists and groups in the area
Our goal at Events Inspire is to provide the abundance of expected visitors with international dance and music and provide cultural food from around the world in celebration of Diwali festival of light.
Friday 21st is Family day with family activities programmed throughout.
Schedule of the event: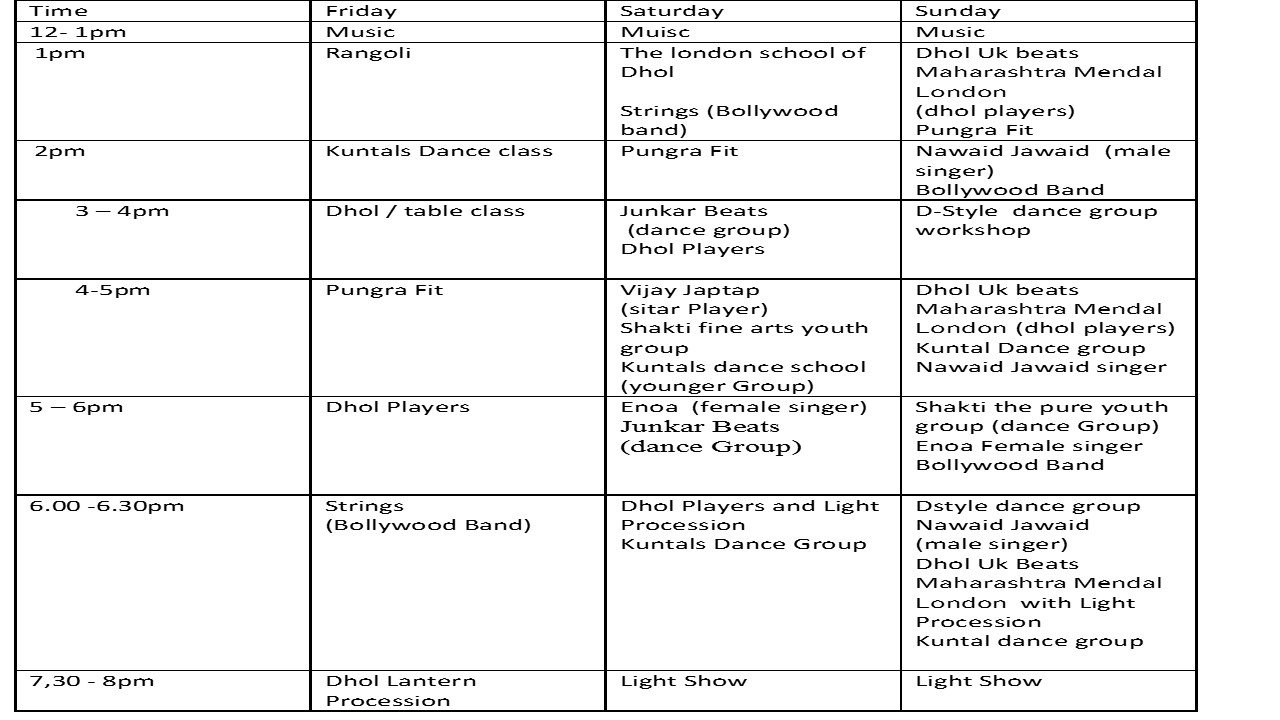 Please note : Schedule may change if any unforseen, situation arises. Every change will be notified via eventbrite this page as and when possible.
Events Inspire aim to bring additionality to a town that literally has everything, and so the ancient cultural focus and the focus on the light and enlightenment are integral to our approach.. We have also marketed the event through a broad range of channels on air, online on page and on counter throughout east London to attract increased visitor numbers so that the market thrives as do the local attractions and businesses.
Contacts
David Palmer-Barnes, Events Inspire ltd 07714649663 / david@eventsinspire.net
Nitin Dabhade 07723085938 / nitindabhade@aol.com