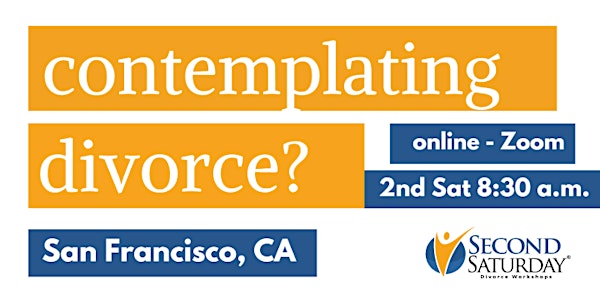 Divorce Workshop Second Saturday Virtually presented from San Francisco
Meet TheDivorcePlanners: an attorney, a mediator, a therapist, an RCS-D and a CDFA all specializing in divorce in San Francisco.
By Annette Brown, CDFA(TM)
Date and time
Saturday, June 10 · 8:30 - 11:30am PDT
About this event
The estimate is that 50% of marriages will end in divorce. If you are in the process of considering a breakup or divorce, you will have questions that professionals can answer. If you are in the early stages of a divorce, you will want to attend this three hour empowering workshop that is designed to help you take the next step, and clarify the process of untying the knot.
We understand that divorce is a process; and that everyone needs some level of support in this process. Second Saturday offers clarity on the legal, financial, family and personal issues of divorce in a logical, yet compassionate way. Our workshop is taught by a family law attorney, an experienced mediator, a financial professional and a therapist and will provide you with knowledge and resources that you need to inform, prepare and protect you and your family.
Ask questions, find answers, and be empowered. We bring clarity to the confusing divorce process.