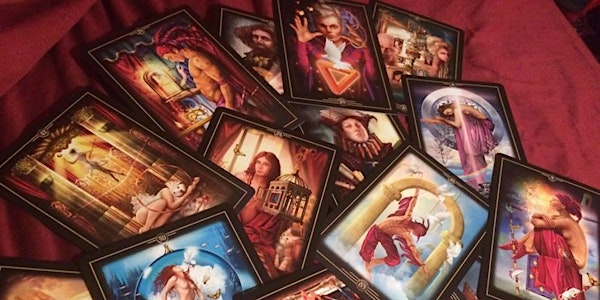 Divine Truth of Tarot - An Introductory Course into Reading Tarot
When and where
Location
Breathing Space Yoga 217 Chapel Street Prahran, VIC 3181 Australia
Description
"Tarot is always whispering to you. Tarot weaves truth, stories, secrets, and tales. All you need to do is slow down and listen." ― Sasha Graham
Tarot cards are modes of divination, which guide us and bring to our awareness energies that are important for us to know at any present moment. They are not a future telling tool, but rather a descriptive expression of the energies and vibrations surrounding a certain person, situation or time. The symbols and stories provided by the cards give us a greater understanding of the forces influencing us and offer us the guidance to respond accordingly.

What you will receive from the 8 week Course:
A complete folder to take home covering all 78 Cards of the Tarot, which you can add to over the course of the 8 weeks and continue to expand on throughout your learning and practice.

A systematic and methodological approach to learning the Tarot cards and ways to move eventually towards an intuitive, archetypal, symbolic and more lateral, expansive approach to translating the various meanings in each card.

Developing a personal relationship with your deck and ways of heightening and sharpening your natural intuitive skills and extrasensory gifts through working with them ritually and regularly.

Guidance, direction and clarity on any given situation or enquiry.

An awareness of the energies and universal support that is surrounding you, and ways to work with these energies.

"Unexpected gifts" and priceless insights that go beyond what we could rationally conceive.
What you will need to bring:
Your own deck of Tarot cards (Preferably the Mythic Tarot Deck/old or new version) by Juliette Sharman-Burke and Liz Greene

A pen and journal, perhaps one specifically for the tarot learning

Water Bottle

Any symbol, crystal, image, or object that heightens your intuition (optional)
An important concept to grasp before you begin working with the Tarot is that no matter how positive or seemingly negative the cards may appear, they are always (without exception) serving to direct us towards our Highest Truth and Wisdom. Keeping your intentions clear, loving and in Service of the Highest Good will only accentuate and heighten the potency of these invaluable tools of intuitive wisdom.

Please note:
Mythic decks can be found through the Theosophical Society 126 Russell st. Melbourne 3000
ph: 03 9650 3955 (ask for Paul and share that you are joining this course)
Most spiritually minded or esoteric stores will usually stock the Mythic Tarot Deck by Juliette Sharman-Burke and Liz Greene.
Get in quick though as stocks run out fast.

WHERE: BREATHING SPACE STUDIO
217 Chapel st Prahran
Upstairs Suite 6/ Level 1
When: Sunday afternoons: 12th Feb – 21st May 2017 (see dates below)
Times: 1-4pm

Investment:
Earlybird: $450 for the 8 week Course (paid in full before January 22nd)
$150 non-refundable deposit required to secure your space.
Full Price: $480 or $70 per individual session/week

WEEK 1: Feb 12 Introduction to Tarot cards, and their association with Astrology, Numerology, Archetypes, The Hero's Journey, Path of the Soul's Evolution and Divinity
WEEK 2: Feb 26 The Major Arcana/ The Souls Evolution 1
WEEK 3: March 12 The Major Arcana/ The Souls Evolution 2
WEEK 4: March 26 The Minor Arcana/ Numerology and the Hero's Journey 1
WEEK 5: April 23 The Minor Arcana/ Numerology and the Hero's Journey 2
WEEK 6: May 7 The Court Cards & Pages/ 12 Courts cards and 12 Astrological signs, Intro to spreads
WEEK 7: May 14 Tarot Reading Spreads/ Celtic Cross Spread & learning how to read
WEEK 8: May 21 Alternative spreads, reading and refining our practice.

Each week I will allocate some time to do at least a 1 card selection, and as weeks progress we'll work towards 2- 3 card spreads for one another …working up towards a 10 card spread by weeks 7 and 8.

"The tarot is an outer oracle of which the inner oracle is the source" ― Philippe St Genoux
PLEASE NOTE: NO prior experience or practice is necessary.
Open to both beginners and experienced practitioners.
It is an introductory course, so it will be targeted more towards beginners but I will tailor the course to whoever is present and even experienced practitioners know that when they bring a "beginners mind" to the space, there is so much more to learn!

Please find a Deck that you resonate with or have developed a relationship with, however I will be teaching from the Mythic Tarot Deck ONLY (old and new) by Juliette Sharman-Burke and Liz Greene, so for ease of learning this is the deck I would prefer you bring to the course.
Once the foundations are learned, they can be transposed to any Tarot deck.

First step begins by registering today!

"Tarot is a lyrical language of the soul's encounter with the Universe. Treasure it. Trust it. Let it divine you." ― Marcus Katz
About Course Facilitator
Andrew Mournehis began reading and studying Tarot in 1997 and delved deeper into esoteric studies and mysticism in the years following. He graduated from the Phoenix Institute of Australia in 2001, with an Advanced Diploma in Transpersonal Counselling, with a very clear vision that his gifts and passions were best directed in the power of group, archetype, mythology and the potent healing energy that is exchanged in each other's stories, both personal and universal. Being an already established yoga teacher, he spent the next 18 years facilitating many healing groups, workshops, intensives and retreats both nationally and internationally working with the healing potential of both Yoga and Transpersonal work. Having practiced Tantra for nearly 20 years, Andrew unites his diverse background and experience with Transpersonal work, Mythology, Astrology, Tarot and Philosophy to bring a rich and exciting view and perspective on this liberating art form and mode of Divination.

"Having read Tarot for nearly 20 years, I find it one of the most insightful means of personal discovery outside of yoga and deep transpersonal work. I look forward to sharing this priceless gift with you."
Namaste Andrew Mournehis

"Divination is the quest to understand more about the past, present, and future. In other words, Tarot readings are an attempt to understand ourselves better and discover how we might live better in the future." ― Theresa Francis-Cheung

Please Note: Numbers are limited, and places fill fast, so early expressions of interest are advised.