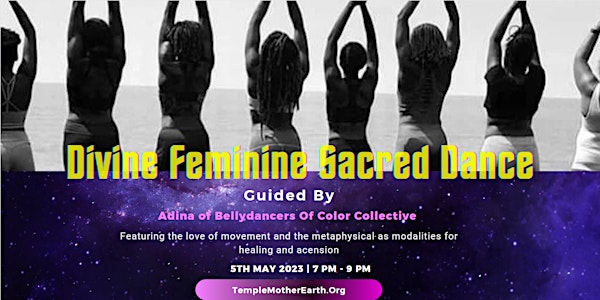 Divine Feminine Sacred Dance
Temple Mother Earth is inviting everyone to come and join us for a Divine Feminine Sacred Dance. Everyone is welcome.
Date and time
Friday, May 5 · 7 - 9pm EDT
Location
2415 32nd St SE 2415 32nd Street Southeast Washington, DC 20020
Refund Policy
Contact the organizer to request a refund.
Eventbrite's fee is nonrefundable.
About this event
Date: Friday, May 5, 2023 from 7-9PM
📌Sign- up now
This event will be guided by Adina of Bellydancers Of Color Collective. Adina will share the love of movement and the metaphysical as modalities for healing and ascension. Divine Feminine Sacred Dance is the next level. Let's turn the world around with the sacred movement of the hips that gave birth to everything we see.
Donating is a great way to give back to the community and ensure that the temple can continue to provide its services to those in need.
This event is a three-month online cohort with a 1-hour biweekly integration call. At the end of the cohort, there will be a ceremony. We will do a micro-dosing for three months along with the group with dance and embodiment of movement
What is Divine Feminine Body Alchemy?
Divine feminine body alchemy is a holistic approach to health and wellness that focuses on honing in on the connection between the body, mind, and spirit. This approach emphasizes the sacredness of the feminine body and recognizes that our physical, emotional, mental, and spiritual health are inextricably linked. It is an exploration of how to unlock and unlock the body's natural power and self-healing capabilities through the use of body-based practices such as yoga, meditation, breathwork, and energy work. This practice helps to create a deeper connection to the divine feminine essence within each of us and ultimately empowers ourselves and each other.
Bellydancers of Color Collective (BOCC) was founded in 2017 by Adina Gittens-Smith and Leila Nelson to celebrate and restore the dance lineage of bellydancers throughout the diaspora of African people—to connect and honour the artistic human experience, strength and beauty of people of colour through the art of bellydance, drum, and other traditional dance forms. We believe in shaping the lives of people through dance, especially in helping women embrace and love all of who they are—physically, mentally and spiritually.
About the Facilitator
Adina Adito Lallah means Adorned Great Goddess, Daughter of Joy.
Movement is her clay. Dance is her play. She invoked Joy with hipnotic circles of her hips! As the Co-Founder of Bellydancers Of Color Collective, Adina teaches and performs regularly.
Additionally, Adina is a certified Femnine Power Coach and program facilitator of adult initiations in The Progressive Love Mystery School. Providing programs leadership in Body Bliss & 9 Super Powers.
Through the year, Adina has studied many dance genres with many greats including ballet with Fabian Barns, Dunham Technique with Dr. Sherrill Berryman-Johnson, Afro-Cuban with Angela Ingram, and traditional diaspora dance with Donna Mejia.
Lifelong dancer
Bellydance Instructor since 2013
Certified Feminine Power Coach - Progressive Love Academy since 2020
Body Bliss - Co-Facilitator Adult Sacred Body Initiation since 2020
About the organizer
Welcome to @TempleMotherEarth!
We are an international Temple of consciousness, spiritual learning and healing center, focused on providing the community with service, education, spiritual fellowship, healing practices, guidance, kemetic teachings, plant medicine expansion, ayurvedic medicine and earth medicine healing.
501C3 approved + With various providers for healing: Health is our greatest wealth Hypnotherapy/ Psychotherapy Sounds healing /Yoni steam / Reiki Beekeeping / gardening /Meditation Yoga / bodyworkers/ tantric practitioners / Qi Gong / crystals work / Numerology / ColorOlogy / womb work / mirror work / daily practice / Kambo / sacred ceremony Et el
FB: https://www.facebook.com/groups/TempleMotherEarth/
Telegram: https://t.me/templemotherearth
Discord: https://discord.gg/qBKfvBjRcc
Mother Earth Tribe is a life-changing community so you can, deepen your spiritual practices, be witnessed, seen, heard, + supported, create space to connect inwards with your true self & intuition. We feature trusted experts, transformative tools and free virtual workshops that you can access anywhere in the world. With new members joining each day, we think you might like it too.