Divine Compassion Conference: Orthodox Christians in Service of Perfect Lov...
Description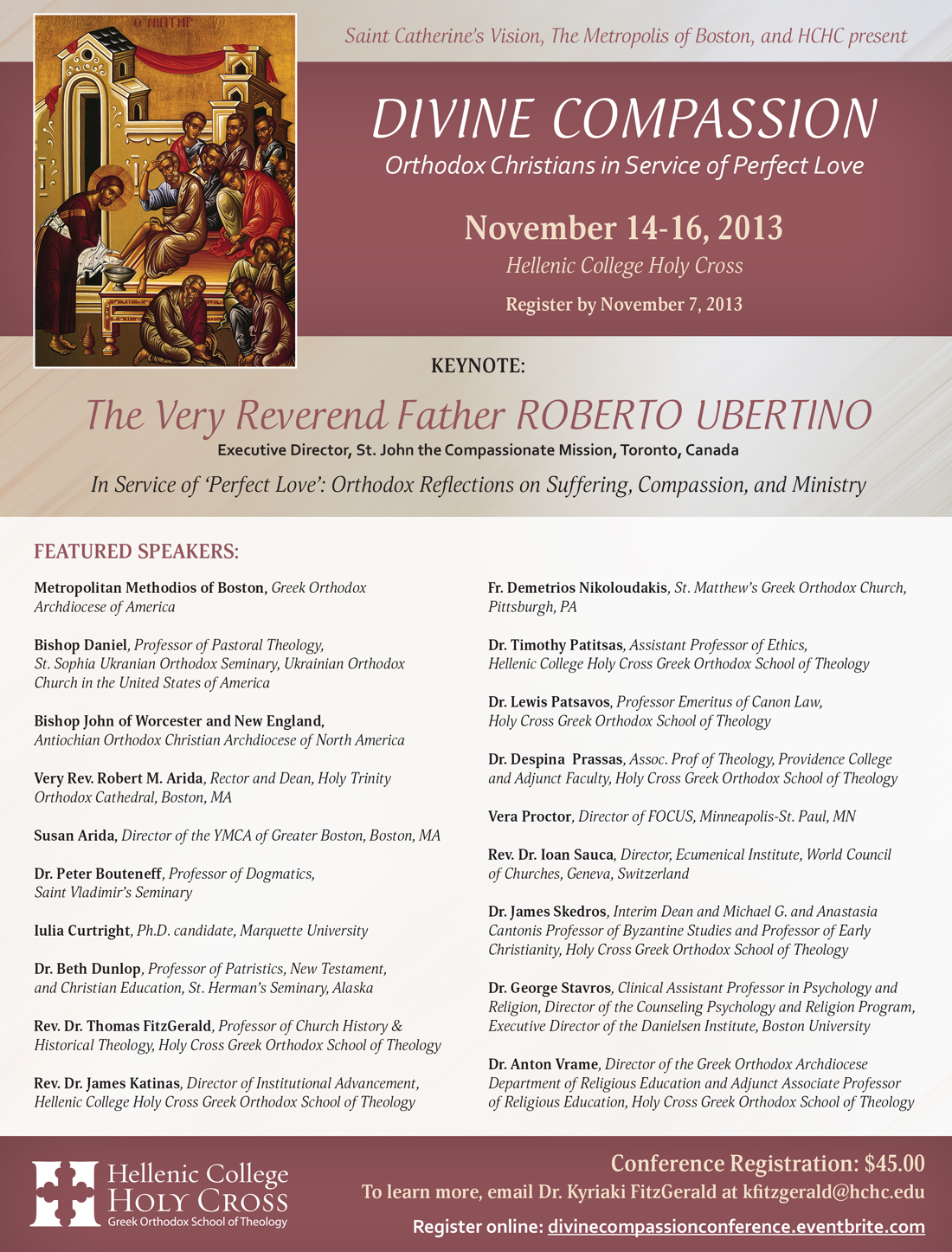 Our Lord revealed the Father to be a compassionate God. Christ expressed this divine compassion through his dealings with the sick, the poor, the women, the outcasts, and all those who were abused, forgotten and in need. He assured them of the Father's love and compassion. For they were his valued daughters and sons. At the same time, the Lord calls his followers to be compassionate.
Divine Compassion: Orthodox Christians in Service of 'Perfect Love' will provide the opportunity for Orthodox Christians to understand more deeply the reality of Divine Compassion, the eleos of God, and how we are called to bear witness to it within the Church and society.
This conference will bring together persons who relate a theocentric and philanthropic theology with the real needs of persons. These include clergy, theologians, philanthropists, educators, pastoral care-givers, counselors, first-responders, chaplains, philoptochos members, health care providers, and students.
The conference is co-sponsored by Holy Cross Greek Orthodox School of Theology, the Greek Orthodox Metropolis of Boston and Saint Catherine's Vision, a Pan-Orthodox association of women theologians and other lay-leaders.
Only able to attend part of the conference? Use the following promo codes to register:

To attend the keynote only, promo code is keynote, cost will be $10.

To attend Friday only, promo code is friday, cost will be $20.

To attend Saturday only, promo code is saturday, cost will be $20.
Hotel Accommodations:
Use Reference Code HCHC-Cost $109/night
Hotel Block Rates Expired on 10/25/2013, call and make your reservations today!

Hilton Boston Dedham
1.800.754.8052

25 Allied Drive Dedham, MA 02026
Saint Catherine's Vision is a Pan-Orthodox organization of theologians and servant lay-leaders blessed by the Assembly of Canonical Orthodox Bishops of North and Central America. Saint Catherine's Vision Inc. is a 501(c)3 non-profit organization.
Hellenic College Holly Cross
Metropolis of Boston