Divided Families Film Congressional Screening

Tuesday, October 4, 2011 from 6:00 PM to 8:15 PM (EDT)
Event Details
Divided Families Film Congressional Screening
Join us for our Congressional Screening of the Divided Families Film, a documentary chronicling families that were forcibly divided after the Korean War.
FREE food and drinks will be provided.
We look forward to seeing you at this exciting event!

Event Program:
6:00 - 6:15 pm: 
Opening remarks with Senator Kirk
6:15 - 6:30 pm: Remarks by Filmmakers Jason Ahn & Eugene Chung
6:30 - 7:00 pm: Divided Families Film Screening 
7:00 - 7:20 pm:
 Chahee Lee Stanfield Speech
7:20 - 7:40 pm: Meet & greet and Wrap up
Dress Code: Business formal or business casual
We sincerely hope that you will join us.
Speakers:
Mark Kirk, United States Senator for Illinois
Chahee Lee Stanfield, Divided Families Activist
Jason Ahn, Divided Families Film Director
Eugene Chung, Divided Families Film Director
Location:
Dirksen Senate Office Building
Ground Level, Room SD-G50
Washington, DC 20002 
Twitter: @dividedfamilies, @genechung
*************************************************************************
DIRECTIONS: Northeast of the Capitol, adjoining the Hart Senate Office Building on a site bounded by Constitution Avenue, Second Street, First Street, and C Street, N.E.
GARAGE PARKING (PAID - This is the best option for drivers):
Garage parking is available at Union Station.  The entrance is located on the corner of H St NE and 1st St NE. This is ONLY accessible through H St. Alternatively, there is another entrance on the southeast corner of Union Station.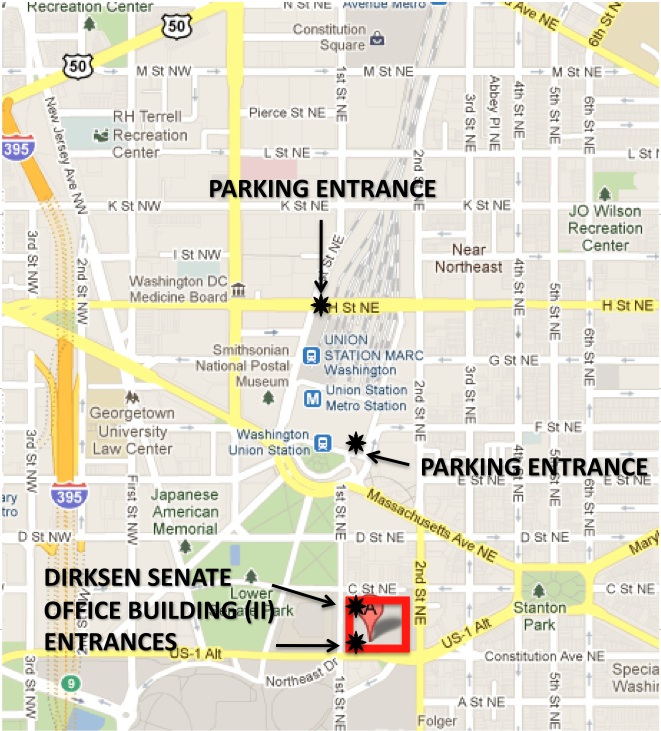 **************************************************************************
STREET PARKING:
Streets highlighted in PURPLE are either free or metered.
Alternatively the streets highlighted in BLUE may have parking.
NOTE: metered parking is limited to 2 hours.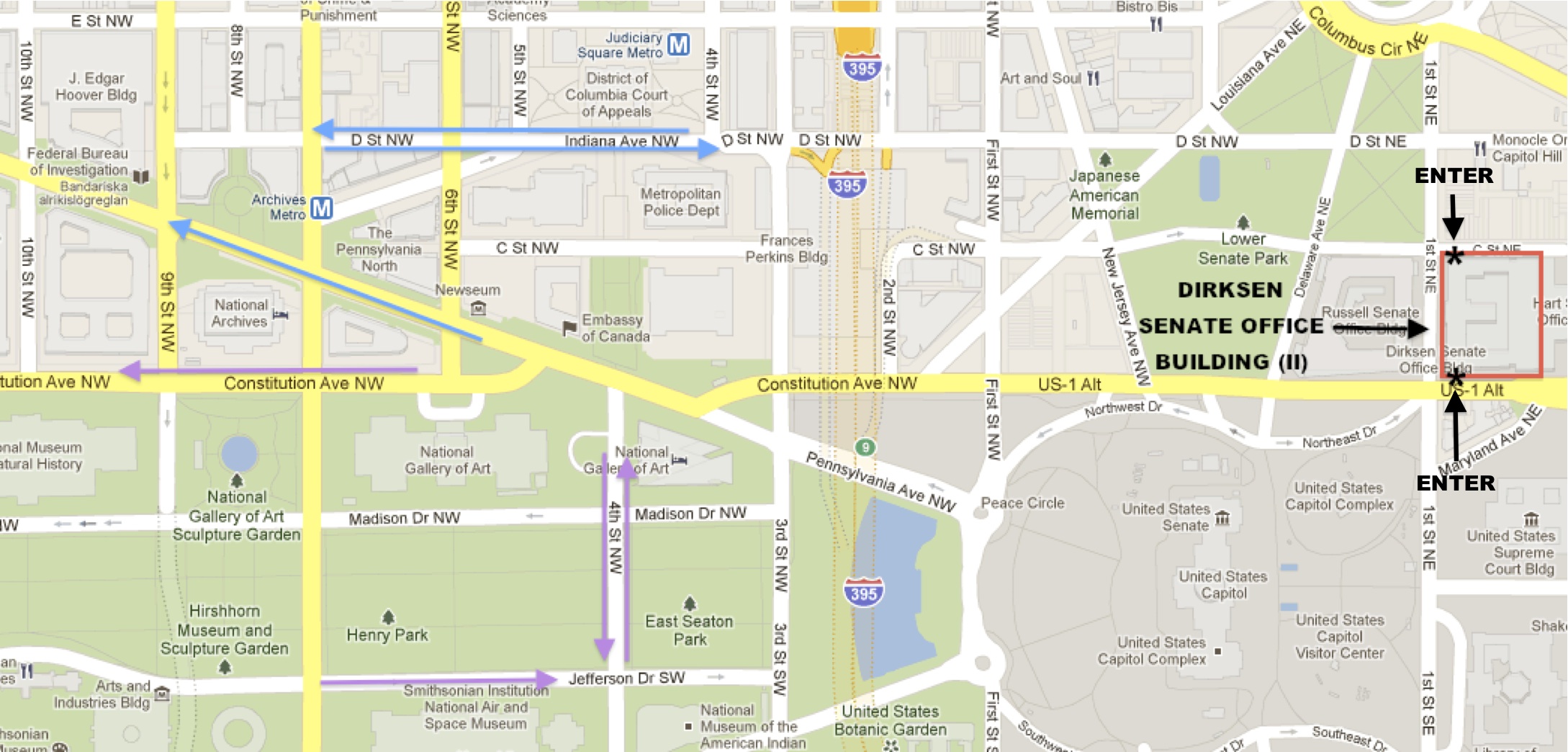 *************************************************************************
METRO FROM UNION STATION (NORTH):
1. Exit Union Station and head SOUTH towards Columbus Circle NE
2. Head South on 1st Street NE for two blocks
3. The Dirksen Senate Office Building will be ahead on the LEFT side
4. ENTER through the door at the corner of 1st St NE & C Street. 
5. Enter through the BACK entrance through security and follow signs to G-50 auditorium.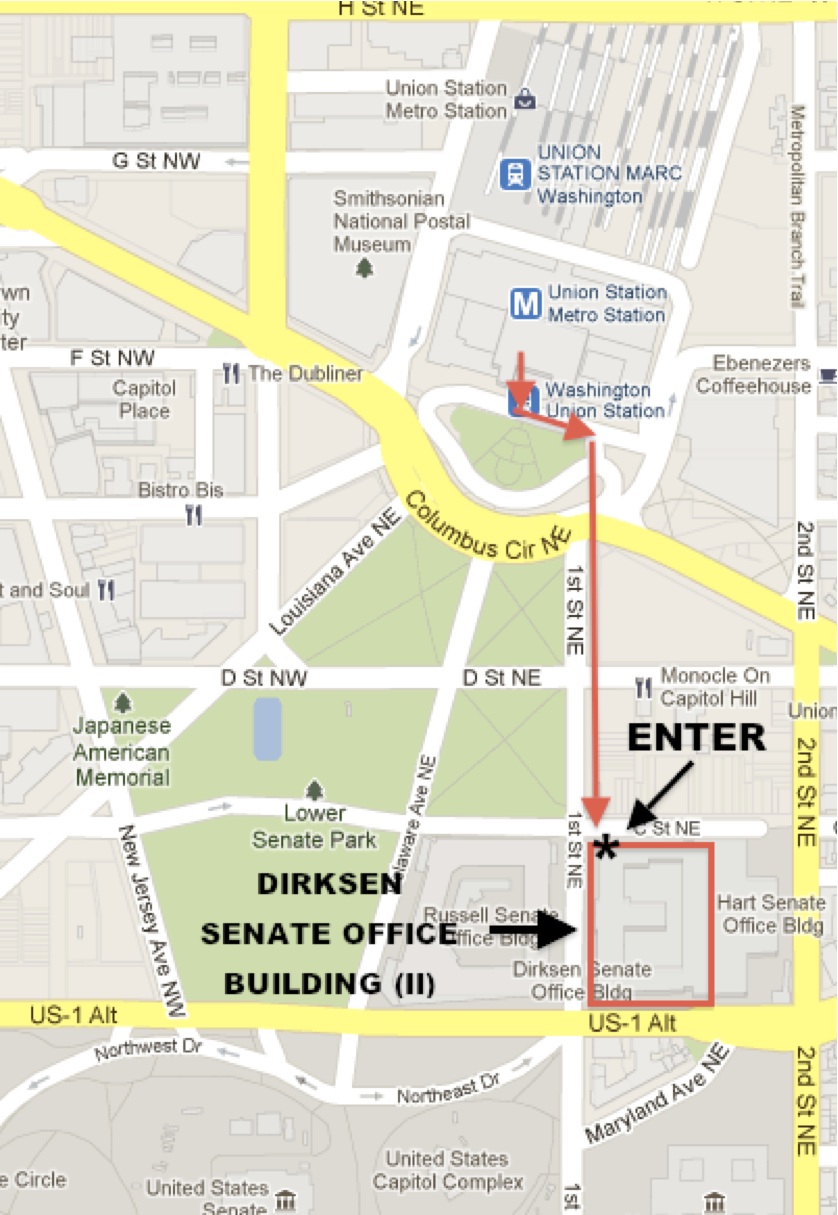 **************************************************************************
METRO FROM CAPITOL SOUTH (SOUTH):
1. Exit Capitol South Metro NORTH towards Independence Ave.
2.
Head North on 
1st Street SE
 for 3 blocks
3. The 
Dirksen Senate Office Building
will be on the right side
4. ENTER the door at the corner of
US-1 ALT (Constitution Ave.)
&
1st St NE
.
5. Enter through the FRONT entrance through security and follow signs to
G-50 auditorium
. 
(Once in the building: Walk to the
elevators
to the
RIGHT
of the entrance .  Take the elevator
DOWN
to the
ground floor
.  Make a
RIGHT

out of the elevator
 and walk to the end of the hall.  Once you've reached the end of the hall,
TURN RIGHT
.  Keep walking until you see the
G-50 auditorium

on your RIGHT
.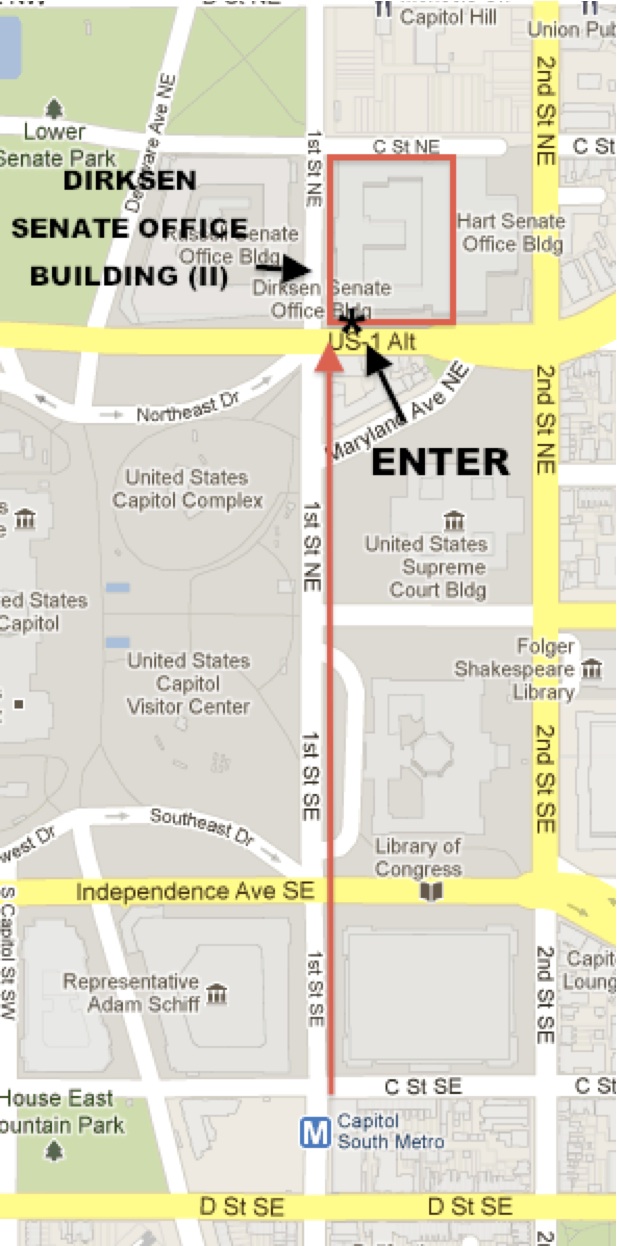 When & Where

Dirksen Senate Office Building
Ground Level, Room SD-G50
(SCROLL DOWN BELOW FOR FULL DIRECTIONS)
Washington, DC


Tuesday, October 4, 2011 from 6:00 PM to 8:15 PM (EDT)
Add to my calendar
Organizer
Divided Families Film
When the border was drawn between North and South Korea, hundreds and thousands of family members were left divided. During the Korean War (1950-1953) even more families were dislocated in the chaos of war. Over 55 years has passed since then and many Koreans immigrated to the United States in search of peace and hope.

There are an estimated 100,000 first generation Korean Americans with immediate family members in the North Korea. Time is running out for this generation. Many of the family members have already passed away, or are in their 70s-90s. Some have tried to contact their families through informal brokers, but this uncertain avenue has led many divided family members to become disillusioned. Though US Citizens, there are no formal mechanisms for family members in the United States to identify or even dream of reuniting with their families in North Korea. 


Our Mission:

To document the stories first generation divided family members.

To raise awareness in American and Korean communities.

To promote mobilization and the support for formal mechanisms for family reunions between Korean Americans and North Koreans.
Divided Families Film Congressional Screening