Description
We are so excited to announce our inaugural concert on August 3rd, 2018 at 7pm! We will be playing at an awesome alternative space on the third floor loft of McRoskey Mattress Company right downtown on 1687 Market Street in San Francisco. We are so greatful to be in this beautiful space and can't wait to fill it with music!
Featured on the program will be two new world premiere works by bay area composers, Joseph Colombo and Nicholas Pavkovic. Nicholas will be joining us onstage as a featured guest. We will also include some of our favorite percussion duo music, mostly written by modern living composers including Wally Gunn, Ivan Trevino, Dave Samuels, and David Friedman. We will be playing a wide array of percussion instruments ranging from mallet instruments like marimba and vibraphone to a plethora of drums, wood blocks, flowerpots, gongs, cymbals, cowbells, etc.

Join us for an evening of music, connection, and fun!

About Us
Divesh Karamchandani and Elizabeth Hall are a dynamic percussion duo. Their mutual passion for percussion chamber music and excitement for collaborating with composers and other musicians led them to create this duo. They enjoy fostering the creation of new works and are eager to explore the wide palletes of sounds available to percussionists.

Divesh and Elizabeth met at the Zeltsman Marimba Festival in 2011 and bonded over their love of the marimba. Their friendship grew and their paths crossed again when they both moved to San Francisco and attended the San Francisco Conservatory of Music for their masters degrees. They performed together throughout college and professionally with diverse groups and concerts including Mercury Soul, One Found Sound, The Hot Air Music Festival, Post:Ballet, Calvary Choir, Golden Gate Symphony, and Cantare Con Vivo and are looking forward to continuing their creative collaboration with this duo.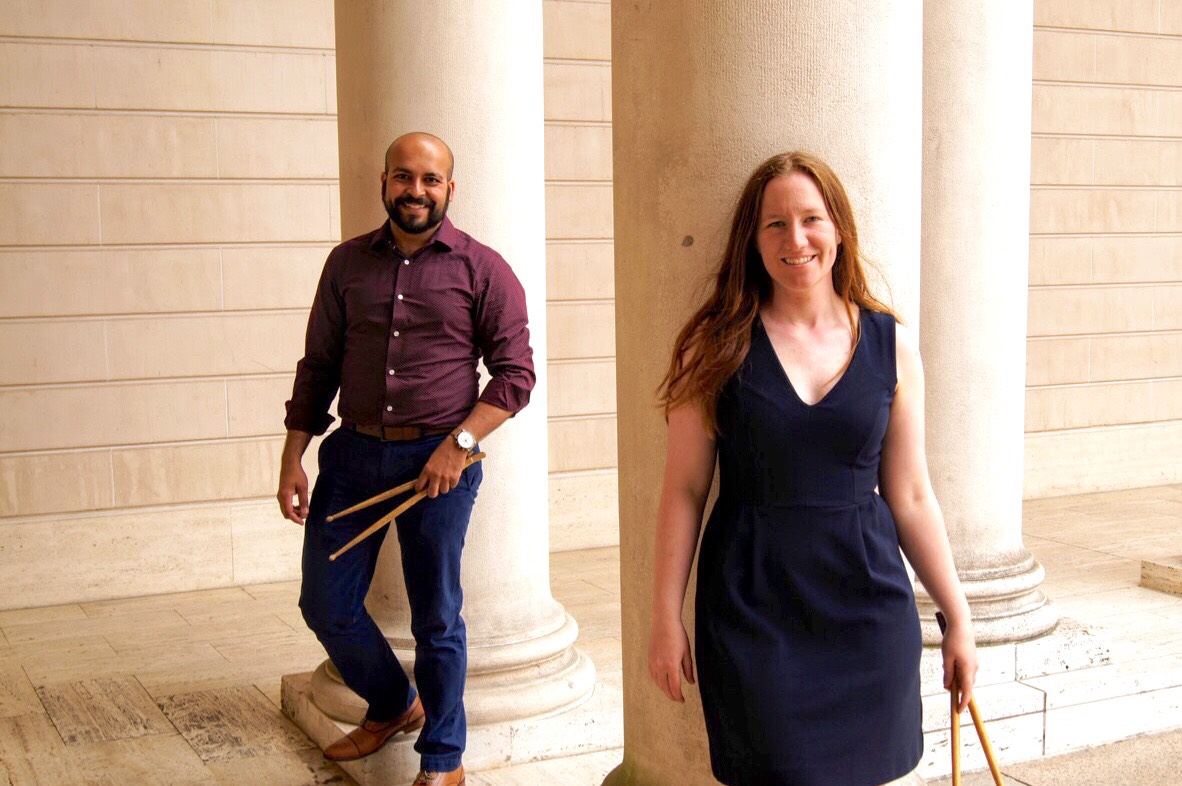 More about Us
Divesh Karamchandani
Divesh Karamchandani is a San Francisco-based percussionist and teacher who regularly performs in chamber and large orchestral projects. He is a member of the conductorless chamber orchestra, One Found Sound. Divesh has recently performed with Townsend Opera Players, Golden Gate Symphony, Music in the Mountains and a collaborative project with the newly formed SF-LA Collective. Divesh also performs regularly with other organizations in the Greater Bay Area and Central Valley.
Divesh graduated in 2012 from California State University, Stanislaus with a Bachelors of Music in percussion performance and instrumental music education and graduated in 2014 from the San Francisco Conservatory of Music with a Masters of Music in percussion performance. He studied under the tutelage of Jack Van Geem, Jacob Nissly, James Lee Wyatt III, Chris Woodham and Allen Brown.
Divesh is equally passionate about teaching as he is about performing. He is a Teaching Artist with the San Francisco Symphony's Instrument Training and Support Program, teaching percussion at numerous schools in San Francisco. Divesh returns to CSU Stanislaus each year to teach at the University's Summer Music camp.
Elizabeth Hall
Elizabeth Hall is a San Francisco based percussionist and vocalist. She is enthusiastic about chamber music and contemporary music and has played with many groups including San Francisco Opera, Santa Cruz Symphony, San Francisco Contemporary Music Players, Adesso Ensemble, and with Americana duo, Gutter Swan. She received her Bachelor's degree from Bowling Green State University and her Master's degree from the San Francisco Conservatory of Music and has studied with Jack Van Geem, Trey Wyatt, Roger Schupp, and Bill Bleyle.