Description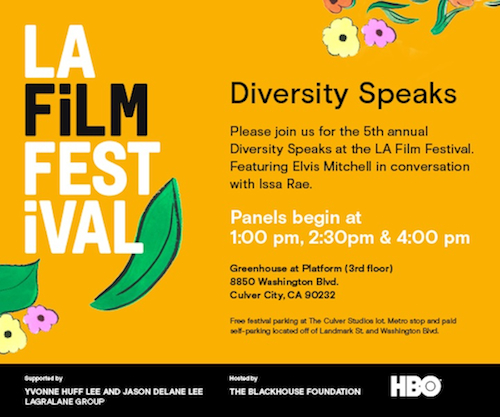 IN CONVERSATION - Saturday, June 4, 1:00pm

Film Independent Curator Elvis Mitchell sits down with Issa Rae for an intimate off-the-records talk
ART & ACTIVISM - Saturday, June 4, 2:30pm
Visual storytellers of various mediums discuss how they use their art to bring light to social issues. Panelists include Vanessa Ramos (Bordertown), Jay Ellis (The Game, Insecure) and Terence Nance (Swimming in Your Skin Again, An Oversimplification of Her Beauty) with additional guests to be announced
LOW BUDGET IN LA - Saturday, June 4, 4:00pm
The team from SPA NIGHT shares their experiences making a sub million dollar movie in the film capital of the world. Panelists include Andrew Ahn, Kelly Thomas, Guila Caruso, Ki Jin Kim and David Arinello. Moderated by 4 time Sundance Alum Datari Turner, producer of over 20 feature films, and the Creator and Executive Producer of the hit tv show "Growing Up Hip Hop" on WETV.


Free festival parking at the Culver Studios lot. Metro stop and paid self-parking located off of Landmark St. and Washington Blvd.
Sponsored by HBO
Supported by: Yvonne Huff Lee and Jason Delane Lee, Lagralane Group
Hosted by: The Blackhouse Foundation
Seating is limited. First come first served based on capacity. RSVP does not guarantee a seat.