Diversity Scholarship Foundation Lunchtime CLE on Inclusion & Diversity Ser...
Event Information
Location
160 N. LaSalle St.
Room 1808 - 14th Floor (updated)
Chicago, IL 60601
Description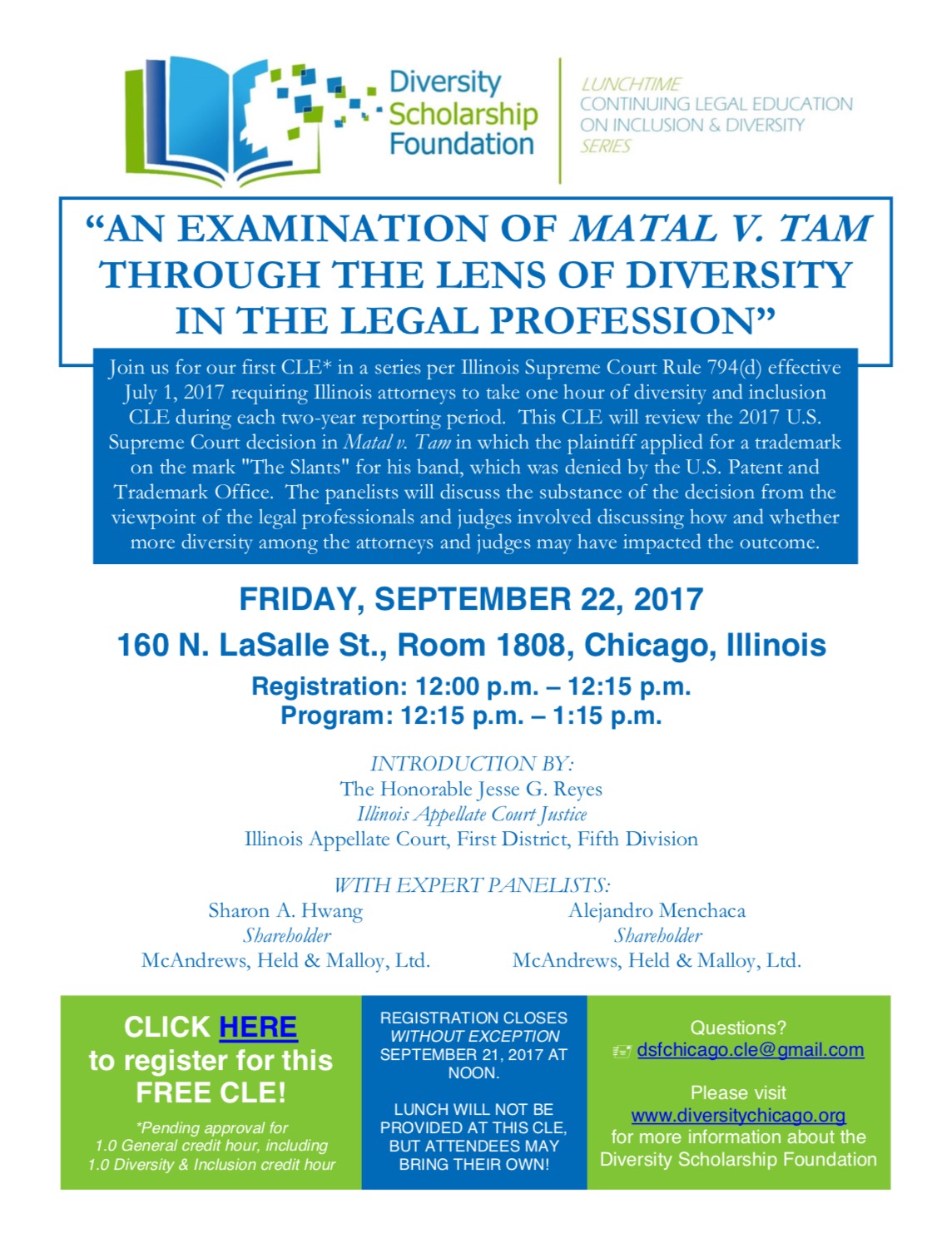 "An Examination of Matal v. Tam Through the Lens of Diversity in the Legal Profession"
Join us for our first CLE* in a series per Illinois Supreme Court Rule 794(d) effective July 1, 2017 requiring Illinois attorneys to take one hour of diversity and inclusion CLE during each two-year reporting period. This CLE will review the 2017 U.S. Supreme Court decision in Matal v. Tam in which the plaintiff applied for a trademark on the mark "The Slants" for his band, which was denied by the U.S. Patent and Trademark Office. The panelists will discuss the substance of the decision from the viewpoint of the legal professionals and judges involved discussing how and whether more diversity among the attorneys and judges may have impacted the outcome.
Friday, September 22, 2017
Registration: 12:00 p.m. - 12:15 p.m.
Course: 12:15 p.m. – 1:15 p.m.
Introduction by:
The Honorable Jesse G. Reyes
Illinois Appellate Court Justice - Illinois Appellate Court, First District, Fifth Division
With Expert Panelists:
Sharon A. Hwang Shareholder - McAndrews, Held & Malloy, Ltd.
Alejandro Menchaca Shareholder - McAndrews, Held & Malloy, Ltd.
*Course pending approval for 1.0 General credit hour, including 1.0 Diversity & Inclusion credit hour
**REGISTRATION CLOSES WITHOUT EXCEPTION SEPTEMBER 21, 2017 AT NOON.
***LUNCH WILL NOT BE PROVIDED AT THIS CLE, BUT ATTENDEES MAY BRING THEIR OWN!
Questions? Contact us via email at dsfchicago.cle@gmail.com
Please visit www.diversitychicago.org for more information about the Diversity Scholarship Foundation
Date and Time
Location
160 N. LaSalle St.
Room 1808 - 14th Floor (updated)
Chicago, IL 60601