Jayadevi Arts Elegant event is a display of diversity and the colors of our people a positive vibes to promote healing and unity.
About this event
This event features diverse, amazing, high caliber Local artists such as Sh Sweetshellz, Vik Sharma, Harold Caribbean, Ishwar Nanan, Mala Samaroo, JAI Bollywood dance team, Jayadevi Elite dancers, Vidya Babwah-Gosine and special guest Randy Recklez !! Our Local Politicians will be attending . Jayadevi will also recognize a few members in the community for their exemplary and outstanding services, and party the night away with great diverse music!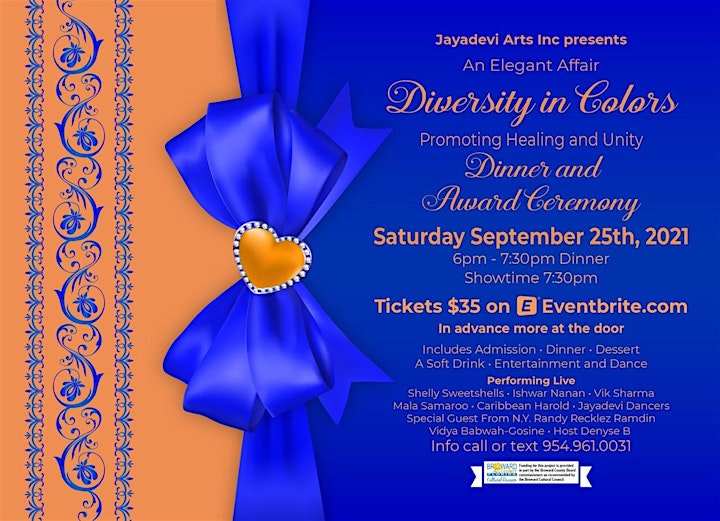 Organizer of Diversity of Colors promoting Healing and Unity Concert
Jay Devi Arts Inc. (JAI) founded in 2008, became a nonprofit organization in 2010. Mission Statement: is to preserve, promote, unite, educate, and present the arts and culture of Indo- Caribbean communities from Guyana, Trinidad, Jamaica, Suriname, and other parts of the Caribbean living in the South Florida area.  JAI works to rejuvenate Indo-Caribbean cultural and artistic life and to restore self-esteem to this new American community. JAI stimulates original and artistic creativity especially among the younger generation of Indo-Caribbean youths born in the United States.  JAI's Cultural skills and artistic craftsmanship emerge from year-round workshops between tradition-bearers, master artists, scholars and young students. JAI ensures the cultural relevance and accuracy of these events by coordinating with local and international knowledge experts and master artisans.