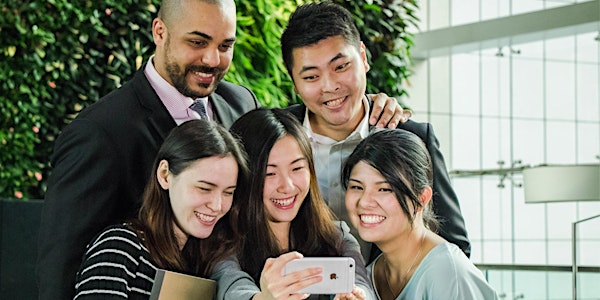 Diversity & Inclusion Conference 2017
When and where
Location
Hotel ICON Silverbox Ballroom, Level 1 17 Science Museum Road Kowloon Hong Kong
Description
The hospitality industry employs a diverse workforce and hotels also play host to a diverse guest base. Almost everyone, regardless of age, race, gender, or religion, has stayed or will stay in a hotel.
Being able to understand and serve a diverse group of customers is imperative in hotels, but data and statistics have shown over and over that there is a massive disparity in the number of minorities with positions of power in the industry.
This is why the 2017 Diversity & Inclusion Conference, which will take place on 12 December, 2017 at Hotel ICON, will attract hospitality professionals & students alike. The result of the combined efforts of Big Love Alliance, CareER, Community Business, Justice Centre, The Women's Foundation & Hotel ICON, the Diversity & Inclusion Conference will bring together executives and leaders to develop effective strategies to enhance minority access and gender diversity, promote inclusion in the areas of disabilities, LGBT issues, improve education, and foster cross-cultural understanding within the workforce.
Who Should Attend?
Professionals with responsibility for:
-

Diversity & Inclusion


- Organisation Culture




- Leadership Development




- Employee Engagement




- Learning


- Succession Planning


- Learning and Development


- Employee Relations
- Talent Acquisition


- Global Business, Ethics and Integrity
What You'll Learn

Transparent Diversity Analytics

Building an Inclusive Culture

Behavioural Science and Unconscious Bias

Leadership Accountability

Broadening your Talent Pool with Inclusive Strategies
Date
12th December, 2017 (Tuesday)
08:30 – 09:00
Registration
09:00– 09:15
Welcome Note From Richard Hatter, General Manager, Hotel ICON
09:15 – 09:35
Keynote: Introducing Diversity & Inclusion: The Business Case and Strategy for Asia
Fern Ngai, Chief Executive Officer, Community Business
09:35 – 10:05
Panel Discussion: Importance of Leadership in Diversity
Moderator: Florence Chan, Community Business
Panellists:
Tanya Menzel, Director - People, LYNK

Anna Champion, Founder, The Talent Lighthouse

Susannah Yule, Director & Head of YSC Hong Kong

Professor Julian Groves, Associate Professor of Social Science Education, Hong Kong University of Science and Technology
10:05 – 10:25
Spotlight Session: Mentoring Reversed
Peter Gregoire, Legal Counsel, AIG Hong Kong
10:25 – 10:45
Coffee Break
10:45 – 11:05
Diversity Leaders Exchange: Promoting Diversity: The place of refugees and migrants in Hong Kong
Jade Anderson, Anti-Human Trafficking Coordinator, Justic Centre Hong Kong
11:05 – 11:25
Keynote: Being a Leader and not a Man in the hospitality industry in Hong Kong: Social Expectations and Profiling, Coping Strategies with Career Barriers, Feminine Leadership
Dr. Basak Denizci Guillet, Associate Professor, School of Hotel and Tourism Management, Hong Kong Polytechnic University
11:25 – 11:55
Panel Discussion: The Next Step in Gender Diversity
Moderator: Dr. Basak Denizci Guillet

Panelists:
Cindy Cheng, Corporate Director of Human Resources Development, Rosewood Hotel Group

Lisa Moore, Senior Research & Advocacy Manager, The Women's Foundation

David Thomas, The Women's Foundation Male Ally and Senior Vice President of Human Resources Asia, Manulife Financial
11:55 – 13:00
Blindfold Lunch
13:00 – 13:20
Keynote: Out at Work
Brian Leung, Chief Operating Officer, Big Love Alliance

13:20 – 13:50
Panel Discussion: Providing a safe and inclusive work force for the LGBT community
Moderator: Brian Leung, Chief Operation Officer, Big Love Alliance
Panellists:
Paul Choi, Executive Director, Human Capital Management, Goldman Sachs

Dr. Yiu-tung Suen, Founding Director, Sexualities Research Programme, Chinese University of Hong Kong

Peter Sargant, Executive Director, Employee Banking Sales Corporate Partnerships Retail Banking, Standard Chartered Bank
13:50 – 14:10
Diversity Leaders Exchange: Empowering Inclusivity At Your Organisation
Paul Choi, Executive Director, Human Capital Management, Goldman Sachs
14:10 – 14:30
Coffee Break
14:30 – 14:45
Keynote: Key sharing of biggest barriers for people with disabilities in Hong Kong and what is needed to promote disabilities confidence in their organisation.
Walter Tsui, Founder, CareER
14:45 – 15:05
Diversity Leaders Exchange: Examples of business that are staff by persons with disabilities. How to build a long-term "Building Disability Confidence" campaign?
Stephen Fung, CEO of AIA MPF

15:05 – 15:40
Panel Discussion: How to develop an inclusive mind set and embrace disabilities inclusive culture at the organisation and how to engage external and internal stakeholders to walk together in disabilities inclusive strategy
Moderator: Walter Tsui, Founder, CareER
Panellists:

Stephen Sui, former Secretary of Labour and Welfare Bureau

Stephen Fung, CEO of AIA MPF

Chloris Leung, L'Oreal, Corporate Communications Manager

Divya Balraj, Leadership Hiring, Learning & Organisation Development Leader North Asia, Avery Dennison
15:40 – 16:00
Closing Remarks and Lucky Draw
16:00 – 17:30
Networking Cocktails
Jade Anderson

Justice Centre Hong Kong

Anti-Human Trafficking Coordinator

Anna Champion

The Talent Lighthouse

Founder and CEO

Cindy Cheng

Rosewood Hotel Group

Corporate Director of Human Resources Development

Paul Choi

Goldman Sachs

Executive Director, Human Capital Management

Peter Gregoire

AIG Insurance Hong Kong Limited

General Counsel

Dr Denizci Guillet

The Hong Kong Polytechnic University

Associate Professor, The School of Hotel and Tourism Management

Stephen Fung Yu Kay

AIA Company (Trustee) Limited, AIA Pension and Trustee Co. Ltd.

Chief Executive Officer

Brian Leung

BigLove Alliance

Chief Operating Officer

Chloris Leung

L'Oréal Hong Kong

Corporate Communications Manager

Lisa Moore

The Women's Foundation

Senior Research and Advocacy Manager

Fern Ngai

Community Business Limited

Chief Executive Officer

Peter Sargant

Standard Chartered Bank

Executive Director, Group Employee Banking, Corporate Partnerships, Retail Banking

Dr Yiu-tung Suen

The Chinese University of Hong Kong

Assistant Professor and Graduate Division Head of the Gender Studies Programme, and Associate Director of the Gender Research Centre

Stephen Sui

Labour and Welfare Bureau

Former Secretary for Labour and Welfare

David Thomas

Manulife Financial Asia Limited

Senior Vice President, Human Resources, Asia

Walter Tsui

CareER

Founder

Susannah Yule

YSC Hong Kong

Director