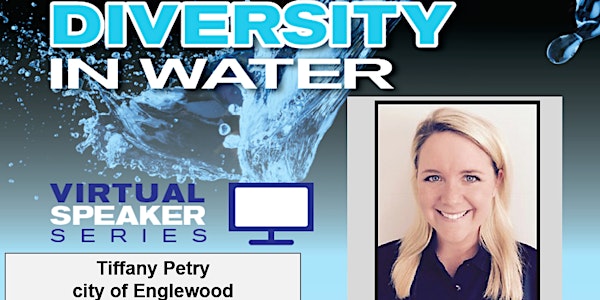 Diversity in Water: Tiffany Petry (September 2021)
Join us for a virtual discussion highlighting the diverse voices and experiences of leading professionals in the water industry.
About this event
Join us for a virtual discussion highlighting the diverse voices and experiences of some very valuable, interesting, and leading professionals in the Ohio water industry.
Please join Tiffany Petry from city of Englewood for our next speaker event.
Please note, you are able to register multiple people at one time. Just select the number of registrations you would like at the beginning.
A Zoom link will be sent to you via email. Please contact DiversityinWaterOhio@gmail.com if any questions!
Tiffany Petry is the Water and Sewer Superintendent for the City of Englewood. She began her career with the City as a part-time operator, an opportunity made possible by the local vocational school. Tiffany would assist in the operation and maintenance of the City's water and wastewater treatment plants and was enrolled at the local community college. In 2011, Tiffany was offered a full-time position as a plant operator with the City of Englewood. To better align with her new working schedule, she switched to taking online courses. Tiffany also signed up for a prep course to study for the Ohio EPA's Class I Wastewater Treatment exam. In 2015, she briefly served as the Laboratory Technician until she was promoted to Plant Superintendent. Tiffany has a bachelor's degree in Business Administration from Franklin University and dual Class III certifications from the Ohio EPA. Her passion for the environment stems from childhood camping trips with her family and time spent at the vocational school. Tiffany is an excellent example of someone who entered the industry at a young age, worked hard, earned her Ohio EPA certifications, and was promoted to a position of leadership in the water and wastewater industry.