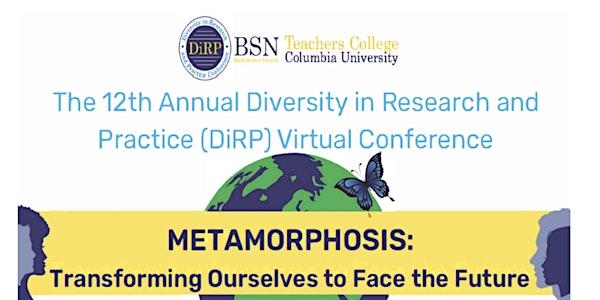 Diversity in Research and Practice (DiRP) Conference 2022
The Diversity in Research and Practice Conference (DiRP) will showcase academic work that focuses on transformative and future-facing ideas.
About this event
About this event
The 12th Annual Diversity in Research and Practice Conference (DiRP) will showcase posters, papers, workshops, conversation facilitators, and multi-modal presentations that seek to expand the ways in which we think about transformation. As we emerge from the past few years of physical isolation, race discrimination, and gun violence we have become more united in our common fight for equality. This year's theme focuses on our collective future, which we hope will be a more just society in the aftermath of a global pandemic that has impacted our nation and world, and BIPOCs. In the words of Maxine Hong Kingston, Chinese American author, "In a time of destruction, create something." We choose to create a future that is authentic, equitable, and free for all. We believe that dialogue, collaboration across disciplines, and engagement of various approaches of inquiry are essential to harnessing our capacity to be catalysts of change and build a better future. As the great Maya Angelou once said, "The truth is, no one of us can be free until everybody is free." Join us in celebrating our collective capacity in transforming ourselves to face a better future for all of us.
Main room: https://teacherscollege.zoom.us/j/7023729447#success
Password: DIRP22
For more information, please email bsn_studentorg@tc.columbia.edu
To request disability-related accommodations, contact OASID at oasid@tc.edu, or 212-678-3689, (646) 755-3144 video phone, as early as possible.