Diversity in Healthcare Management: Value-Added Business Sense

Wednesday, April 15, 2015 from 6:00 PM to 9:00 PM (EDT)
Event Details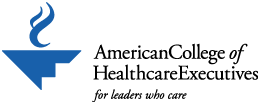 Attend this event and receive 1.5 Face-to-Face credits!
Diversity in healthcare management is of critical importance and this fact must be recognized in the health care industry as organizations explore their recruitment processes. An increasingly diverse patient population can place pressure on healthcare organizations to reflect the communities they serve. Healthcare leaders also recognize that diversity brings fresh perspectives and skills provided by diverse employees that can help produce a bottom-line benefit for their organization resulting in added value as well as competitive advantage.
Often, there is a disconnect between an organization's diversity initiatives and the ability to promote diverse workforce within all levels of the organization. Many c-suite executives and managers fail to understand diversity, its value, and the importance of identifying, developing, and advancing diverse talent. Building a diverse leadership team will help drive organizational success and enhance cultural competence. It is important for healthcare leaders to begin a realistic discussion about diversity and their responsibility in effectively encouraging diversity within their organization and integrating it into strategic initiatives.
AGENDA: 
6:00 PM - 7:00 PM     Registration and networking
7:00 PM - 8:30 PM     Panel discussion and Q&A
8:30 PM - 9:00 PM     Networking and coffee 

Transit, Driving, Parking Info: http://www.nyc.gov/html/hhc/bellevue/html/patients/directions.shtml
---
 The Healthcare Leaders of New York embraces diversity within the healthcare management field and recognizes that priority as both an ethical and business imperative. We maintain a caucus organization within the chapter in collaboration with the Asian Healthcare Leaders Association and the National Forum of Latino Healthcare Executives. For more info about our diveristy efforts, please visit our website. 
---
MODERATOR: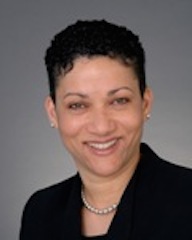 Sandra Iberger, MBA, FACHE, FABC
Vice President, Operations
Greater Hudson Valley Health System
Ms. Iberger joined Orange Regional in 2008 and currently serves as Greater Hudson Valley Health System Vice President, Operations and site administrator for Orange Regional's Medical Pavilion. She has over 25 years experience as a healthcare executive having worked in both Academic Medical Centers and Community based hospitals. Ms. Iberger is the executive leader of the Oncology and Rehabilitation Medicine service lines and also has direct responsibility for: the Diabetes Treatment Center; Diagnostic Imaging; Oncology Services (Radiation Oncology, Breast Center, Cancer Registry and Clinical Trials); Respiratory Care y; the Center for Sleep Medicine: Wound Care/Hyperbaric Therapy; Outpatient Rehabilitation; ORMC's Inpatient Rehabilitation Service; including oversight of ORMC's 24-bed CARF Accredited Rehabilitation Unit and acute inpatient therapy, Hospice/Palliative Care and Patient Access Management.

Prior to joining the Greater Hudson Valley Health System, she held several senior executive positions within New York Academic Medical Centers including NYU Langone Medical Center as Vice President Hospital Operations, Continuum Heath Partners as Vice President / Administration for Saint Luke's Roosevelt Hospital Center and Assistant Vice President / Administration and Assistant Vice President, Finance for Beth Israel Medical Center. Ms. Iberger also serves as a member of the American Cancer Society Regional Board of Advisors. She previously served as ACHE Regent-at-Large for District 1 (2001- 2005), Healthcare Leaders of New York Hudson Valley at-large board member (2013) and is a member of the New York Metropolitan Regent Advisory Committee. Ms. Iberger is also a retired member (Major) of the United States Air Force, New York Air National Guard.

Ms. Iberger received her Bachelor of Science degree in Business Administration from the University of South Carolina and a Master of Business Administration degree in Healthcare Administration from the Baruch College, CUNY. She is Board-certified in healthcare management and is a Fellow of the American College of Healthcare Executives and a Fellow of the Advisory Board.
PANELISTS: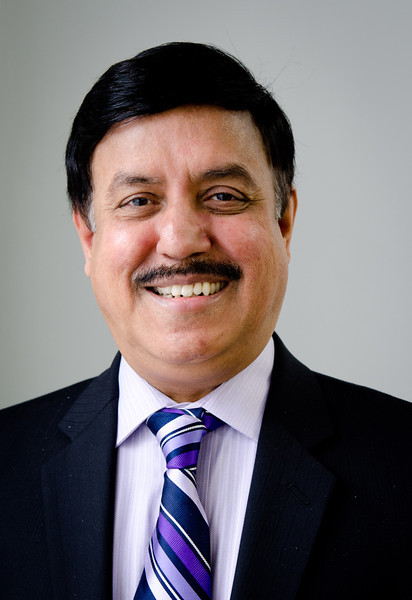 Ramanathan Raju, MD, MBA, FACS, FACHE
President & Chief Executive Officer
Health And Hospitals Corporation
Ramanathan (Ram) Raju, MD, MBA, FACS, FACHE is a member of the Board of Directors at the Asian Health Care Leaders Association (AHCLA) and is the President and Chief Executive Officer of the New York City Health and Hospitals Corporation (HHC), the largest municipal healthcare system in the nation. Dr. Raju was appointed by New York City Mayor Bill de Blasio in January 2014 to lead the 37,000 employees of this $6.7 billion corporation, which includes 11 acute care hospitals, five nursing homes, six large diagnostic and treatment centers, more than 70 community-based health centers, a large home care agency, and one of the New York area's largest providers of government-sponsored health insurance, MetroPlus Health Plan, the plan of choice for nearly half a million New Yorkers. Last year, HHC facilities served 1.4 million New Yorkers -- including more than 475,000 uninsured.
Prior to accepting the role of President and CEO at HHC, Dr. Raju was the Chief Executive Officer for the Cook County Health & Hospitals System (CCHHS) in Chicago, Illinois, and the third largest public health system in the country. During his tenure there, Dr. Raju turned the financial status of the system around, improving the cash flow by over 100 million dollars. His proposed healthcare delivery model fetched the much coveted 1115 Waiver to the Social Security Act, enabling the creation of CountyCare, an Illinois Medicaid program to provide coverage for low-income adults in Cook County, and leading to health coverage for more than 82,000 Cook County residents.
Under his leadership, CCHHS received meaningful use designation for advancement in information technology, specifically the electronic medical record; and improvements in the supply chain management which is expected to yield millions of dollars in savings for taxpayers in the years to come.
Dr. Raju attended Madras Medical College to earn his medical diploma and his Master of Surgery degree. He underwent further training in England and was elected as a Fellow of the Royal College of Surgeons. Dr. Raju is also a physician executive, having obtained an MBA from the University of Tennessee and CPE from the American College of Physician Executives.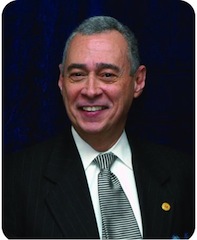 George Zeppenfeldt-Cestero

President and CEO 
Association of Hispanic Healthcare Executives
With over 30 years experience in marketing, public affairs, strategic partnerships and community/government relations, Mr. Zeppenfeldt is a leading diversity advocate within the health care and small business community. In 1995, Hispanic Business magazine selected him as one of their "100 Influential Leaders" for his small business advocacy. Mr. Zeppenfeldt has served on numerous boards of directors where his role has focused on marketing, fundraising, membership development and strategic partnerships.
In 1992, Mr. Zeppenfeldt was appointed to Manhattan Community Board 7/Manhattan where he has held a variety of leadership roles including the Health & Human Services Committee, Vice Chair and member of the Steering Committee. Currently, he is senior Co-Chair of the Business and Consumer Issues Committee which he founded. He is also the Business2Business adviser to the Manhattan Borough President, Gale Brewer.
Notably, his professional career has included President of MarketCare, Inc, an MWBE small business, positions as Director of Community/Government Relations at Montefiore Medical Center and Vice President of Marketing and Public Relations for St. Clare's Hospital and Medical Center in New York. In 1998, he founded the Association of Hispanic Healthcare Executives. In 2001, he was elected National President of AHHE and later that year, elected to the national board of the Institute for Diversity in Health Management, a division of the American Hospital Association, on which he served until 2006. In 2008, he formed the Roundtable of Professional Hispanic Health Associations representing physicians, nurses, dentists, health administrators, mental health providers and medical students. He now chairs the Roundtable. AHHE's work is supported in part by national partners, GNYHA and Aetna. 
In 2004, he founded the National Hispanic Chamber of Commerce on Health (NHCCH) which focuses on strategies for covering the uninsured and supplier diversity initiatives in the hospital, managed care and pharmaceutical industries. He is the recipient of the 2006 Healthcare Leadership Award from the National Hispanic Medical Association and at the NYS 2008 Somos El Futuro Conference he accepted the Hispanic Chamber Procurement Advocacy Award on behalf of the NHCCH. In 2011, he was honored by St. Jude Children's Research Hospital at their annual gala for his leadership as an advocate in small business, health care and diversity initiatives. In 2012, he was the recipient of the Community Advocate Award from the National Association of Hispanic Nurses-NY Chapter at the Annual Scholarship Awards Gala. In 2014, at the 2nd Annual LGBT Health Conference, he served on the panel, "Promoting Inclusion of Diverse Voices in LGBT Health."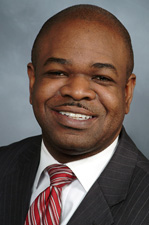 Shaun Smith

Vice President, Human Resources
New York Presbyterian/Weill Cornell
In his role as the vice president of human resources, Shaun is responsible for oversight of HR strategy, including guiding the development and implementation of employee relations strategies, policies, and initiatives.
Shaun has over 18 years of human resources, legal, and healthcare management experience, having served as Vice President/Chief Human Resources Officer at Champlain Valley Physicians Hospital in Plattsburgh, NY, where he was responsible for the human resources and employee health divisions. Prior to that, Shaun worked for 12 years at Memorial Sloan-Kettering Cancer Center in New York, serving in various human resources management roles. Mr. Smith received a bachelor's degree in business administration as well as a law degree from Pace University. He was an adjunct professor of human resources management at SUNY Plattsburgh and serves on various health care industry boards.
---
Photo/Video Disclaimer Policy: By registering for this event, you agree to allow HLNY to use any photograph/video taken at the event, without the expressed written permission of those included within the photograph/video. HLNY may use the photograph/video in publications or other media material produced, used or contracted by HLNY including but not limited to: brochures, invitations, books, magazines, websites, etc. Any person desiring not to have their photo taken or distributed must contact us of his/her intentions. HLNY may decide to remove the photo or conceal the identification of the individual in question.
 _________________________________________________________
This and all our programs and events are made possible by the generosity of our 2014-2015 HLNY Corporate Sponsors who are ardent supporters of the healthcare executive profession.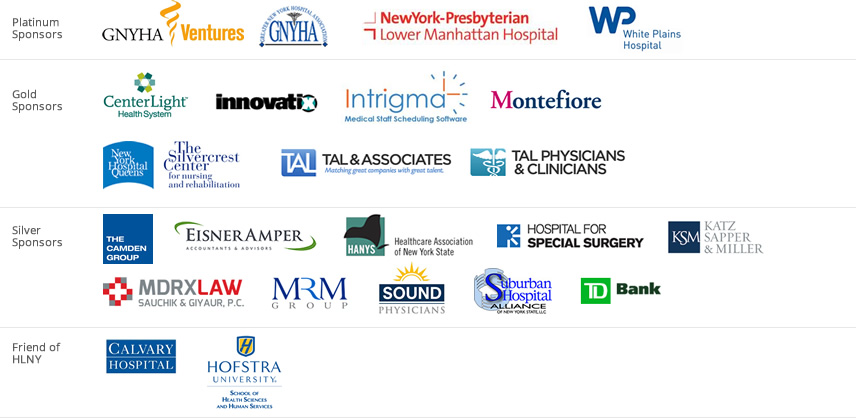 When & Where

Bellevue Hospital Center
462 1st Avenue
H Building, 12 Floor, Rose Room
New York, NY 10016


Wednesday, April 15, 2015 from 6:00 PM to 9:00 PM (EDT)
Add to my calendar
Organizer
Healthcare Leaders of New York
HLNY represents professionals who manage the business affairs of healthcare organizations throughout the New York Metropolitan area. No other professional association is more essential for meeting the career needs and interests of healthcare executives in New York State. The 1500+ members come together for networking and events, career advancement, professional enrichment, and continuing education. Our Leadership Team strives to make HLNY the pre-eminient organization for Healthcare Business Professionals in the Greater New York Area.
The HLNY Mission is to advance healthcare leadership and management excellence through professional enrichment and continuing education of our members. We support high ethical standards and conduct, and promote the mission of the American College of Healthcare Executives.
Through HLNY, ACHE members have access to local professional development and networking events, mentoring, and career services which include a jobs data bank and resume support.
Diversity in Healthcare Management: Value-Added Business Sense