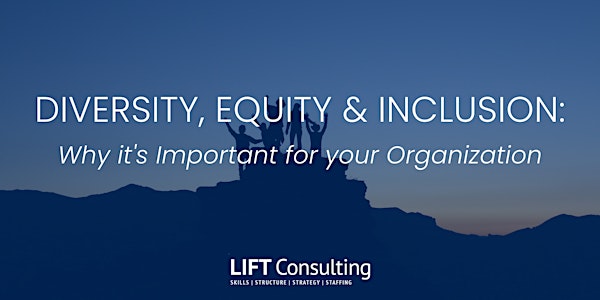 Diversity Equity and Inclusion: Why it's Important for your Organization
DEI issues within organizations are deeper than representation or a one and done training. Join us for an informative webinar on this topic.
About this event
Organizations that rely on people to execute their mission and achieve business goals must develop a diversity, equity, and inclusion strategy that aligns their goals and objectives with the equitable and inclusive treatment of the workforce.
We'll Dive Into Why Diversity and Inclusion at Work Matters: 
How a DEI strategy can assist you in understanding your clients
Uncover why diverse teams perform better
How DEI supports creativity and innovation in every organization
Where to apply DEI strategies in your hiring practices
Why DEI issues can and will affect your company's brand
Diversity, Equity, and Inclusion issues are pervasive and left unattended may cause unintended consequences. Educating yourself and your team may be what sets you apart from your competition.