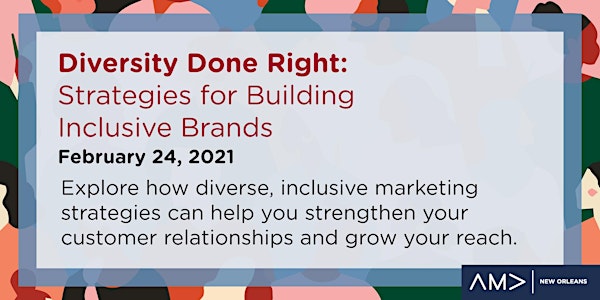 Diversity Done Right: Strategies for Building Inclusive Brands
Refund policy
Contact the organizer to request a refund.
Eventbrite's fee is nonrefundable.
Expert marketers will show you how to look at every process through a diversity lens-- from targeting to creative to channel selection.
About this event
Looking for ways to incorporate diversity, equity and inclusion into your marketing strategies? In this session, expert marketers will show you how to look at every process through a diversity lens-- from targeting to creative to channel selection.
We'll look at specific case studies and discuss whether the campaigns achieved their goals. Through these examples, we'll explore what works well and reflects positively on the brand, while cautioning against potential pitfalls. Learn how a more diverse, inclusive perspective can strengthen your customer relationships and grow your reach.
💻 NOTE: This event is a virtual webinar. Please register to join us and Eventbrite will send the Zoom information to you directly.
Meet the Panelists:
Cleveland Spears, III (Moderator) - President & CEO, Spears Group
AnaMaria Bech - Publisher-Director, VIVA NOLA Magazine
Sondra Brown - President & Founder, MDRG, Inc.
Kelli Saulny - Director of Strategic Partnerships, Camelback Ventures
Hillary Davis - Director of Diversity & Inclusion, Ochsner Health
Speaker Biographies:
Kelli Saulny leads Camelback Ventures on strategic partnerships and fundraising activities, with a focus on creating an equitable ecosystem for entrepreneurs of color and women. Prior to CBV, Kelli served as Director of Operations at Carol's Daughter (NY, NY). Her experience spanned various initiatives within multi-channel distribution expansion, strategic business planning, and collaborative supply chain management. She was also a key strategist in scaling the business from startup to acquisition by L'Oreal, USA. With one successful startup under her belt, she has returned back to her hometown, New Orleans, to apply her startup experience and guide other emerging ventures. In addition to her work with Camelback, she also serves as Campaign Manager for the Campaign for Equity: New Orleans and is the founder of Bee Legacy, a mentorship program for teenage girls.
AnaMaria Bech is a media professional and the publisher of VIVA NOLA Magazine, a bilingual multiplatform publication that seeks to connect cultures and give a voice to the Hispanic community in the Greater New Orleans area. AnaMaria loves cultures and always felt a need to find avenues to showcase the positive contributions of Latinos in the United States. VIVA NOLA Magazine and VIVA NOLA TV were born as an outlet to these efforts and as a response to combine her passion for media and the need to highlight diversity in society.Before devoting her time fully to VIVA NOLA Magazine, AnaMaria worked in broadcast television and served as project manager for local, national and international clients such as Burson-Marsteller, PR Newswire, 20th Century Fox, Premiere TV, MSNBC, CNN, PBS, On244 for diverse broadcast and digital video productions. She is passionate about producing LIVE television, streaming, and corporate videos. She has expanded her portfolio of marketing services under the umbrella of her production company, M90 Media.AnaMaria Bech is a native of Colombia and a proud New Orleanian. She graduated from the University of New Orleans. When she is not looking for or working on the next story, she is spending time with her family, playing beach volleyball, or preparing a great cocktail when gathering with friends.
Sondra Brown started her market research career on the client side before founding MDRG, Inc. 26 years ago. As President and Founder, Sondra has created a market research firm that prides itself on designing research that studies The WHOLE MIND. Industry agnostic, this approach to research has attracted clients like T-Mobile, Sling, and Mazda. Sondra's work has been recognized by organizations such as the American Marketing Association and the Marketing Research Association.
Sondra started MDRG, Inc. in 1994 after 7 years in market research on the client side; first at Hibernia National Bank and then East Jefferson General Hospital, both in New Orleans. Sondra is a graduate of Gordon College in Massachusetts where she graduated summa cum laude and the University of New Orleans where she graduated magna cum laude with a Master's degree in Sociology. She has received additional training from the Burke Institute and completed advanced moderator training with RIVA. Sondra is certified by QRCA, the Qualitative Research Consultants Association, as a moderator and qualitative research consultant.Sondra has been honored numerous times throughout her career honored as Employer of the Year by the Business and Professional Women of Jefferson Parish and received the Outstanding Young Women of America award. Sondra was awarded the Excellence in Marketing Award for telecommunications research. Sondra volunteers with several non-profit organizations as a mentor for at risk youth.Sondra has been invited to speak at several conferences including most recently the Insights Association's 2019 Corporate Researchers Conference, Carolinas Society Healthcare Strategy and Market Development (CSHSMD) Fall 2019 Conference, IIEX 2018 Healthcare, National Network of Public Health Institutes, Society for Healthcare Strategy & Market Development (SHSMD) 2014, Destination Marketing Association International (DMAI) 2014.