About this event

Diversity and Wine: A BIPOC Centered Wine Tasting
Friday, December 10
Doors 5:30pm / Event 6pm / Social 7:30
$25
Attendees must be age 21+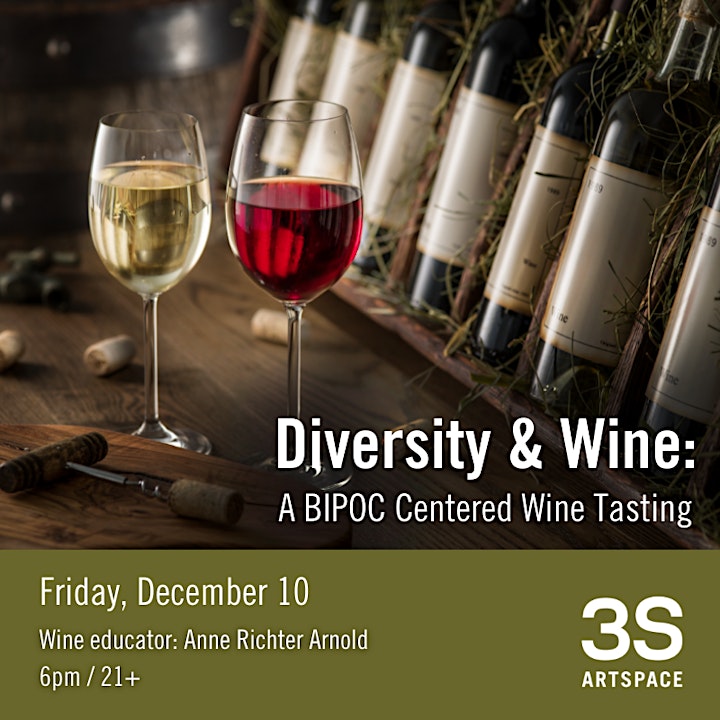 The world of wine is changing to reflect a more expansive group of creators who bring new energy and perspective to winemaking.
Join us with your friends for a wine tasting, as we explore 4 wines and the people behind their production. This fun and informative event is sure to inspire your purchases for family gatherings and gift-giving this holiday season.
We will also hear from BIPOC voices in the industry and learn how we can support and further a more diverse and inclusive market for wine.
Make an evening out of the experience:
The Gallery and Lobby Gallery will be open prior to and after the tasting event. Attendees are welcome to explore the exhibits in the Gallery featuring works by renowned artist Daniel Minter, as well as a group exhibit featuring works by emerging local and regional BIPOC artists. The Lobby Gallery will feature pieces created by students in the Culture Keepers, Culture Makers art workshops (a community program focused on culture's influence on race and equity) guided by artist Richard Haynes.

About wine educator, Anne Richter Arnold:
Anne is a wine writer, educator and founder of From the Vine to Wine. Through her writing, interviews, as well as in-person tastings and classes, she brings new experiences and in-depth knowledge to fellow wine lovers. Anne is a Certified Specialist of Wine, French Wine Scholar, Spanish Wine Scholar and she holds a WSET 3 certification.

Featuring commentary from Theresa Broderick and Dulely Perez of Crüology Vines:
What started off as a brief discussion of a love for wine became a passion. Theresa and Dulely began sharing recommendations and food pairings-that eventually led to the discovery of how wonderful it would be for two women of color to create a wine brand. They aim to review wines while dismantling the "snotty taboos" sometimes correlated with the wine culture, and educate others on expansion of palates.
----
Ticket includes tastings of 4 wines.
We are happy to accommodate requests to be seated with your group. Please email us in advance: tickets@3sarts.org.
3S Artspace will have 2 wines from the tasting event available for purchase at all 3S events for the month of December.
----
Click here to learn about our Health & Safety policies and measures.
Effective September 1, 2021, 3S Artspace requires proof of vaccination, or proof of a negative PCR COVID test within 72 hours of the event, for entry into all ticketed events inside the Performance Space. Masks remain strongly encouraged (when not eating or drinking), but are not required inside the Performance Space.
Please note: masks are required by all guests in the 3S Lobby, Gallery, and restrooms regardless of vaccination status.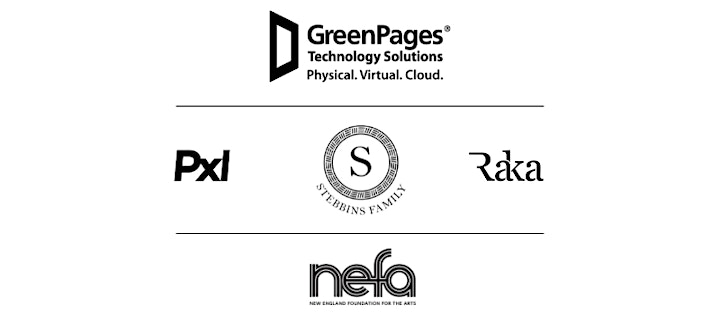 3S Artspace is supported by the New England Foundation for the Arts through the New England Arts Resilience Fund, part of the United States Regional Arts Resilience Fund, an initiative of the U.S. Regional Arts Organizations and The Andrew W. Mellon Foundation, with major funding from the federal CARES Act and the American Rescue Plan from the National Endowment for the Arts.
Organizer of Diversity and Wine: A BIPOC Centered Wine Tasting
3S Artspace is a 501(c)(3) non-profit grounded in an unwavering appreciation for the vital role that contemporary arts play in the health of a community, both locally and globally. We believe that art has the power to transform individual lives, bridge divergent perspectives, and establish meaningful connections between and across communities.
Please consider adding on a donation to 3S during checkout while making your ticket purchase. Thank you for your support!