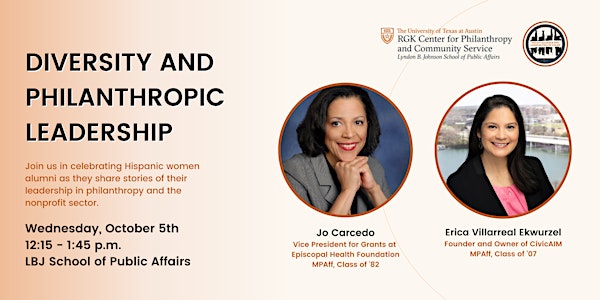 Diversity and Philanthropic Leadership
Join us in celebrating Hispanic women alumni as they share stories of their leadership in philanthropy and the nonprofit sector.
When and where
Location
LBJ School Of Public Affairs 2315 Red River Street North Lobby Austin, TX 78712
About this event
In celebration of Hispanic Heritage Month, the LBJ School of Public Affairs is highlighting the transformational leadership of two alumnae in philanthropy. We're honored to welcome Jo Carcedo and Erica Villarreal Ekwurzel to discuss their experience and share advice as women leaders of color in the nonprofit space.
Erica Villarreal Ekwurzel will lead a conversation with Jo Carcedo, whose grantmaking work through her role at the Episcopal Health Foundation supported the Houston community recover after Hurricane Harvey. Jo also served on the Grants Committee for the Hurricane Harvey Relief Fund established by the Mayor of the City of Houston and the Harris County Judge. She has been a leading executive in the philanthropic space for 30 years, speaking and mentoring to emerging leaders.
Lunch and parking will be provided; see email confirmation and reminder emails for more details about parking.
Featured Speakers
Jo Z. Carcedo is the Vice President for Grants for the Episcopal Health Foundation. In this role she developed the foundation's grantmaking system, oversees all operational aspects of the organization's grantmaking portfolios, supervises program officer and grants management staff, directs the foundation's $35 million grants budget and all organization-wide grantmaking policies, processes, and systems to ensure EHF's grantmaking is aligned with its core values and strategic goals. She is published in The Foundation Review, blogged for Health Affairs, and has been featured in the Annual Report of the Meadows Mental Health Policy Institute (2018). She is currently Board Chair for Philanthropy Southwest. Jo has a Master of Business Administration from Texas Woman's University, a Master of Public Affairs from the University of Texas at Austin, and a Bachelor of Arts degree from Vanderbilt University
Erica Villarreal Ekwurzel founded CivicAIM, a philanthropic advising firm that supports mission-driven individuals, families, and teams within organizations to strengthen their grantmaking, governance and impact. Erica has been involved in a variety of capacities, such as foundation program officer, philanthropic consultant, and professional facilitator, in founding, refining, and advancing social impact endeavors. Erica's toolkit includes executive coaching, group facilitation and she enjoys engagements in the areas of intergenerational giving, strategic planning, and organizational effectiveness.
Erica is a graduate of Austin College and the Lyndon B. Johnson School of Public Affairs at The University of Texas at Austin, where she completed her Master's Degree in Public Affairs with a concentration in Nonprofit Management and Philanthropic Studies. She also serves on the volunteer leadership boards of Todos Juntos Learning Center, National Network of Consultants to Grantmakers, Advisory Committee of Practitioners of Color Working with Giving Families organized by 21/64 and Austin Together. Taking giving personally, as a professional of color, Erica leaned into practicing what she preaches and is an Investor to her local Hispanic Impact Fund to support the research, educational programming, and pooled grantmaking efforts to support the economic security and advancement of Hispanic Central Texans.
Host Organizations
The Office of Justice, Equity, Diversity & Inclusion is dedicated to transforming the composition, culture, curriculum, and community engagement of the LBJ School. Our mission is the eliminate barriers that have historically existed in our community caused by social and racial inequities. To transform the LBJ community, our vision is to promote diverse programming, dialogues, and the respectful exchange of ideas in an inclusive climate to ensure all students, faculty, staff, and alumni feel valued and have the resources needed to impact policy change from a local to global scale. Learn more at http://lbj.utexas.edu/justice-equity-diversity-inclusion.
The mission of the Policy Alliance for Communities of Color (PACC) is to promote awareness and understanding of policy issues affecting communities of color by initiating dialogue, activities and programs within the LBJ School community. PACC's programming endeavors to reach out to the LBJ student body, the greater UT campus and the community of Austin.
The RGK Center for Philanthropy and Community Service prepares the next generation of nonprofit and philanthropic leaders through graduate education and research. Our research addresses pressing issues in philanthropy, nonprofit management, social entrepreneurship, and global civil society. We train students through our university-wide graduate program in nonprofit studies and we engage the world of practice through executive education programs tailored to the needs of seasoned professionals in the field. As you explore the RGK Center, you will see that our collective work, ranging from our graduate courses offerings to our international exchange programs to our new books and publications, is all focused on helping the nonprofit leaders of today and tomorrow make informed and innovative contributions to the public good.