Description
Join us for this highly-anticipated event to explore a range of topics, while creating a culture of inclusion and belonging. The content will provide everyone from millenials to seasoned professionals with the necessary tools to create, manage and thrive in an inclusive professional environment. Seats and sponsorships are expected to sell out quickly for this event.

Discounted tickets are available for college students and non-profit organizations registered with the Secretary of State. Contact us at to receive your discount code.
Register today! Contact us directly about sponsorship opportunities. Breakfast and lunch will be included. A networking event will follow immediately after the conference.

Would your company/organization like to become a Sponsor? Contact us today to learn more about our sponsorship opportunities!

The Global Fluency Summit is open to everyone. The venue is a wheelchair-accessible, smoke-free environment. Please make any requests for special accomodations 2 weeks prior to the event.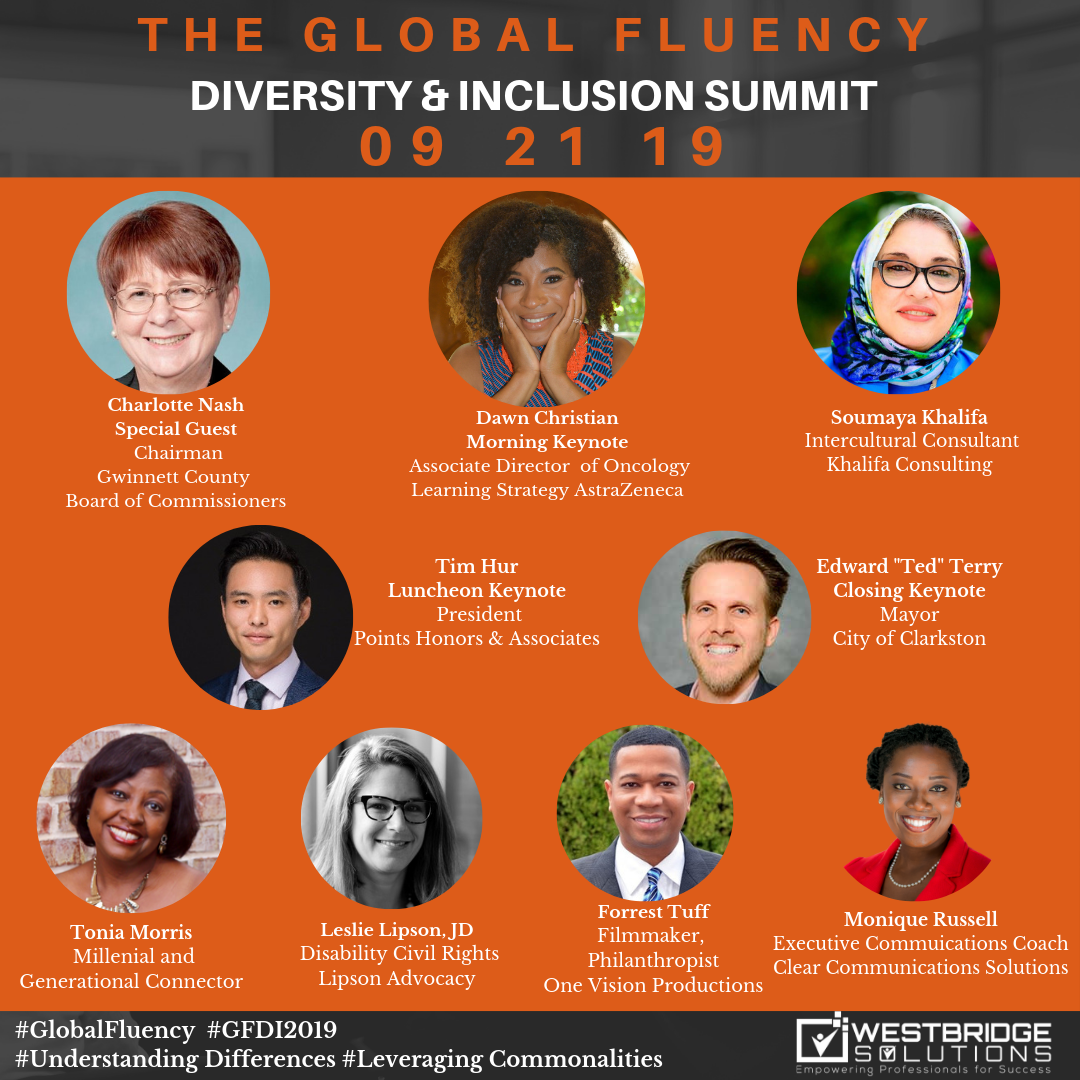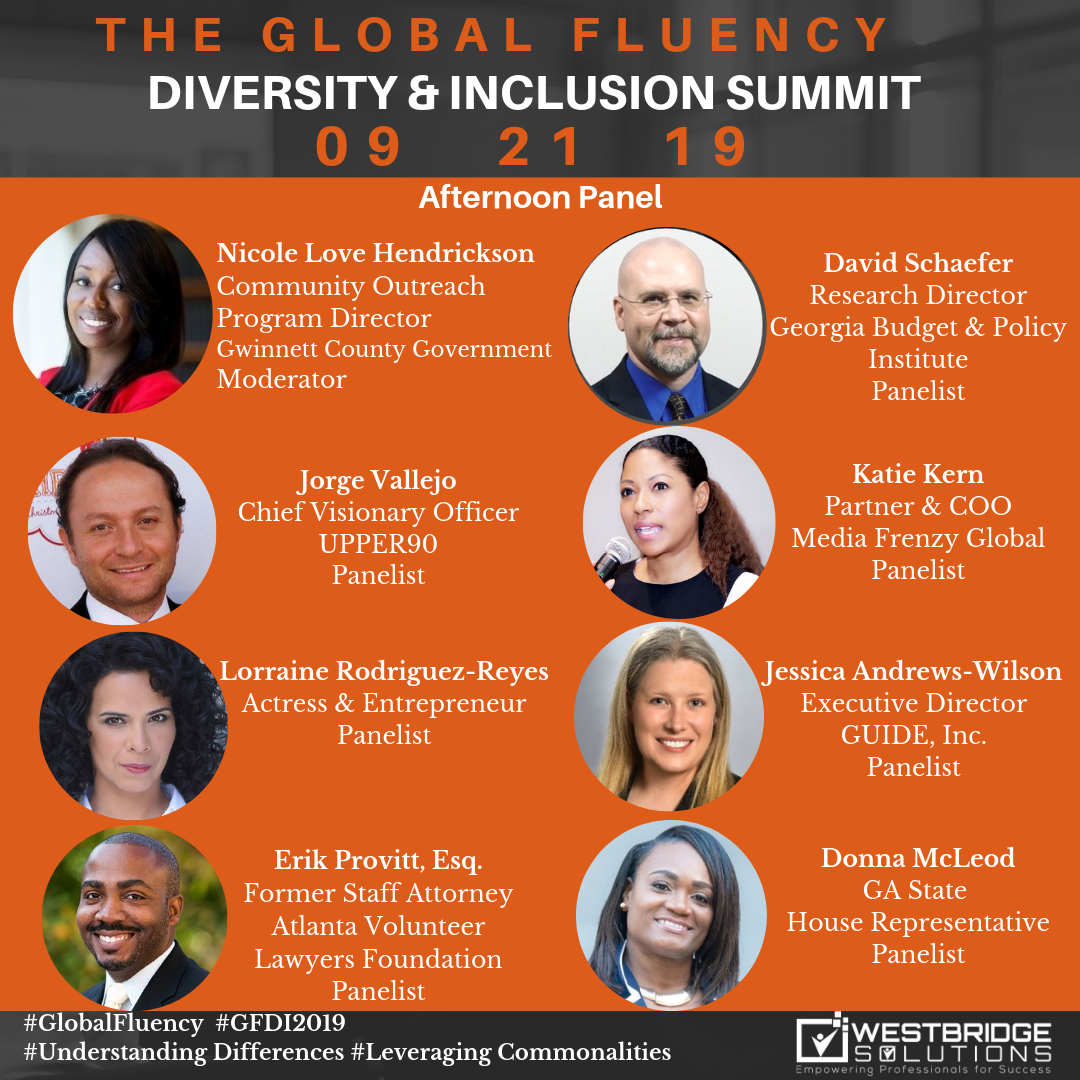 Summit Agenda
Morning Session
8:30-9:00 AM: Breakfast & Registration
9:00-9:10 AM: Opening Remarks
9:10-9:15 AM: Morning Greeting, Chairman Charlotte Nash,
Gwinnett County Board of Directors
9:30 AM: Morning Keynote, Dawn Christian, Associate Director of Oncology,
Learning Strategy AstraZeneca
10:45 AM: Special Guest, Soumaya Khalifa, Intercultural Consultant, Khalifa Consulting
12:00 PM: Luncheon Keynote, Tim Hur, President, Points Honors & Associates
Afternoon Breakout Sessions
Session 1, 1:00-2:00 PM:
- Monique Russell, Executive Communications Coach, Clear Communications Solutions
- Leslie Lipson, JD, Disability Civil Rights, Lipson Advocacy
Session 2, 2:00-3:00 PM:
- Forrest Tuff, Filmmaker & Philanthropist, One Vision Productions
- Tonia Morris, Millennial & Generational Connector
3:10-3:20 PM: Afternoon Keynote
Edward "Ted" Terry, Mayor, City of Clarkston
Panelist Discussion and Audience Q&A Session
3:25-4:45 PM
Panel Moderator: Nicole Love Hendrickson, Community Outreach
Program Director, Gwinnett County Government
Panelists:
David Schaefer, Research Director, Georgia Budget & Policy Institute
Jorge Vallejo, Chief Visionary Officer, UPPER90
Katie Kern, Partner & COO, Media Frenzy Global
Lorraine Rodriguez-Reyes, Actress & Entrepreneur
Jessica Andrews-Wilson, Executive Director, GUIDE, Inc.
Erik Provitt, Esq., Former Staff Attorney, Atlanta Volunteer Lawyers Foundation
Donna McLeod, GA State House Representative

4:45-5:00 PM: Closing Remarks
*Non-Profit & Student Discount Codes*
Individual Ticket: NPGF2019 (to receive a $75 discount on full-day admission)
Table of 8: NPGFT2019 (to receive a $650 discount on full-day admission)