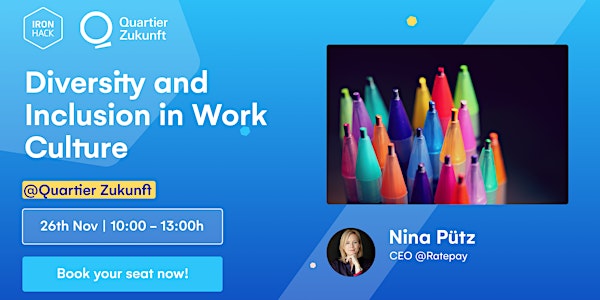 Diversity and Inclusion in Work Culture
Diversity and Inclusion in Work Culture Talk
When and where
Location
Deutsche Bank Quartier Zukunft Friedrichstraße 181 10117 Berlin Germany
About this event
// ABOUT //
A diverse and inclusive environment establishes a sense of belonging among employees. When employees feel more connected at work, they tend to work harder and smarter, producing higher quality work. As a result, organizations that adopt D&I practices see huge gains in the form of business results, innovation, and decision-making.
// ABOUT THE SPEAKER//
Nina Pütz is the CEO of Ratepay. With more than 17 years of experience in e-commerce, Nina was most recently CEO of the online shopping club brands4friends and spent 15 years in various leadership roles at the online marketplace eBay. She is also involved in the advisory board of the textile trading company L&T.
// USEFUL LINKS //
Nina Pütz LinkedIn Profile - https://www.linkedin.com/in/nina-p%C3%BCtz/
Welcome to the Quartier Zukunft
Deutsche Bank opened the Quartier Zukunft in Berlin-Mitte five years ago.
At Friedrichstraße 181, customers can experience everything that awaits them in a bank branch in the future - such as the complete networking of all analogue and digital access channels to the bank.
In the Quartier Zukunft, customers and guests play the decisive role, for example the 1,500 Berlin start-up companies that are served with banking services from here, along with approximately 12,000 other private and business customers.
The greenhouse, for example, is open to the young companies: a co-working space where founders can develop new ideas and business models.