Diverse Voices in Docs 2015 Fellows Celebration and Graduation
Description
Please join Kartemquin Films and Community Film Workshop Chicago for a special evening to celebrate the talented 2015 Diverse Voices in Docs fellows: Ahmed Hamad, Dion Strawhorn Jr, Eleva Singleton, Erika Valenciana, Kamasi Hill, Leigh Jurecka, Martine Granby, Mary Horan, Maryam Sepehry, Mina Fitzpatrick, Omowale T Jamal, and Stephanie Sunata.
Our host (TBA) will present a keynote address followed by a screening of short excerpts of works-in-progress created through the 2015 Diverse Voices in Docs program. Diverse Voices in Docs (#DVID) is a professional development and mentorship program for emerging and mid-level documentary filmmakers of color, organized by Kartemquin Films and the Community Film Workshop of Chicago.
A dessert and wine reception will follow the screening and award ceremony.
This evening will also serve as the launch for new applications to the 2015 program of Diverse Voices in Docs (#DVID). If you're interested in applying, this is a great opportunity to gather information, and meet the 2013, 2014, and 2015 Fellows, as well as Kartemquin and Community Film Workshop producers and staff.
The 2015 DVID fellows have been working tirelessly on their projects over the course of the year. They met for six formal session held the third Saturdays of January through June 2015 at the Community Film Workshop where they engaged in interactive workshops with experienced professionals to gain more advanced skills in logline development; storytelling and story structure; fair use and ethics; fundraising and finance; demos, pitching, and grant proposals; and marketing, distribution, and community engagement. They received one-on-one mentoring throughout the program with established KTQ producers, gained networking opportunities, and received both peer and expert critique and collaboration on their documentary projects. They participated in a production company site visit and demo critique by Kartemquin staff and associated, and then pitched to several documentary funders in June 2015 – the MacArthur Foundation, POV, Chicken and Egg, ITVS, WTTW, and Britdoc. There was also a special pitch session with Sundance Doc Fund in May 2015, where Sundance representatives met with and gave feedback to the DVID fellows.
We hope you are able to join us for this special celebration. Read more about DVID at www.kartemquin.com/diversevoices. Parking and Directions to the Logan Center for the Arts can be found here: arts.uchicago.edu/logan-center/visit-logan-center.
Organizer of Diverse Voices in Docs 2015 Fellows Celebration and Graduation

Kartemquin Films sparks democracy through documentary. A collaborative center for documentary makers who seek to foster a more engaged and empowered society, over its 50 year history the organization has helped hundreds of documentary filmmakers and won several critical and journalistic prizes, including multiple Emmy, Peabody, duPont-Columbia and Robert F. Kennedy journalism awards, Independent Spirit, IDA, PGA and DGA awards, and an Oscar nomination. Kartemquin is focused on mentoring emerging independent filmmakers, creating social justice documentaries supported by robust engagement campaigns, and advocating for a strong public media. Kartemquin is a 501(c)3 not-for-profit media arts organization based in Chicago. Read our mission statement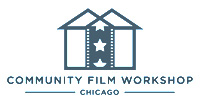 Founded in 1971 by the American Film Institute as a job-training program to get minorities working in the film industry, Community Film Workshop of Chicago (CFWC) is the oldest media arts center in Chicago. Its mission is to provide media arts education that supports the development of digital media artists in underserved communities. CFWC's artistic philosophy is that the difference between films about people of color and those produced by people of color is the filmmakers' perspective and authentic voice. CFWC and Kartemquin Films endeavor to support artists of color in documentary filmmaking through their partnership in Diverse Voices In Docs.
Community Film Workshop of Chicago is a 501(c)3 not-for-profit organization. For more information please contact Margaret Caples, Executive Director, at mcaples@cfwchicago.org.