Location
Paystack HQ
3A Ladoke Akintola
Ikeja GRA
Lagos
Nigeria
How do you build a fulfilling career in tech without writing a single line of code?
About this event
Technology companies need people with a broad range of skillsets to succeed. While software development is a critical function within tech startups, roles such as product management, sales, design, finance, and marketing are just as important.
In this panel discussion, 4 women who've built impressive careers in tech share details about their journey, and the diverse roles that exist within technology.
Here're some of the questions we'll be exploring:
How do you make the transition into the tech industry from traditional industries?
What're some of the critical responsibilities in technology companies that don't require being a software developer?
What should you look out for when joining a tech company?
And much more!
Important: please note that this is strictly a women-only event.
Meet the speakers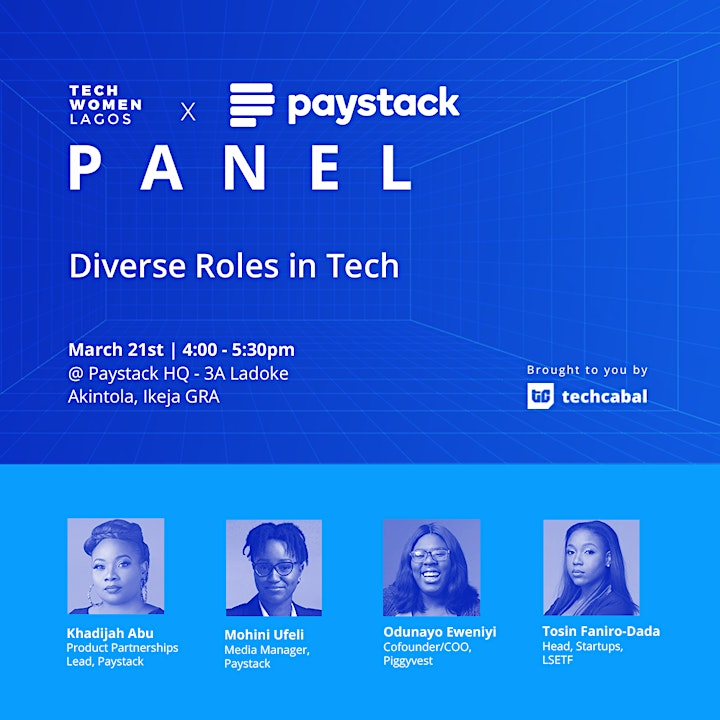 Khadijah Abu: She's the Product Lead at Paystack with over 10 years of experience in the fintech and payments space. She has worked in Operations, Business Process Re-engineering and now Product Management
Odunayo Eweniyi: She's the Co-founder & Chief Operations Officer, PiggyVest. She previously co-founded pushcv.com, one of the largest job sites in Africa, and she has 5 years' experience in Business Analysis and Operations
Tosin Faniro-Dada: She leads the Lagos Innovates team at the Lagos State Employment Trust Fund (LSETF). She launched and manages Lagos Innovates programs, aimed at providing an enabling environment for Tech Startups and innovation-driven Enterprises to thrive in Lagos State. Before LSETF, she worked at Polaris Bank, ARM, and PricewaterhouseCoopers
Mohini Ufeli: She's the Media Manager at Paystack and a multimedia storyteller who has spent the past 6 years crafting narratives through photography, videography, and audio. Before Paystack, she worked at Andela and Sahara Reporters.
Event Details
Date: Thursday, March 21
Time: 4:00 - 5:30 PM
Location: Paystack HQ - 3A Ladoke Akintola, Ikeja GRA
Agenda
4:00 - 4:10 PM: Welcome and introductions
4:10 - 5:10 PM: The panel discussion
5:10 - 5:25 PM: Q&A with our guests
5:25 - 5:30 PM: Photos
5:30 - 6:00 PM: Snacks and refreshments
Hear from our guests about their experiences in tech, get inspired by their journeys and meet other women interested in technology!
Find out about future events at Paystack
Please note that RSVPs to this event will be added to the Paystack community email newsletter, where you'll receive updates about future Paystack events. If you'd prefer to not receive future updates from Paystack, you'll be able to unsubscribe immediately.